A Look At 5 Of The Most Dangerous Prisons In America
From Rikers Island to the ADX in Colorado.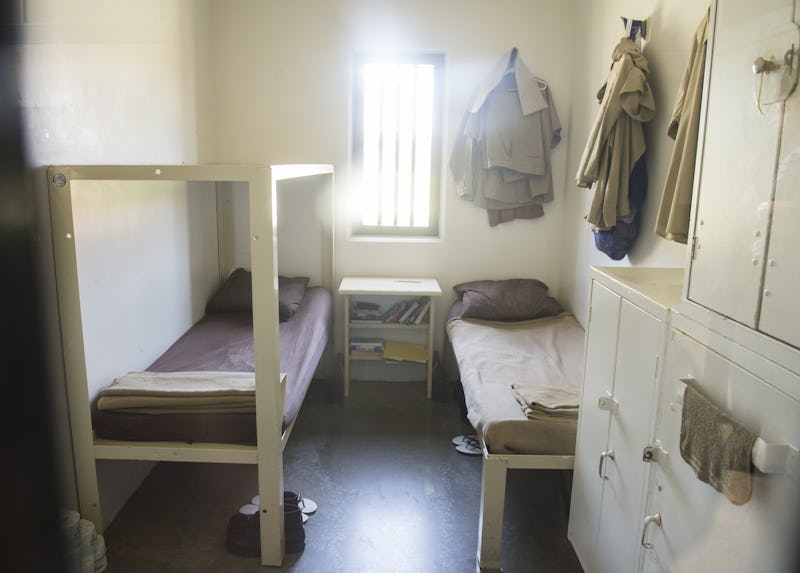 SAUL LOEB/AFP/Getty Images
America has more prisoners than any other developed country in the world, and the COVID-19 pandemic has illuminated just how dire life can be for those behind bars. Already facing resource shortages, high rates of infectious disease, and violence, the worst prisons in America were severely ill-prepared for the coronavirus. As of April 2021, the virus had killed at least 2,700 people in custody, according to The New York Times.
The more than 2 million Americans behind bars already faced daily struggles to stay safe, healthy, and access basic necessities. For example, since the prison system runs primarily on gender-neutral policies that ignore women's specific needs, some women have to deal with additional issues such as acquiring sanitary pads and toilet paper. In a maximum-security prison, detainees hardly get to spend time outside of their cells, much less outdoors, and have minimal contact with other humans.
And, obviously, some prisons are much worse than others. For years, activists have called on politicians to close jails on Rikers Island in New York City, which former U.S. Attorney Preet Bharara called "a place where brute force is the first impulse rather than the last resort; where verbal insults are repaid with physical injuries; where beatings are routine while accountability is rare."
Here's a glimpse of what life is like inside some of the other worst prisons in America, where incarcerated people face similar, sometimes life-threatening, risks.
The ADX
The United States Penitentiary Administrative Maximum Facility in Florence, Colorado (known as the ADX) is America's only federal supermax facility. Little was known about life inside until a 2012 lawsuit against the Bureau of Prisons, filed by 11 ADX inmates, revealed the harshness of everyday life. The lawsuit was initiated by the 2010 suicide of inmate José Martin Vega, and in it, prisoners alleged that the facility wasn't properly diagnosing or treating inmates with mental illness.
The ADX can house up to around 500 prisoners, and has an inmate roster that includes violent offenders like Ted Kaczynski (the Unabomber) and Dzhokhar Tsarnaev (the Boston Marathon bomber). According to The New York Times, ADX prisoners live in 12-by-7-foot concrete cells with sliding metal doors, a single window 4 inches wide, a sink-toilet combo, and an automated shower. Most inmates are allotted a maximum of 10 hours a week outside of their cells, in a windowless indoor gym or an individual unit in the outdoor recreation yard. Meals are also served in the cells.
"This place is not designed for humanity," Robert Hood, a former warden, told The New York Times in 2015. "When it's 23 hours a day in a room with a slit of a window where you can't even see the Rocky Mountains — let's be candid here. It's not designed for rehabilitation. Period. End of story."
San Quentin State Prison
San Quentin State Prison in Marin County, California, is home to the largest death row in the United States, with 737 of its more than 3,000 prisoners currently awaiting execution. Prisoners are allowed outside of their 48-square-foot cells more regularly, and have more contact with other inmates and guards, but death row inmates only get to spend five hours a day outside their cells and are only allowed to shower every other day. Mental illness is also a major problem at San Quentin, and a court-appointed monitor determined that in 2014 about three dozen death row prisoners needed inpatient mental illness care. The facility continues to struggle to provide those in detention with adequate health care: By August 2020, more than two-thirds of San Quentin inmates had tested positive for COVID-19.
Sing Sing Correctional Facility
Sing Sing is a maximum-security prison in Ossining, New York, operated by the New York State Department of Corrections. The prison currently houses around 1,300 inmates, and has notoriously been one of America's most ruthless prisons. (The electric chair was used for executions until it was banned in 1972.) However, in recent years Sing Sing has softened its reputation, given its proximity to New York City and educational programs available to inmates.
Author Ted Conover's 2001 book Newjack: Guarding Sing Sing, in which the journalist applied to be an officer at the prison and documented his time there, revealed how dangerous life could be around the turn of the century. He described frequent gang fights, as well as violence between guards and inmates, and also described the decrepit building, whose roof often leaked during the rain. A report on the facility by The Correctional Association of New York found multiple problems, including limitations on access to medical care, verbal harassment and physical confrontation between staff and inmates and among inmates, gang activity, and use of contraband drugs.
Angola Prison
The Louisiana State Penitentiary at Angola, Louisiana, is the country's largest maximum-security prison complex. The inmate population sits at over 6,000, on an 18,000-acre campus built at the site of a former plantation. Prior to the pandemic, Angola was known for housing an older population. The average age of incarcerated people at Angola is 40, and the average sentence is over 90 years. In 1992, the facility faced a class-action lawsuit for its lack of adequate medical care, so when the pandemic hit in 2020, the overpopulated facility was already struggling — or outright failing — to keep its aging inmates healthy.
In April 2021, Chief U.S. District Judge Shelley Dick ruled that conditions and access to care at Angola were so bad that it violated the Constitution's Eighth Amendment, which protects people who are incarcerated from cruel and unusual punishment. In her ruling, Dick said that medical leadership at Angola has been "deliberately indifferent to the inmates' serious medical needs."
Holman Correctional Facility
The W.C. Holman Correctional Facility in Atmore, Alabama has been called "The Slaughter Pen," in part because it houses Alabama's only execution chamber. The maximum-security facility has been consistently overpopulated. In 2016, it housed close to 1,000 inmates despite being built for around 600.
Ongoing violence in Alabama's prison system sparked an investigation by the Department of Justice, and the subsequent report, published in 2019, deemed conditions at places like Holman "cruel" and "objectively unsafe." The report included gruesome descriptions of killings, rape, and torture, with rare and delayed intervention from facility authorities. In some cases, victims were ignored (or unnoticed) for long periods of time.
In January 2020, the commissioner of the Alabama Department of Corrections, Jeff Dunn, announced that the facility would be decommissioned, and most residents would be transferred to other facilities. As of June 2021, 300 inmates remain at Holman.
This article was originally published on