17 Zoom Games You Can Play With 6 People Or Less
Video chat fatigue be gone!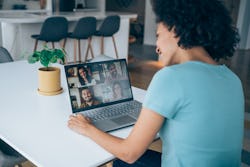 VioletaStoimenova/E+/Getty Images
New year, same socially-distanced, remotely-working, masked-up us. As we begin the year with more-than-familiar video calls and virtual happy hours, finding Zoom games for small groups has never been more necessary. Fortunately, there are plenty of easily accessible activities to keep your Zoom calls fun. Or, at the very least, free of awkward silences where you're staring at each other's little squares, wondering who will talk first.
If you're feeling video chat fatigue, you are far from alone. Eight hours of Zoom calls for work followed by an online happy hour or two quickly add up to much of your day spent in front of a screen. First and foremost, you are allowed to say no to virtual hangouts. Like in the Before Times, you needn't spend every waking hour having face time with every one of your friends or family members. Check in with loved ones as you can, but make sure you're taking time for yourself, too. Besides, if there's one thing that hasn't changed, it's how good it feels to cancel plans.
From word games to watch parties, here are 17 Zoom games and activities you can play with less than six people. They are the Zoom exhaustion antidote you seek.
If all else fails, turn the call itself into a drinking game. Whenever someone's video freezes, a kid or pet is screaming in the background, or someone is unintentionally muted, you drink.