10 Westminster Dogs That Are Adorable AND Talented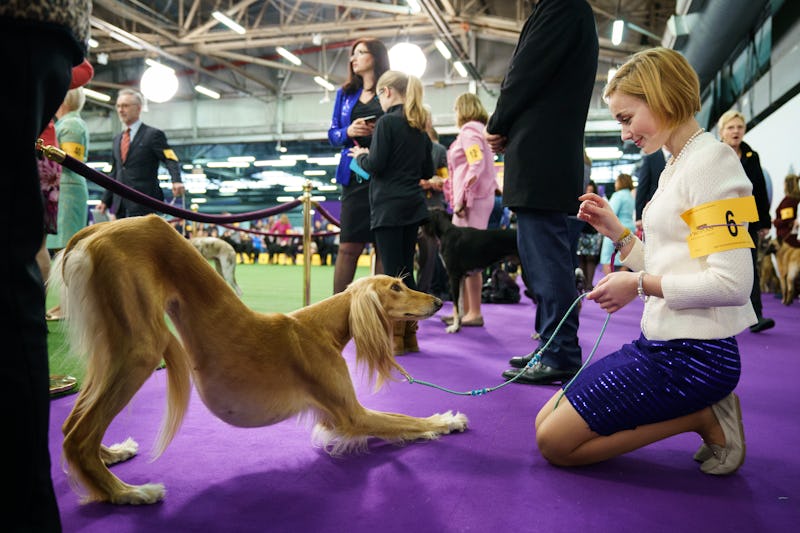 Drew Angerer/Getty Images News/Getty Images
One of the best days to watch adorable dogs is here; it's Westminster Dog Show time! Every year since 1877, New York City hosts this dog show at Madison Square Garden to see which dogs come out on top as the best of the best. Over the course of 3 days and nights, the competition judges the dogs in their breed groups and then larger groups to determine who really is "Best in Show." But which dogs are the favorites to win the 2018 Westminster Dog Show?
While the show just began, some dogs have already won their breed's class, and it all continues tomorrow as well. There are a ton of breeds, but they're then classified into seven main classes: Sporting, Hound, Working, Terrier, Toy, Non-Sporting, and Herding. Dogs compete against others of the same breed, then go on to compete against different breeds in one of the seven listed. The Best in Show award goes to one of the lead pups in those seven fields. It's very precise, very intense, and produces some very cute dog content.
The competition is stuck in its 19th century ways by still using the word "bitch" for female dogs (still) and using "dog" for male dogs, but the show is an American tradition that you can enjoy by streaming online. There are over 2,800 dogs from 202 breeds, but there can only be one Best in Show. So how do you even go about betting on who could win? Well, odds are, it'll be a male doggo (because the glass ceiling still exists in the doggy world too). That still only narrows it down to 1,700 male pups, but don't worry. Dog News Magazine ranked the top 20 dogs in the dog show circuit. Here are just 10 of them we're particulary excited to keep an eye on this week.
1. Ty, a Giant Schnauzer
As of December 2017, Ty has beaten out 88,055 dogs in competition. That is insanely impressive, to say the least. He's won 56 Best in Show awards and also came out on top in both the 2016 and 2017 Giant Schnauzer Club of America National Specialty shows. When Ty's not dominating the dog award shows, he's chillin' out on a 150-acre farm in Rhode Island.
2. Newton, a Brussels Griffon
This tiny Chewbacca look-alike beat out a ton of dogs to win this past year's National Dog Show. Known as the "whole package" by his handler, he beat out another favorite to win that show, Gia the Greyhound.
3. Striker, a Cocker Spaniel
Last month, the American Kennel Club hosted their show and striking Striker the cocker spaniel won Best in Show. He ranked in the number three spot, defeating 81794 dogs in his little career, and is one to definitely look for this week. If not for the win, then at least for that amazing coat!
4. Nik, an Akita
The Akita is a big, fluffy poof of a dog that's simply gorgeous to look at. Nik, formally known as "Continuation of a Myth," is the top dog in this breed's category. He won Best in Show in the 2016 Rapid City Kennel Club Dog Show and has been competing since he was nine months old. A top contender indeed.
5. Khaleesi, a Welsh Terrier
If a dog is named after the Mother of Dragons, she's certainly a force to be reckoned with. This Welsh Terrier named Khaleesi (of course, her official name is Daenerys Stormborn), has won 27 Best in Shows in 2017 and 102 Terrier Group Firsts. She is also ranked number seven in the nation, with 48,374 dogs defeated. She'll surely make her namesake proud with the way she smokes the competition this week.
6. Vinny, a Boston Terrier
Back in 2016, little Vinny won Best In Show at the De Valle Dog Club Show and was ranked sixth in the country. Now coming in at No. 8, it's not a long shot for him to win Best in Show at Westminster this week. He loves to sunbathe too, so he's definitely a star.
7. Amaze, a Siberian Husky
Amaze is a record-setter: She's the female dog with the most wins ever, with 22 Best in Shows under her belt. If that doesn't make you want to root for her, then her official name will: it's This Girl Is On Fire. An Alicia Keys tribute, and a winning streak? Yeah, she's a fave for sure.
8. Angus, a Clumber Spaniel
Clumber spaniels are the largest breed of spaniels and they look like the cuddliest, too. Angus has been to Westminster before, winning his breed's category in 2016 and placing second in the sporting section. His official name is Man of Steel, but he definitely is a fur ball.
9. Rip, a Doberman Pinscher
Rip, also known as Fidelis Ripcord, has some regal titles to match that regal name. He won Best in Show at Beverly Hills Dog Show, is the fourth-ranked working dog, and has a total of 34 All Breed Best in Show wins. He's a winner, and certainly has many awards just as shiny as his coat.
10. Lucy, a Borzoi
Known officially as My Sassy Girl, Lucy won Reserve Best in Show in 2016 and came in second at that year's Westminster Dog Show. Borzois are known as Russian wolfhounds and are shaped similarly to greyhounds. Lucy is ranked 19th with 27,618 dogs defeated, and win or lose this week, we know she'll still look pretty graceful doing it.