10 Alcohol-Free, Mattifying Toners That Won't Strip Your Skin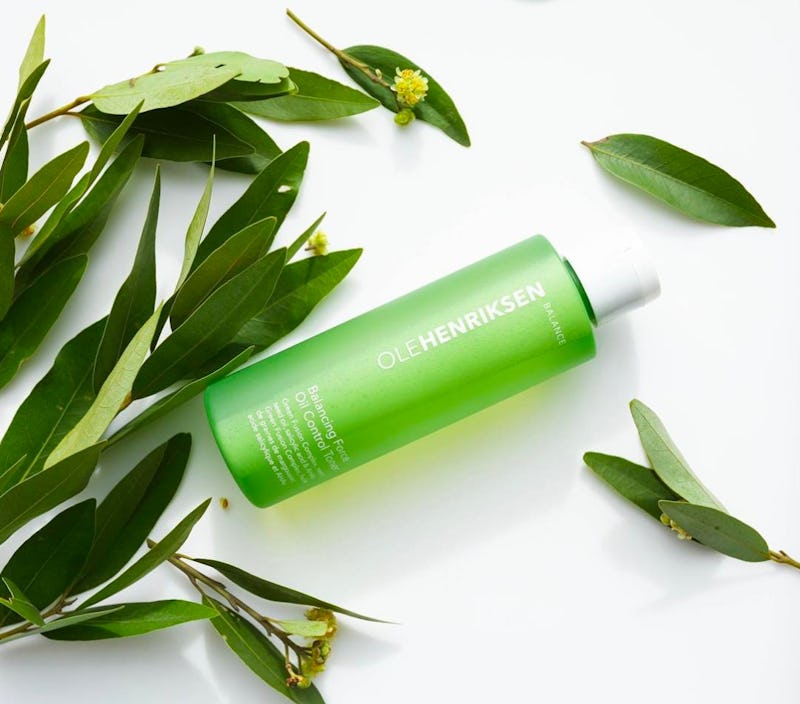 ole_henriksen on Instagram
If you have combination or oily skin, you're probably familiar with the struggle of achieving a matte complexion that lasts. Toners are a great way to quickly eliminate excess gloss, but the problem with this particular skin-care product is that the mattifying types are often loaded with alcohol. And simple alcohol is not usually good for skin. Sure, alcohol-based toners give the appearance of matte skin and tightened pores, but the drying nature of alcohol means those of us with oily skin tend to just become oilier after a short amount of time to compensate. What's a greasy gal to do?
As it happens, there are actually some toner options formulated without alcohol that can still give you a matte or balanced complexion without that cringe-worthy stripping feeling. After all, the goal is to control shine, not dehydrate your skin. And who knows, products that are made for a skin type other than oily just might be what you need to help control the oil. (Counterintuitive, I know.) So you can have that matte finish with just a swipe of a cotton round (and without the drying side effects), here are 10 alcohol-free toners to try adding to your skin-care routine:
1. With AHAs
Try: Ole Henriksen Balancing Force Oil Control Toner, $26, Sephora
Control oil and minimize the appearance of pores with this clarifying, exfoliating, and refreshing toner that is made without alcohol.
2. With Green Tea
Try: Odacite Mint + Green Tea Hydra-Purifying Treatment Mist, $29, Nordstrom
This organic toner helps heal acne, reduce excess oil, and neutralize free radicals without alcohol, so you know it isn't drying.
3. With Tea Tree Water
Try: Lush Tea Tree Toner Water, $23, Lush
Tea tree, juniper berry, and grapefruit waters will keep any complexion fresh while making sure oil stays in check without the use of alcohol.
4. With White Willow Bark
Try: belif Problem Solution Toner, $28, Sephora
Skin will stay balanced and pores will stay pure with this willow bark extract and tea tree oil toner that is made without all of those ingredients you don't want.
5. With Chamomile
Try: White & Elm Balancing Facial Toner, $18, Target
Tighten your pores without your skin feeling tight with this natural and organic toner that soothes and balances pH.
6. With Lavender Water
Try: boscia Balancing Facial Tonic, $26, Sephora
Balance, calm, and nourish the skin while eliminating impurities with this lavender-infused and alcohol-free toner.
7. With African Black Soap
Try: SheaMoisture African Black Soap Problem Skin Toner, $11, Amazon
Purify and refine pores with this natural toner that leaves skin with a shine-free finish.
8. With Witch Hazel
Try: Kate Somerville Clarifying Treatment Toner, $26, Sephora
Achieve a clear and matte complexion without alcohol, oil, fragrance, or stripping your skin.
9. With Apple Cider Vinegar
Try: S.W. Basics Toner, $22, Dermstore
Just five ingredients is all it takes to naturally balance the skin and treat oiliness and blemishes.
10. With Cylindrica Root Extract
Try: Kiehl's Ultra Facial Oil-Free Toner, $16, Nordstrom
PH-balanced and made with cylindrica root extract, this alcohol-free toner visibly reduces excess shine while still keeping skin calm and moisturized.
Because it is possible to mattify your skin without drying it out.