Carry-On Bags Small Enough That Airlines (Probably) Won't Ask You To Check Them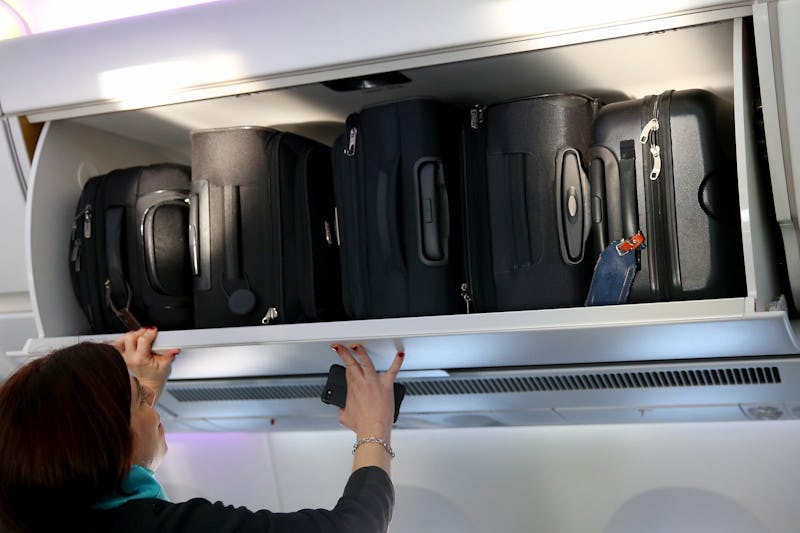 Alexander Hassenstein/Getty Images News/Getty Images
I fly a lot, but I can count the number of times I've checked a bag on one hand. Even though I get free checked bags with several airlines, so many things can go awry with air travel that I prefer to keep all of my stuff with me. However, there have been a few times when the airline told me at the gate that my carry-on bag was too big, and they made me check it. If you want to avoid this, investing in carry-on luggage that fit size requirements for every major U.S. airline can reduce the likelihood you'll be separated from your bag.
According to the website Upgraded Points, there is no hard-and-fast rule for carry-on luggage size, and each airline sets their own standards. The site lists the carry-on luggage requirements for multiple airlines and advises that if you want to be sure your carry-on bag is accepted on every airline, it's best to stick with a bag that's no bigger than 22 inches by 14 inches by 9 inches. This includes wheels and handles.
If you don't think you can fit all of your stuff inside of a bag this small, remember that in addition to a roller bag you can also carry on a personal item. I always take a backpack that I can put additional items in. Got a trip coming up and need a carry-on bag that will pass inspection on every major airline? I've got you covered.