10 Must-Read Sci-Fi Novels By Women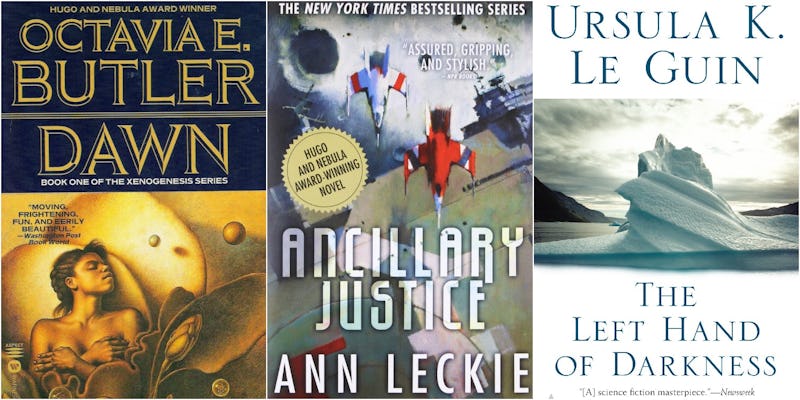 As a literary genre, science fiction has been around for more than 100 years, but some readers still don't understand the appeal. If you've never gotten into speculative fiction, or if you're a new fan who wants to read the classics, I've picked out 10 essential sci-fi novels by women that clearly show what the genre can do.
For some writers and readers, science fiction is not at the top of TBR piles, and is not as popular as, say, literary fiction. In April 2019, Atonement author Ian McEwan came under fire when he rejected the sci-fi label for his latest novel, Machines Like Me. Speaking with The Guardian, McEwan compared science fiction to literary fiction. He said, "There could be an opening of a mental space for novelists to explore this future, not in terms of travelling at 10 times the speed of light in anti-gravity boots, but in actually looking at the human dilemmas of being close up to something that you know to be artificial but which thinks like you. If a machine seems like a human or you can't tell the difference, then you'd jolly well better start thinking about whether it has responsibilities and rights and all the rest."
There's just one problem with McEwan's analysis, and that is that science fiction, even at its most conventional, has always tackled bigger issues than anti-gravity boots. Mary Shelley's Frankenstein, which is widely considered the English language's first sci-fi novel, deals 100 percent with human dilemmas. McEwan's further comments about the complications of artificial intelligence focus on a theme that has been thoroughly explored in sci-fi, appearing in Do Androids Dream of Electric Sheep? by Philip K. Dick, Dune by Frank Herbert, and I, Robot by Isaac Asimov, among other novels.
That's all to say that sci-fi is not less than literary fiction, nor is it all chrome and rockets. To see exactly what heights the genre is capable of reaching, check out the essential sci-fi novels by women I've picked out for you below.