These Are The Instagram Accounts That Will Offer The Most Breathtaking Views Of The Eclipse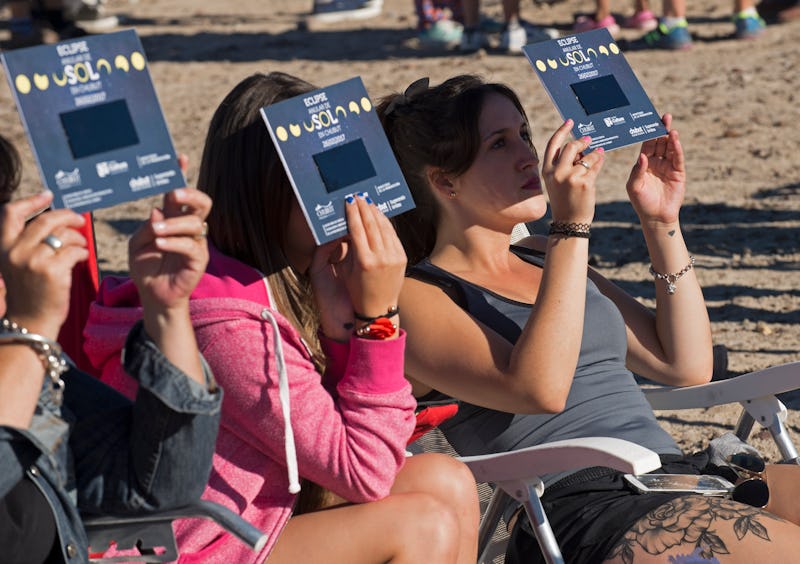 ALEJANDRO PAGNI/AFP/Getty Images
While solar eclipses are pretty common, being in the path of a total solar eclipse is rare. This is the first time the U.S. has experienced a total solar eclipse since the advent of social media. For the best views of the 2017 solar eclipse, follow these Instagram accounts to stay on top of all of the eclipse action so you don't miss a thing. On average, there are two solar eclipses a year, according to the website Time and Date.
The last total solar eclipse that was visible to most people in the U.S. happened in 1918, long before the invention of the internet. A second solar eclipse occurred in the U.S. in 1979, but it was only visible in a handful of states. Due to its rarity, and our hyper social-sharing culture, experts predict the Aug. 21 solar eclipse could break social media records.
"This will be the most photographed, most shared, most tweeted event in human history," Tyler Nordgren, an astronomer at the University of Redlands, told the Atlantic. Additionally, the Atlantic noted that 12 million Americans are in the path of totality, and while millions of others will see a partial solar eclipse, many people will rely on internet live streaming and social media to see the solar eclipse in all its glory.
Remember when Kim Kardashian tried to break the internet? That title just might go to the total solar eclipse, though Business Insider reported that mobile phone companies have been preparing in advance for the rare cosmic event.
Dave Saska, AT&T's vice president for radio access, told Business Insider, "It's certainly an unprecedented event, as we haven't seen something like this in nearly 100 years, but I don't think it's going to push us over that needle."
"T-Mobile has been ramping up our network by expanding existing capabilities and adding temporary towers in areas we expect to see an influx of traffic," the company said on its blog. "We think we are in great shape, but it is rare that hundreds of millions of people across the country could watch a single event and start sharing their pictures all at once."
You can also learn everything you need to know in advance of the total solar eclipse with a free online eclipse class from Coursera at the University of Colorado, Boulder. Additionally, USA Today Network is teaming up with Instagram to live stream the eclipse on the following accounts:
And, if you want to see the best pictures from this celestial event, follow these 10 accounts — recommended to Bustle by Instagram — to stay in the know about the total solar eclipse, and view some amazing astro-photography in advance of the event.