10 Physical Ways Anxiety Can Manifest Itself Even When You're Not Feeling Stressed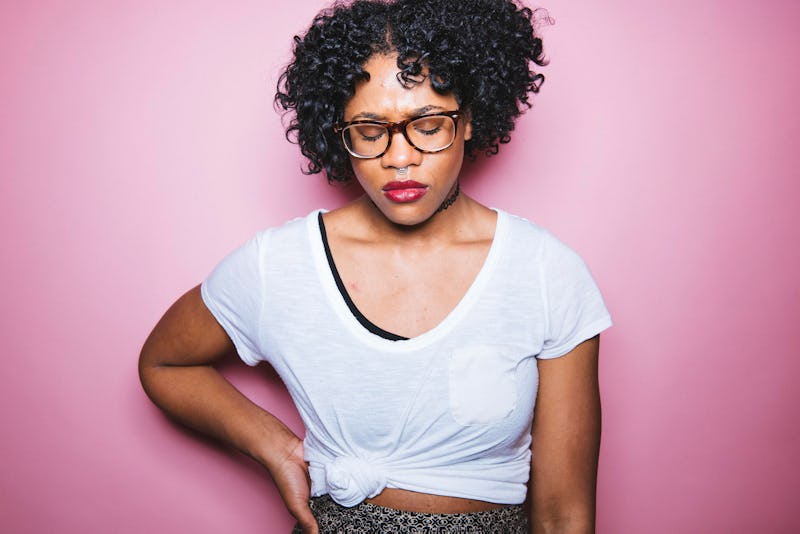 BDG Media, Inc.
Being stressed and being anxious aren't the same thing. So sometimes, although you don't have any particular worries you can recognize off the top of your head, your body reminds you that you're still anxious underneath it all. The physical symptoms of anxiety can show up any time, even when you least expect it.
While you may consider anxiety to be all about your thoughts, it's actually a pretty full-body experience. So even when you aren't having a particularly stressful day or night, anxiety can still be present in your system. "Anxiety is a highly physiological experience," Joshua Klapow, Ph.D., clinical psychologist and host of The Kurre and Klapow Show, tells Bustle. "So many of the symptoms of anxiety can intertwine physical, cognitive and emotional experiences. It's not uncommon for people experiencing anxiety to not be aware or not link what they are experiencing to that of being anxious because the experience is so physiological." Treatments like cognitive behavioral therapy may be able to help you find the connection between your thoughts and your feelings, but you can also start by better understanding what physical symptoms may be connected to feelings of distress.
Experiences like panic attacks can be more obvious, but anxiety's daily symptoms are sometimes so subtle that you may not interpret them correctly right away. Luckily, these symptoms are well-studied, so a psychologist can help you identify what may not be obvious at first.
Here are 10 physical ways anxiety can manifest itself, even when you're not feeling stressed, according to experts.