10 Things Only True 'Golden Girls' Fans Know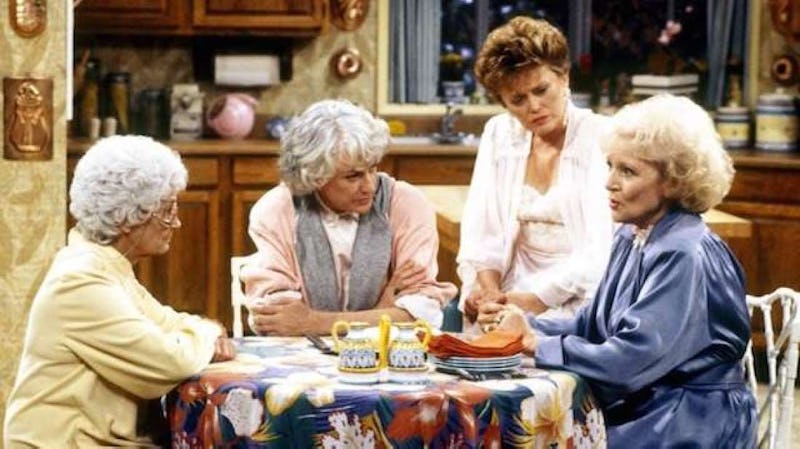 Disney–ABC Domestic Television
The Golden Girls are who I aspire to be in my later years. I mean, what could better than living with your besties in Miami? If you and your friends have the same #squadgoals, then you're likely privy to some things that only true Golden Girls fans know. Watching Dorothy, Sophia, Blanche, and Rose navigate their second adolescence debunked the myth that getting older means joining a knitting circle, becoming celibate, and dying your hair blue. While there's nothing wrong with knitting, celibacy, and blue hair if that's your jam, coasting into your golden years can also mean dating, adventure, and endless fun with your friends (and maybe your mom).
I had a great aunt who lived a similar lifestyle in Arizona, and the community was fraught with high school drama such as competition for love interests, rumors, fights between friends, family woes, and more. The main difference was that my aunt and her besties had a neighborhood clubhouse, were retired, and mostly spent the day cruising around their neighborhood in golf carts. Yes, please! Above all else Golden Girls was about female friendship, which is often a lifetime bond. And there is no theme song more perfect for the fab-four than "Thank You For Being A Friend." How much to you know about the golden crew? Here are some things only hardcore Golden Girls fans know.
1. Sophia Was Younger Than Dorothy IRL
In real life, there is no way that Sophia (Estelle Getty) could be Dorothy's (Bea Arthur) mom because she was actually a year younger than her TV daughter. This is one of the first things I learned about Golden Girls when I watched it with my mom as a kid. Getty, who died 10 years ago, spent 45 minutes in the make-up chair before each show to get made up to look older than the others even though she was actually one of the youngest member of the cast, according to the New York Daily News.
2. The Golden Girls Ate More Than 100 Cheesecakes
Cheesecake was to Golden Girls what cosmopolitans were to Sex and the City, and IMDb noted that the cast ate more than 100 cheesecakes during the show's seven seasons. IRL, Bea Author hated cheesecake. Hey, sometimes we all have to take one for the team.
3. Betty While Was Almost Cast As Blanche
While it's hard to imagine anyone other than Betty White (who is the only surviving member of the cast) playing Rose, she was originally cast as Blanche, according to IMDb. Additionally, Rue McClanahan was cast as Rose. However, the actresses protested because they had both played similar characters in the past and wanted to avoid being typecast so the roles were switched.
4. Not Everyone Got Along IRL
We all want to imagine that our favorite onscreen characters are BFFs offscreen as well just like the cast of the Sisterhood of the Traveling Pants. However, it's been reported that neither White nor McClanahan got along with Arthur IRL, sort of like Kim Cattrall not getting on with her Sex and the City co stars. "Bea and I didn't have a lot of relationship going on," McClanahan said in an interview with Emmy Legends published by CBS News. "Bea is a very, very eccentric woman. She wouldn't go to lunch [with me] unless Betty [White] would go with her." CBS News also reported that White also said she and Arthur did not get along. "Bea had a reserve. She was not that fond of me. She found me a pain in the neck sometimes. It was my positive attitude — and that made Bea mad sometimes. Sometimes if I was happy, she'd be furious!"
5. George Clooney Played A Detective In Season 2
Pre ER, George Clooney was a regular supporting cast member on shows like Roseanne and The Facts Of Life. Clooney also had a part in the season two Golden Girls episode "To Catch a Neighbor." The New York Post reported that Clooney's agent got him the role of Bobby Hopkins, a detective investigating a suspected jewel thief, so Clooney could maintain his health insurance.
6. Sophia Wasn't In The Original Golden Girls Script
According to IMDb, the original Golden Girls script did not include Sophia. The producer thought that a show about three women in their golden years wouldn't appeal to younger audiences, and Sophia was added because a contentious mother/daughter dynamic has a universal appeal. Instead of Sophia, the original script featured a gay man who was friends with the girls. While his role was eliminated, the show was a pioneer in onscreen LGBTQ+ storylines in the late 80s and early 90s.
7. Rue McClanahan Kept Blanche's Wardrobe
Actors are often asked what they took from the set after their series wrapped. Rue McClanahan didn't just take one thing, she kept Blanche's entire wardrobe, according to the Huffington Post. McClanahan apparently had a clause in her contract that gave her more than 500 outfits from the seven-year run of Golden Girls. She reportedly kept her Blanche Devereaux wardrobe in a kitchen in her New York City apartment that she had converted into a closet.
8. Golden Girls Almost Ended After Season 5
According to IMDb and the Huffington Post, Golden Girls almost ended after season five because Arthur didn't want to continue the show. Producers reportedly convinced her to play Dorothy for two additional seasons.
9. Golden Girls Spawned The Spinoff The Golden Palace
After Arthur's departure in 1992, under the guise that Dorothy got remarried, the rest of the cast came back for the short-lived spinoff The Golden Palace. The new show followed the adventures of Rose, Blanche, and Sophia as they opened a hotel. A second spinoff, Empty Nest, which was based on the girls' neighbors, began while Golden Girls was still on the air, and Getty joined for the last two seasons as her character Sophia moved into a retirement home, according to CBS News.
10. Rue McClanahan Added Blanche's Southern Accent
Blanche was not originally scripted to have a southern accent. IMDb noted that McClanahan decided to add the accent to her Golden Girls character. CBS News reported that Blanche, who was based on Blanche DuBois from A Streetcar Named Desire, did not have a southern accent in the pilot after the director asked her to toss it. The show was later picked up by a different director and the accent came back. #TheMoreYouKnow