10 Ways To Embrace Your Natural Hair Texture This Summer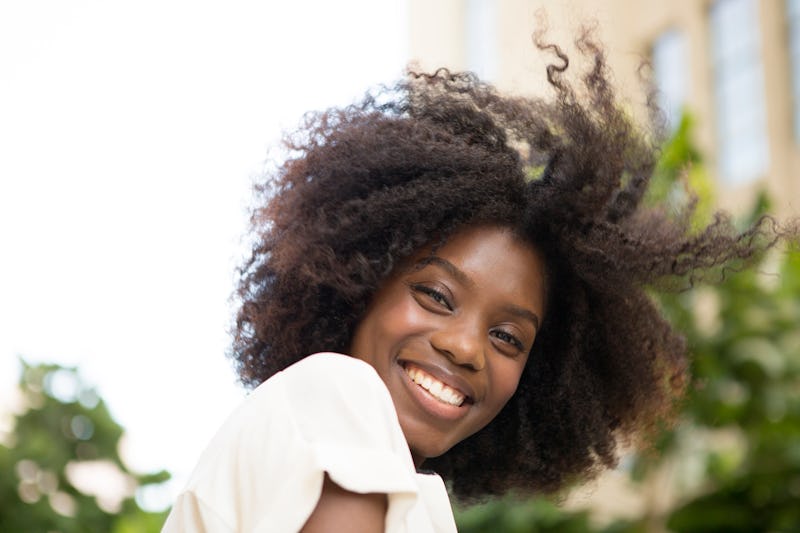 Offset
Between long weekends, barbecues, and entire afternoons spent lounging by a pool, there's no better season than summer. It's the time of year when you kick back and relax — and that goes for beauty routines, too. If your usual hair regimen takes up an hour every morning (and cuts into precious outdoor time), consider giving it a low-maintenance makeover to match the rest of your schedule. After all, once summer makes its official debut, you should be spending quality time in the sand, not in front of a steamed-up bathroom mirror.
There's a simple way to do this and cut down on unnecessary styling time: Just let your natural hair texture take over. Whether you have loose waves, tight coils, or pin-straight hair, there are easy, quick ways to bring out the best in each and every hair type — think everything from protective styles to air-dry advice. Another built-in bonus? Without the constant damage from heated styling tools, your hair may even be healthier by the time September rolls around. To help you make the most of your hair (and free up time for soaking up as much summer as possible), we've partnered with Ulta Beauty to bring you the best products and tricks for embracing your natural texture.
Do The Wave
Celebrate beach season with the waves to match. They don't require much more than a spritz of texture spray and a scrunch with your hands. If you have straight hair or loose waves, try Kenra Professional Sugar Beach Spray 7, which creates volume and a piece-y texture. It'll give hair that day-at-the-ocean look without any crunch or sticky feel.
Sleep On It
If you shower at night (or just need to rinse off after another day in a heatwave), meet your new best friend: the light-hold styling cream. Living Proof T.B.D. Multitasking Styler offers a one-two punch of smoothing power and flexible control. Run it through damp hair, create two equal-size braids, get your eight hours, and then wake up to perfectly bendy, frizz-free waves in the AM.
Try Plopping
Curls can take forever to air-dry on their own, and waking up early to make it happen doesn't exactly embody laid-back summer vibes. Instead, speed up the process with plopping. First, work a hydrating leave-in cream, like Mizani 25 Milk Leave-in Treatment, through damp hair. Then, lean forward and plop your curls onto a cotton t-shirt (ie. place your head on the tee so all your hair is gathered into a bunch). Tie the shirt around your head, and leave it on while you're getting ready. The cotton will absorb excess moisture so your curls dry quickly and with definition — no heat needed.
Deep Condition On The Reg
Deep conditioners have kind of disappeared in this new world of co-washes and dry conditioners. But there are few products better suited for super dry, frizzy, or generally tough-to-manage hair. If your strands need some love, whatever their texture, swap one into your routine, like DevaCurl Melt Into Moisture Matcha Butter Conditioning Mask. It contains matcha green tea butter and sweet almond oil to intensely moisturize and make detangling a breeze.
Air-Dry Perfectly
Air-drying hair can be tricky, since you never know exactly how it's going to turn out. (Just roll down the car window, for example, and it's all over.) To minimize surprises, work a smoothing cream, like Matrix Style Link Chill Boho Smoothing Air-Dry Cream, through damp hair before air-drying. It contains coconut oil to nix frizz and flyaways while offering slight hold.
Keep It Slick
Wet hair, don't care. But instead of going out with hair that's actually sopping wet, recreate the look with a next-gen hair gel, like Kenra Platinum Hydro Gel 13. It offers serious shine (minus the sticky texture of a traditional gel) and major control for a wet look that doesn't evaporate on you.
Master The Messy Bun
When you left the house, your messy bun was on-point. Ten minutes later? Dunzo. Try dabbing Redken Rewind 06 Texturizing Styling Paste on your fingers before you style your next topknot. It'll give it a grippy texture for easier styling and longer staying power.
Create Humidity-Proof Curls
Curls are often only as good as the weather, and sky-high humidity can turn them frizzy and fluffy. If that's your look, awesome — bring on the humidity. If not, prep damp hair with Ouidad Advanced Climate Control Featherlight Styling Cream, which contains a protein technology that creates a seal to shield hair from disruptive moisture.
Give Hairspray A Chance
There's nothing easier, or better on a hot day, than the reliable ponytail. Take yours several notches above a gym pony by keeping hair polished on the sides. After gathering hair into an elastic, spray Bumble and Bumble Bb.Strong Finish Hairspray all around your head, and lightly run your palms over the frizz halo to tame flyaways. Then, let the rest of your hair do its thing.
Save Time With A Multitasker
Between balayage, sun, salt, and chlorine, summer hair can take a lot of environmental abuse. To style and protect at the same time, try a do-it-all product, like Redken One United Multi-Benefit Treatment Spray. It's an MVP that detangles, strengthens, boosts shine, reduces frizz, refreshes day-old hair, protects hair from external aggressors (hello, UV rays), and more. Basically, it does everything for you but your laundry. Having a one-and-done product not only streamlines your routine, but it also makes packing for a weekend trip a breeze.
This post is presented by Ulta Beauty.