11 Beauty Tutorials For People Who Prefer Cool-Toned Eyeshadow Palettes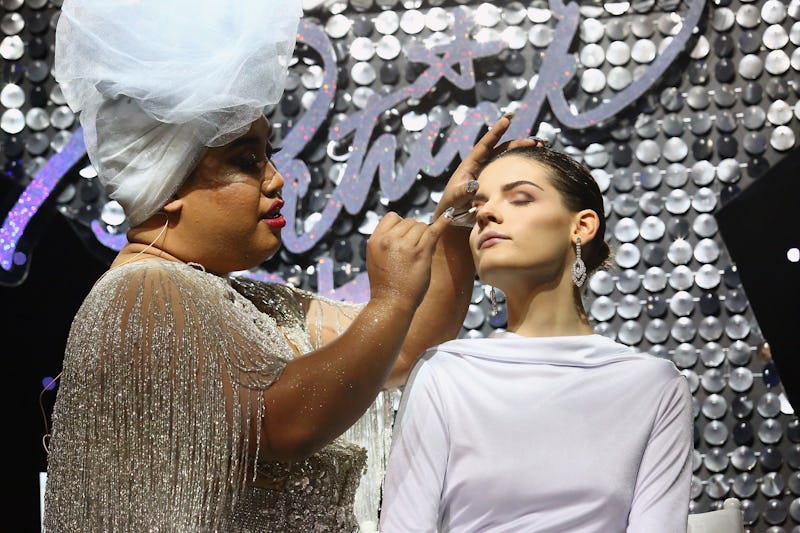 Astrid Stawiarz/Getty Images Entertainment/Getty Images
As the weather steers away from sunburn and gets closer to hot fudge and pumpkin spice, the highly-anticipated fall weather calls for some cool shades of eyeshadow. This isn't to say we're dumping out our palettes of bright oranges and reds (as IF!), but now's the time to ice down our eyelids with something a little more on the frosty side.
Cool toned palettes are something of a national treasure. Many shadows that run on the cooler side exhibit beautiful matte satins and iced out shimmers that could probably freeze Elsa from Disney's Frozen.
Although it sometimes feels like we live in a predominantly warm toned beauty world, being the first to snatch up up the best cool toned palettes can become something of a Hunger Games trilogy. Some of us (aka me, hi there) are so keen on wearing these cool shades, we're willing to spend quite the dime on two or three palettes that our friends say all look the same. Ignore them, for they are team warm tone.
With any new palette, however, comes a fear of diving into the deep end. And having some guidance on how to pair colors in the cut crease would be much appreciated. So here's TK beauty tutorials featuring the coolest shadow palettes on the block.
For makeup lovers who are all about about subtle but sultry, this tutorial is for ya'll. With variations of greys and "ashy" purples, this tutorial teaches you the art of blending with smarts.
A tutorial from Urban Decay's Born to Run palette is nearly a compact version of the color wheel. Not only does this tutorial show you how to bring out your irises, but with this palette, you can add a little warm tone summer flare.
3. Anastasia Beverly Hills Norvina Tutorial
This is one palette that will have you purple in the face. This tutorial gives cool toned palettes a great name because the ratio of shimmers to satins is an even 50/50 among these 14 shades. Whether you're looking for something super glam or one for everyday wear, this tutorial gives you the best of both worlds.
This tutorial by Makeup by Tanya is like a pile of fallen tree leaves waiting to be dived into. It also doesn't hurt to make an entire palette the shade of coffee. This cool tone tutorial is one to make your browns and deep blues come to life.
Deep blues and teals are the star of this tutorial for when you're tapping into your inner mermaid. A tutorial like this is perfect to match any special occasion gown to match your go-to navy blue cocktail dress.
Who doesn't want a 3 for 1 deal in a makeup tutorial. From soft glam to full face to everyday wear, this Too Faced's Chocolate Bon Bons palette tutorial gives you a heap of flexibility.
If you can combine warm and sweet in a palette tutorial, this is it. This cool toned tutorial shows you how to make deep colors pop for a spicy fall look.
The name pretty much speaks for itself, but affordable makeup tutorials that also serve you some cool tone neutral vibes come a dime a dozen.
Still not enough cool neutrals in your life? Then welcome with open arms the MAC cosmetics cool Neutrals. This tutorial helps for when you want a look that can go from day to night with the switch of an outfit in the back of a Lyft.
This tutorial gets the job done to be fast and flawless for back to school. With nothing but grays, golds & browns galore, this tutorial exemplifies how to do makeup with a softer appearance in mind.
If you're the kind of person who enjoys all matte palettes, this is one to keep your eye on. This tutorial keeps it sweet & simple, but teaches you an easier way to create a soft (but killer) smoky eye.
Tutorials can get complicated quick with too many bright colors in the mix. However, these cool toned eyeshadow guides could be just the thing to keep you from ever going back to a shimmery warm tone for the rest of your days in the beauty supply store.