11 Books That Got A "Trump Bump" This Year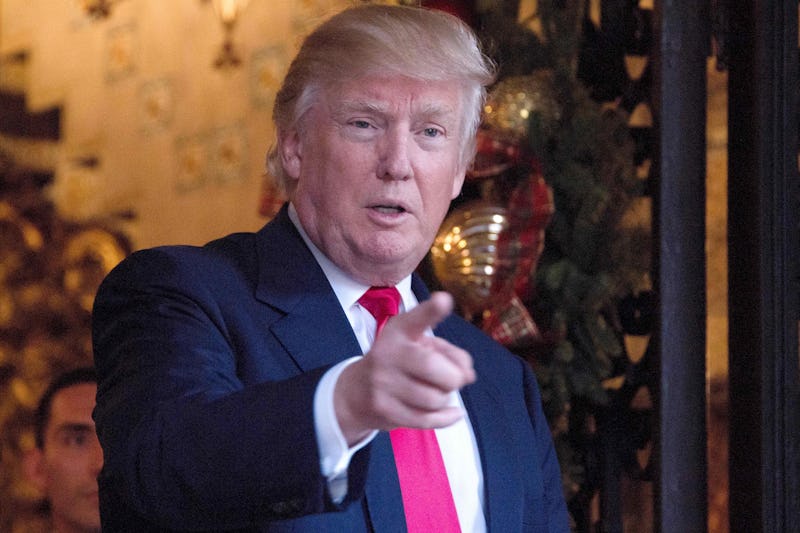 JIM WATSON/AFP/Getty Images
The 2016 presidential election and its results have affected big industries, global markets, and small businesses. Now that the numbers have been tallied, let's take a look at the books that got a "Trump bump" this year.
Donald Trump's effect on the publishing industry has been well-documented, with The New York Times reporting that publishers were rushing to release books about Trump and his appeal, about being Muslim in America, and about "one of the most extraordinary moments in American history." Trump himself is the credited author of several books, and his Art of the Deal ghostwriter, Tony Schwartz, made headlines with his opinions on the GOP candidate during the summer of 2016.
The "Trump bump" is the name given to the Wall Street uptick that occurred just after the 2016 election results were in, following an initial plunge. Associated Press journalist Hillel Italie has released a widely shared list of books that received a Trump bump in 2016, but that list leaves off several important works that got massive sales boosts from curiosity about the President-elect.
Publisher's Weekly reports that several of Donald Trump's books — Time to Get Tough, Great Again, and Crippled America — saw their sales numbers increase by as much as 675 percent for the week of Nov. 13, though it's important to note that Great Again and Crippled America are the paperback and hardcover editions of the same book. Italie includes The Art of the Deal on his list of Trump bumped books.
Here are 11 books that got a Trump bump this year and were not written by Donald Trump.