Here Are 11 Brett Kavanaugh Petitions That You Can Sign Right This Second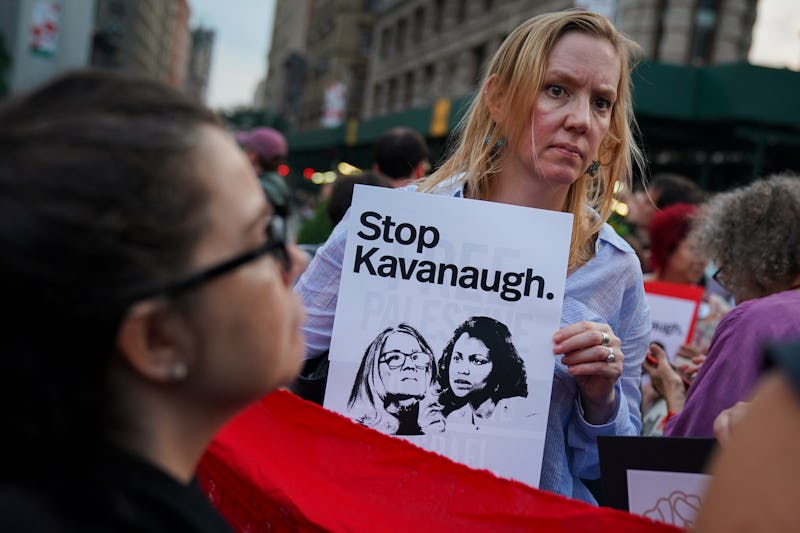 Drew Angerer/Getty Images News/Getty Images
The controversy around Brett Kavanaugh and the allegations of sexual assault that continue to dog him (which he has categorically denied) has reached a fever pitch. Amid protests and a frenzy of calls to senators offices, various petitions against Kavanaugh are circulating online, urging people to demand that their senators oppose his confirmation to the Supreme Court.
On Thursday, Kavanaugh and his accuser, Dr. Christine Blasey Ford, appeared in front of the Senate Judiciary Committee. Both testified before senators about Ford's allegation that Kavanaugh sexually assaulted her at a Maryland party in the 1980s when they were teens. Kavanaugh has vehemently denied Ford's allegation, as well as that of other women's.
In her written testimony, Ford said that she believed it was her "civic duty" to come forward about her allegation against Kavanaugh. Eventually, in September, Ford publicly attached her name to the allegation in an interview with The Washington Post.
On Monday, President Trump said that he "respected" Ford's "position." But by Tuesday evening, in a decidedly different tone, Trump publicly mocked Ford at a Mississippi rally, ridiculing her for not being able to recall certain details from the alleged incident. "How did you get home?" Trump said. "I don't remember. How'd you get there? I don't remember. Where is the place? I don't remember. How many years ago was it? I don't know." His audience roared with laughter.
On the internet, various petitions opposing Kavanaugh have made the rounds since Trump announced his nomination. Many of them center on the sexual assault accusations; others touch on Kavanaugh's possible impact on health care and his stance on whether or not a sitting president can be indicted. Some of these petitions are listed below.