11 Convertible +Size Bras For Ultimate Versatility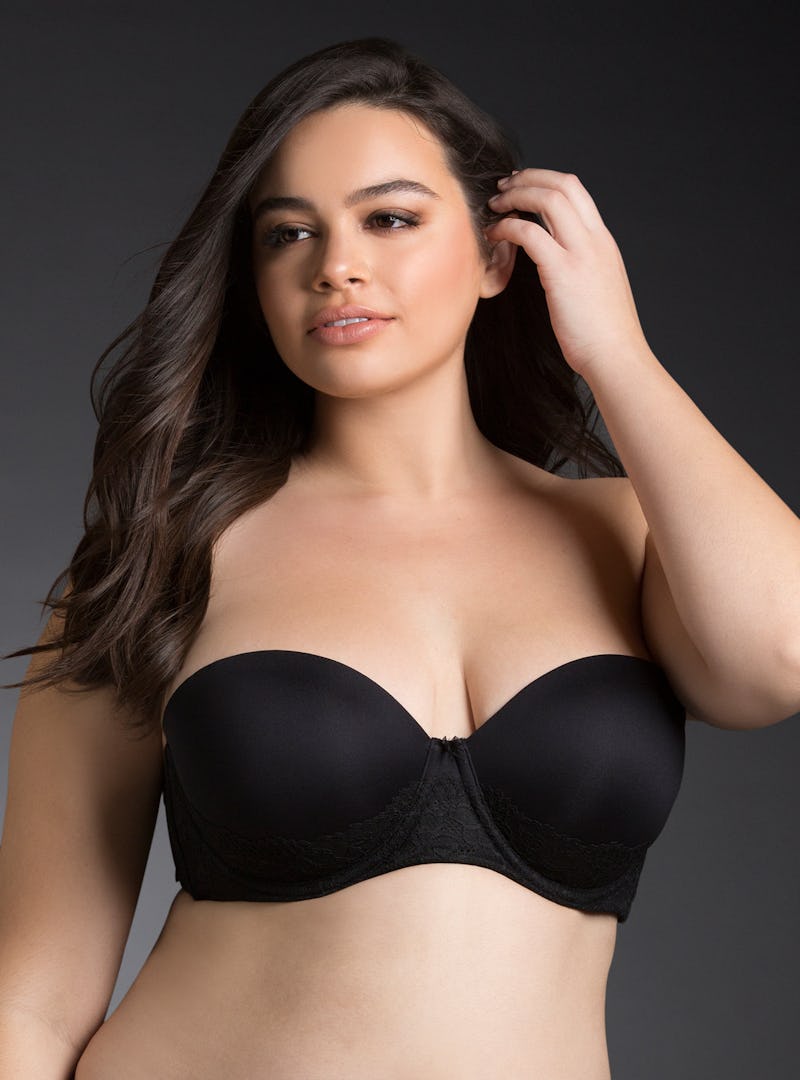 As a teen with 48DDs, it was hard for me to imagine how any person with breasts of any size could feel comfortable slipping into strapless dresses. Just putting on my cheap, unpretty bras with regular shirts was hoping for the best. But then, I found plus size convertible bras.
Before convertible bras, investigating the possibility of a strapless prom dress was an exercise in compromise. It seemed like any potential solution, especially boob tape, would result in a night full of being sweaty, uncomfortable, and possibly in the bathroom every ten minutes to adjust myself. And buying a regular strapless bra just wasn't feasible given how few dresses I wore, and how strapped I was for cash. Just buying regular bras was almost more than I could handle, since plus size people tend to spend more on bras than those of smaller cup sizes.
When I found convertible bras were a thing, it opened up a whole realm of possibilities for me. I could go from pretty dresses to regular ol' casual day wear and not have to worry about dropping $100 or more to buy a nice bra and an everyday bra.
If you're plus size and struggle to find rad convertible bras that fit and are affordable, I've got you covered. Check out some of these excellent options below.
Torrid Push-Up Strapless Microfiber And Lace Bra, $55, Amazon
Torrid is one of my go-tos for any kind of plus size clothing, so it's not surprising they're a dominant force in the plus size bra game, too. You can wear this bra strapless or with straps in classic, crossback, halter, and asymmetrical styles. Be aware it's only available on the smaller side of plus size, though — you can get sizes up to 48DDD.
Lightweight Multi-Way Strapless Bra, $25-$57, Lane Bryant
Another plus size bra go-to for me, Lane Bryant was the first store I found that actually offered pretty plus size bras. This bra may be on the plainer side of things, but it converts and has super strong cup support. Plus, it comes in cup sizes B through H.
Panache Evie Strapless Bra, $63, Amazon
Evie's made especially for people with bigger breasts, with boned side seams and super sturdy cups. Straps can be worn in classic, racerback, halter, one-shoulder, and strapless styles, and Evie is available in sizes up to 38H.
QT Seamless Molded Cup 5 Way Convertible Bra, $24, Amazon
Seams are my worst nightmare. It doesn't matter what I'm wearing over my bra; if it has seams, they will show. This bra is seamless, has gripper strips to keep it in place (no boob tape required), and can be worn with classic straps, halter, criss-crossed back or one strap. It comes in sizes up to 42DDD, so again, it's on the smaller side, but it's made with an arched underband for plus size folks' comfort.
Goddess Lace Longline Bra, $59, Amazon
I love this bra because it doubles as super adorable lingerie, and because the back can clasp either higher, in between your shoulders, or lower, in the small of your back. This bra comes with convertible straps and is available in sizes up to 50FF.
Ultra-Lift Strapless Bra, $60, Bare Necessities
This is one of the most diversely sized convertibles I know of, coming in cup sizes up to 46I and offering more closure columns and rows the larger the size. Plus, it's a cute push-up, which is a surprising rarity in plus size bras.
Multi-Way Strapless Bra, $45-$60, Lane Bryant
Available through size 44H, this balconette bra looks ridiculously red carpet-ready, and it offers a flattening effect for folks who, like me, spend a lot of time in strapless bras worrying about having one slip free. It of course comes with straps, which can attach anywhere you want them to.
Elila Spacer Molded Strapless Bra, $67, Amazon
Like having a bra with a flattening effect, having one to separate your breasts if you want to is totally vital. Let's be real, y'all: boob sweat is a thing, and when it's potentially going to soak your gorgeous dress, spacers are necessary. Available in sizes up to 44I, this bra has a sleek powermesh back and comes with straps so you can save your T-shirts, too.
Elomi Molded Underwire Strapless Bra, $69, Amazon
Though I usually look unfavorably upon underwire bras, sometimes they're needed. And in this case, you're basically getting a tank of a bra: It has a silicone gripper to keep it in place, has powernet sides and back, and its attachable straps are reduced-stretch, minimizing bounce whether you're in a dress or a tank top. Available in sizes up to 42GG.
Elomi Maria Strapless Bra, $76, Amazon
This bra has an impressive amount of support built into it: Three-part contour cups, powernet mesh wings, and, yes, a dreaded underwire, but it makes up for the underwire by coming in sizes up to HH-cup, and by coming with strap positions including criss-cross, halter, and close-set.
Convertible Butterfly Bra, $40, Ashley Stewart
This is one of the smallest-sized bras on the list — it's only available up to size 46DDD — but it offers six different looks, including five strap positions, and has double-wrap back panels to support plus size folks, so if you're a plus size person on the smaller side of plus size breasts, this one's perfect for you.
No matter what size you are or what you're wearing, these plus size-friendly, affordable convertibles have got your back — and your boobs.
Images: Courtesy Brands