If You Love Snapchat Filters (Or Are Kim Kardashian), These Halloween Costumes Are For You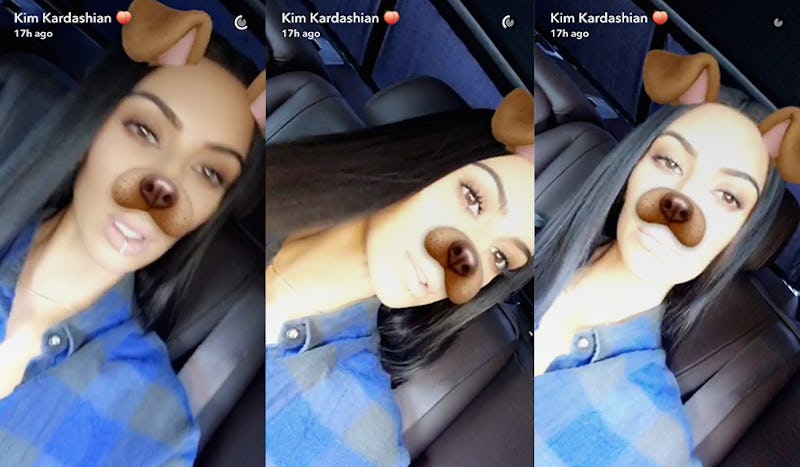 Kim Kardashian/Snapchat
Not-so-dirty little secret: I spend a lot of time on just looking at myself with different filters on Snapchat. Can you blame me? It's totally mesmerizing. And I feel comfortable telling you that because I know you do it, too. It's fascinating to see yourself through a VR lens — you recognize yourself so much that you can actually almost convince yourself that you look like what you see. You're like: Heck yeah, I'm a cute ass lil' mouse with an adorably high voice. So why not poke a little bit of fun at the future and look into some creative Snapchat filter Halloween costume ideas for this year?
It's become entirely un-weird to watch videos of ourselves with voice changers and face-morphers in effect, but yet still see and relate to our appearances. I know you know what I'm talking about. Without us even realizing that it's happening, Snapchat is getting us freakishly accustomed to VR. It's like completely normal to us to see ourselves differently in a screen. We're not scared of our avatars, we're obsessed with them.
Consider going all out and really making yourself look like the AR version of the filter. This is your chance to take the filter off the screen and bring in into your life. Here are some of the most recognizable filters and some creative and easy ways to represent them:
Classic Dog
The OG dog filter is a fan favorite. For full effect, stick your tongue out every time you open your mouth to speak.
What You'll Need: Dog ears, $36, Etsy | brown t-shirt, $17, Nordstrom Rack | brown leggings, $28, 6PM | dog tail, $80, Etsy | brown eyeliner, $5, Macy's
Fancy Cat
Not just any cat, the fancy cat with a perfect cat eye make up look.
What You'll Need: Eyeliner (for eyes and nose), $24, Saks | pink lipstick (for lips and center of nose), $15, Gilt | fake lashes, $12, Macy's | cat ears, $9, Amazon | cat tail, $17, Etsy | pajamas, $25, Groupon
Evil Rabbit
This is maybe the most disturbing filter of them all, which really makes it perfect for Halloween.
What You'll Need: Bunny ears, $10, Chasing Fireflies | vampire teeth, $4, Amazon | red eyeliner for red scary eyes, $2, Style For Less | a pom keychain to pin to your butt for a tail, $5, Areopostale | white pants, $8, Wearall | a white shirt, $8, Amazon | the scariest make up you can muster
Basic Flower Crown
I mean, everyone looks good in a flower crown, and this hippy goddess look never gets old.
What You'll Need: Flower crown, $12, Amazon | hippy dress, $55, Chicwish | boho wedges, $60, Gap | pink highlighter, $30, Too Faced
Mouse
"I'm a mouse, duh." But literally. Be a mouse.
What You'll Need: Mouse ears, $16, Etsy | grey onesie, $20, Wearall | eyeliner for your eyes and to draw a nose and whiskers, $28, Saks and of course your favorite cheese.
Rainbow Puke
If you're super into face paint Halloween looks, this filter is for you. You can have a lot of fun with creating the optical illusion.
What You'll Need: Facepaint, $24, Amazon | rainbow splatter shirt, $12, Rosegal | straight teeth, $12, Walmart | black jeans, $10, HM
Golden Lion
Is it just me, or does this golden, shimmering, stunning creature look totally fierce? If you love your highlighter game, this is the costume for you.
What You'll Need: Lion ears and tail, $10, Amazon | illuminating highlighter, $12, Belk | black eyeliner for eyes and lion nose, $21, MAC | gold face glitter, $12, Dolls Kill | gold nail polish, $20, Barney's | bronzer, $30, Too Faced
Butterfly Queen
I feel like this filter makes everyone look a little bit like Kim Kardashian. And hey, I'll take it.
What You'll Need: Butterfly crown, $42, Etsy | butterfly necklace, $22, 1982 | butterfly earrings, $35, Nordstrom Rack | nude lipstick, $15, Gilt | fake eyelashes, $2, Rose Gal | dreamy white dress, $18, Pretty Little Thing
Pretty Deer
Personally, I think this is the cutest filter. Deers are such beautiful animals, and who doesn't want to be as adorbs as that filter?!
What You'll Need: Deer onesie, $26, Pretty Little Thing | white eye liner for nose and white spots on face, $30, YSL | black eyeliner for eyes and nose, $30, Harrods | Combination of tone foundations, $29, Ulta | fake eyelashes, $2, Rosegal
Masquerade Mask
You'll look like you're going to a masquerade party, which is never bad.
What You'll Need: Lace mask, $6, Amazon | red lipstick, $6, Pretty Little Thing | fancy dress, $68, The Real Real | red high heels, $70, Express | red nail polish, $3, Amazon
Glam Filter
Oh, the classic glam filter. It looks just like you, but a lot weirder. Poke fun at the too perfect lens with an exaggerated beauty look. This is definitely not a no make-up make-up look.
What You'll Need: Contour, $12, Macy's | Contour brushes, $60, Dolls Kill | plush fake lashes, $28, Sophie's Closet | blush, $2, Elf | highlighter, $30, Too Faced | lip gloss, $5, Nyx