11 Disney-Themed House Plants That Will Cheer Up Your Whole Room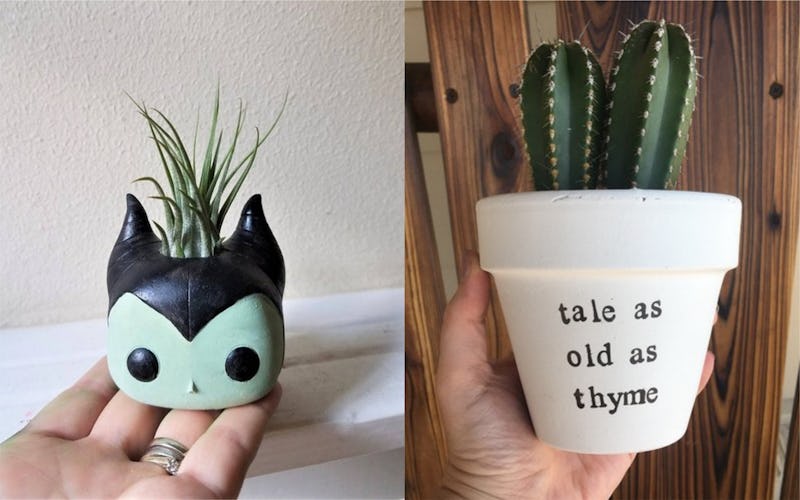 Courtesy of Sellers
When it comes to decorating a home, some people like to keep things simple and some like to inject their personality on every single inch that they can fit it. If you're reading this post, you're probably the latter. Why else would you be reading a post about Disney-themed houseplants? Oh, you're shopping for a gift for someone who is a fan of Disney and of houseplants? Aw, that's nice of you.
No matter why you're here, if you need something that exists in the middle of the Venn diagram of Disney lovers and houseplant enthusiasts, you're at the right place. The items below all combine Disney and greenery with designs that bring to mind various characters and other memorable Disney visuals. The thing is, some of them don't include the actual plants and are just planters. But, you know, it's hard to ship a whole plant, if it's for a bigger planter, and have it arrive in peace. Better to just get the pot and get the plant of your choice later. (When a plant is included with the item, that has been mentioned in the description).
From terrariums (with plant included!) to pots to a very fancy plant stand, here are 11 Disney-themed plant... things that any Disney superfan could enjoy.
1. Cinderella Tillandsia Terrarium
2. Tale As Old As Thyme Pot
3. Maleficent Planter
4. Elsa Terrarium
5. Epcot Planter
6. Minnie Mouse Bow Flower Pot
7. Seaside Ariel
8. Beauty And The Beast Rose in Glass Dome
9. Sully Terrarium
10. Nemo Terrarium
11. Cinderella Carriage Plant Stand
So, maybe you can't get a orchid shaped like Mickey Mouse or a topiary sculpted to look like Simba, but these pots, stands, and terrariums are an easy way to Disney up your home or garden.