11 Fashion Companies Run By Girl Bosses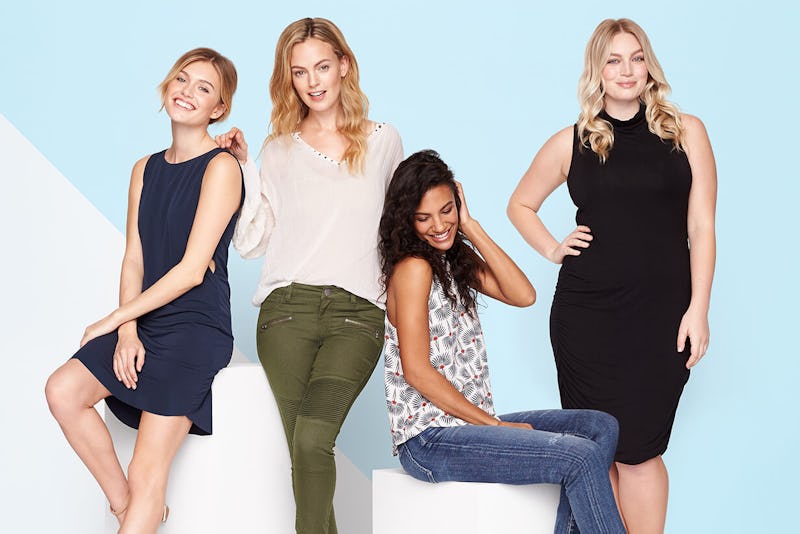 International Women's Day 2017 may have passed, but that doesn't mean those ~girl power~ vibes have to go with it. If fashion is your passion or if shopping is your favorite pastime, you can give the cash you spend even more meaning by supporting brands and companies that are helmed by women.
Oddly enough, women's fashion can actually be a bit of a boy's club. Annoyingly ironic, right? In 2015, Business Of Fashion conducted a survey that found that of 50 major fashion brands, just 14 percent were run by a #girlboss—and 2016 wasn't much better.
The Women's March-organized movement A Day Without A Woman encouraged women not to shop with the exception of small, minority-owned, and women-led businesses. And going forward, we can still make our dollars and voices heard by continuing to focus our buying power on these companies (not to mention, without sacrificing an ounce of style).
Even though men are still making the big decisions at many fashion companies, there are also so many badass lady bosses running fashion brands that cater to pretty much every style, budget, and size. Here are 11 standout companies to build up your wardrobe (while building up some awesome, trail-blazing females at the same time).
1. Reformation
Rosie Two Piece Set, $198, Reformation
Reformation founder Yael Aflalo started her green-meets-chic fashion brand in 2009 to bring sustainable textiles and business practices to the cool-girl masses.
2. Jane.com
RubyClaire Boutique Cozy Sweater With Lace-Up Detail, $30, Jane.com
Jane.com is an ultra-affordable fashion destination where small designers can sell their creations—and many of them are women. It was co-founded by Megan McEwan.
3. Lane Bryant
Plus-size fashion destination Lane Bryant was founded by Lena Himmelstein in 1904, who was way ahead of her time. Another lady boss, Linda Heasley, is the company's CEO.
4. Aoui
Day-2-Night Tank, $100, Aoui
Founded by Tanya Ramlaoui, Aoui brings on the modern French-girl aesthetic with curated collections of cool elevated basics. The brand uses locally sourced and recycled material to keep things sustainable, too.
5. Love, Cortnie
Camo Statement Clutch, $58, Love, Cortnie
This cool line of clutches and handbags was founded in 2011. "A week after learning to sew I opened my Etsy shop with just 3 bags available. Today, I've done over 200 different styles," Cortnie says on her site.
6. Stitch Fix
Founded by Harvard grad Katrina Lake, Stitch Fix makes personal shopping accessible by tailoring new wardrobe additions online and sending them to your doorstep. Their offerings span a variety of styles and sizes, and you simply send back what you don't like.
7. BELOFORTE
Cherish Legging, $154, BELOFORTE
BELOFORTE brings athleisure to a new level—it's uniquely designed, high-quality, and sustainable. Whitney Quaresma is the co-founder and creative director.
8. Rent The Runway
Lovers + Friends Blue Noemi Dress rental, $35, Rent The Runway
Founded by Jennifer Hyman and Jennifer Fleiss, Rent The Runway takes away the commitment (and brings down the price tag) of shopping for designer pieces.
9. Lively
The Deep V Bralette, $35, Lively
This brand makes bras and underwear more comfortable than you could imagine—and they look cute, too. It was started by Michelle Cordeiro Grant.
10. Swedroe Art To Wear By Ariel
Silk Scarf, $90, Swedroe Art To Wear By Ariel
When Ariel Swedroe, the granddaughter of architect and artist Robert Swedroe, decided to recreate her grandfather's patterns as fabric, she was only 11. Years. Old. (She's 13 now, NBD.)
11. Pam & Gela
Major Frankie Tee, $85, Pam & Gela
'Love P&G' sound familiar? Pamela Skaist-Levy and Gela Nash-Taylor were the founders of Juicy Couture, and their second line is perfect for former fans of the brand that are all grown up.