11 Female Politicians Who Should Actually Give You Hope For The Future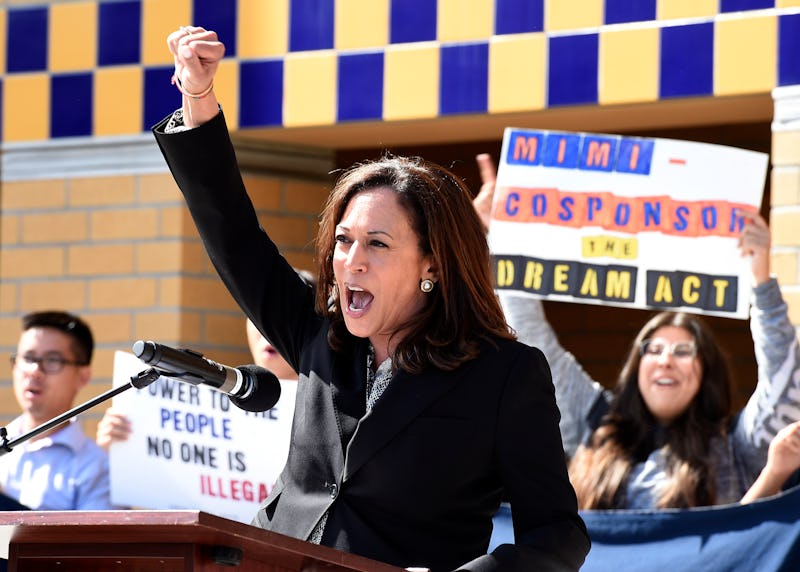 Kevork Djansezian/Getty Images News/Getty Images
In the short time Trump has been in office, it seems like his administration has managed to attack women's rights at nearly every opportunity. For feminists, 2017 hasn't been the best year, but there are female politicians who will give you hope for the days to come.
The White House, for example, was relentless when it tried banning an undocumented minor from getting an abortion. Not to mention, Trump recently ended an Obama-era mandate that required employers to cover birth control in health insurance plans. And that's just the tip of the iceberg. Trump also revoked the Fair Pay and Safe Workspaces order, which required paycheck transparency and held businesses accountable not abiding by labor and civil rights laws. But just because Trump won in 2016 doesn't mean that a woman couldn't lead the country in the future.
These are the women who are fighting for a woman's right to choose, for equal pay in the workplace, for better gun control, and for LGBTQIA rights. They're politicians who are making the world a safer place for women, and who stand for just about everything Trump doesn't.
Here are some of the women that are giving feminists and progressives hope for the future.
Tammy Duckworth
Duckworth, the second female senator in Illinois history, is a Democrat who fought in the Iraq War. She lost her legs and partial use of her arm in a helicopter accident during combat and is a huge advocate for women's rights. In September, she wrote an op-ed for Cosmopolitan about why mothers need proper accommodations for breastfeeding and pumping milk in airports. She's also advocated for gun control in the wake of the mass shootings in Las Vegas and Sutherland Springs, Texas.
Kamala Harris
Harris is the second black woman to serve in the Senate and the first Indian-American U.S. senator in the country's history. She famously grilled Attorney General Jeff Sessions about his alleged ties to Russia, at which point he admitted her questioning made him "nervous." Harris is also working toward universal healthcare in the United States. She's co-sponsoring Bernie Sanders' single-payer healthcare bill.
Catherine Cortez Masto
Cortez Masto is the United States' first Latina senator. As the granddaughter of a Mexican immigrant, she's vocally opposed Trump's plan to build a wall along the border, according to the New York Times. She wants to improve accessibility to things like higher education and healthcare, and has spoken out on behalf of DREAMers who benefit from the Deferred Action for Childhood Arrivals program, which Trump has decided to end, affecting hundreds of thousands of people. She's also been Broad City's #WCW, which is the ultimate stamp of approval.
Patty Murray
Murray has been an advocate for victims of sexual assault. The Democratic senator from Washington, along with other lawmakers, introduced the Survivors' Access to Supportive Care Act (SASCA) in May 2017. SASCA is "legislation to provide guidance and support to states and to hospitals providing sexual assault examination services and treatment to survivors." She's also championed causes like reducing the cost of higher education and tackling student loan debt.
Pramila Jayapal
Jayapal has spoken out against the GOP's tax plan, which would favor the wealthy. "It's a gift-wrapped tax cut to the rich," she wrote on Instagram. "It gives a $4 trillion tax cut to the wealthiest 1% and largest corporations while raising taxes on 42 million working families. I spoke out against this outrageous proposal on the House floor today, and I will keep fighting for progressive tax principles that work for the American people." She was also the only female lawmaker at a recent abortion bill hearing, where she called the proposal, which would ban the procedure after six weeks, "unconstitutional."
Ilhan Omar
Omar is a refugee, a Muslim, and the first Somali-American female lawmaker. She came to the United States in 1995, when she was 12 years old, after spending four years in a Kenyan refugee camp, according to Huff Post. Omar's a vocal critic of Trump and recently called out White House Chief of Staff John Kelly for harboring white supremacist views. She's also supported the NFL's take a knee protest, speaking out against police brutality in America.
Elizabeth Warren
Senator Warren from Massachusetts doesn't mince words. She's outspoken about gun control, increasing taxation on the rich, and women's equality in the workplace. Warren's also an advocate for the LGBTQIA community. In addition, she's worked hard to hold men in power accountable. She's grilled everyone from the Wells Fargo CEO to Treasury Secretary Steven Mnuchin.
Mazie Hirono
Hirono, Democratic senator from Hawaii, is a vocal gun control advocate. "My thoughts & aloha are with families in Sutherland Springs," she tweeted after the mass shooting in Texas, "but aloha cannot stop this epidemic of gun violence." She also spoke up during the #MeToo campaign, sharing her experience with sexual harassment. Throughout her career, she said, she's frequently encountered this kind of misconduct, adding, "this kind of unwanted attention occurs in a situation where there is uneven power, and it's usually the woman who has less power."
Crisanta Duran
As the Speaker of the Colorado House of Representatives, Duran is a champion of the working and middle class in the United States. She's criticized the Republican's tax plan for benefiting rich Americans. Duran has also been an advocate for better access to healthy food, teaming up with organizations like the National Young Farmers Coalition. Furthermore, she's worked with Emily's List, an organization helping to elect pro-choice Democratic female candidates to office.
Kirsten Gillibrand
The New York Senator is a vocal advocate for women and supporter of organizations like Planned Parenthood. "To change Washington you need to change the women's player list," she recently told Harper's Bazaar. "Women are putting themselves between Trump and the horrible things he wants to accomplish. They're making an effort to stand tall and fight back." She's also asking for immediate action on gun control. "These mass slaughters continue, and Congress has done nothing, absolutely nothing," she said on the Senate floor. "To me, this is a monumental failure." In addition, she's a co-sponsor with Sanders for Medicare for All.
Stephanie Chang
Chang, a Democrat from Detroit, was the first Asian-American woman in Michigan's state legislature. She's been a champion for pro-women and pro-minority causes. The lawmaker has worked with anti-discrimination group Take on Hate to urge government officials to sign a pledge to stand up against discrimination, Huff Post reported. She's also recently passed a resolution to recognize Oct. 15 as Pregnancy Loss Awareness Day in Michigan. "According to the Mayo Clinic, about 10 to 20 percent of known pregnancies end in miscarriage, and stillbirth affects about 1 percent of pregnancies in the United States," she wrote on Instagram. "I hope this day will help to heal and comfort some families in a time of pain and heartache, give them hope for the future, and help women and families process their miscarriage or pregnancy loss experience."
If you're ever feeling down about the current state of American politics, re-visit this list of inspiring women. They're proof that a better future for women is around the corner.