11 'Game Of Thrones'-Themed Boozy Beverages You Can Buy For The Last Season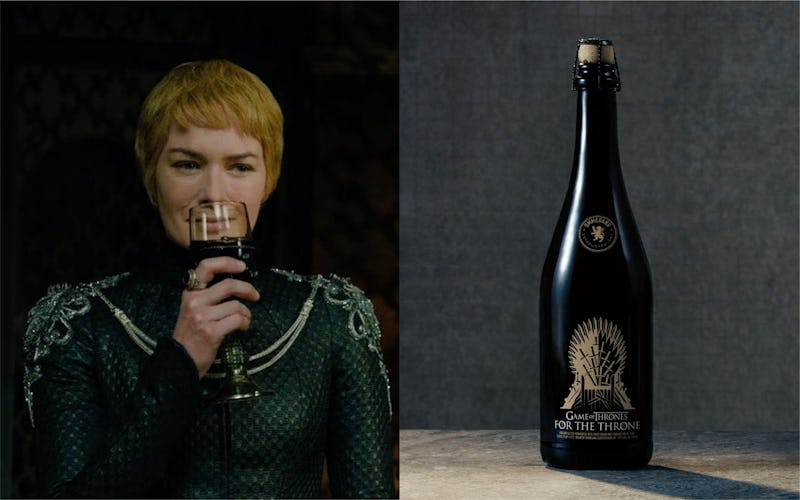 HBO; Ommegang
We're in the home stretch now, team: The eighth and final season of Game Of Thrones is set to begin airing on April 14. If you're anything like me, you're already making your viewing party plans — which, of course, means adding a few Game Of Thrones-themed wines, beers, and other assorted adult beverages to the menu. Happily, there are plenty of picks to choose from, so for folks who drink and know things, it shouldn't be too tough to find something to your liking.
HBO has kept a pretty tight hold of the licensing rights to Game Of Thrones throughout the show's entire run. As such, the somewhat unexpectedly expansive GoT-themed booze collection generally hails from only three primary sources: Ommegang Brewery, Vintage Wine Estates (more specifically, winemaker Bob Cabral), and various whisky distilleries that fall under the purview of Diageo. But although the sources have been limited, different varieties of boozy beverages have been churned out on the regular, resulting in a collection that spans the breadth of Westeros itself.
Not all of them are still available, of course; Ommegang's beers in particular, for example, have all been limited releases, and since they've been at it since 2013, you'd be hard pressed to find a lot of the older runs now. Availability of all of the various GoT booze picks also might depend on where you're located. Still, though — enough options remain in circulation that no matter what your taste in themed alcohol might be, you're sure to find something that will appeal to your palate. These 11 picks can still be located, so get ready to make like Cersei Lannister and call for more wine.
1. Red Blend
2. For The Throne Beer
Ommegang's latest offering, For The Throne, launched at the brewery itself on March 8; however, it won't arrive in stores until April — just in time for Season 8's premiere. It sounds a little like those beer-wine hybrids we've been hearing a lot about lately — made using "co-fermenting" and "traditional ingredients with juices normally destined for fine wines," as the press release puts it, it's a variety Ommegang calls an oenobeer. Honeysuckle, toasted grain, pear, apricot, sweet malt, and honeydew make up the main flavors.
3. King In The North Beer
4. White Walker Whisky
5. Chardonnay
6. Queen Of The Seven Kingdoms Beer
7. Mother Of Dragons Beer
8. Cabernet Sauvignon
9. Game Of Thrones Single Malt Scotch Whisky Collection
Industry giant Diageo recently tasked eight of the distilleries that distribute under its wider umbrella with creating eight different single-malt Scotch whiskies — one each meant to represent the Houses of Tully, Stark, Targaryen, Lannister, Greyjoy, Baratheon, and Tyrell, as well as the Night's Watch. They're a little tricky to find these days — and, as a result, they're pretty pricey when you do manage to track them down — but if you're both a single-malt and Game Of Thrones fan, they'll be well worth. Heck, even the bottles look cool.
10. Pinot Noir
11. Hand Of The Queen Beer
Game Of Thrones Season 8 debuts on HBO on April 14. Get ready for the final clash!