11 Halloween Makeup Tutorials Using Drugstore Products That Won't Break The Bank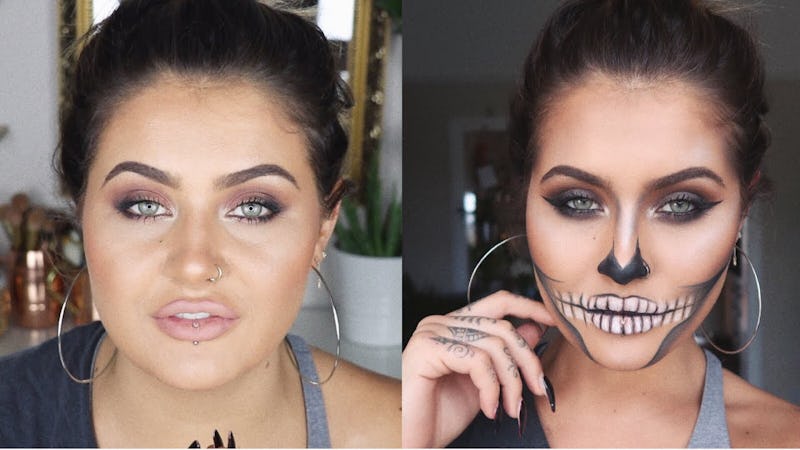 Jamie Genevieve on YouTube
Halloween is just around the corner, but not everyone can afford getting a pre-made costume for a few hundred dollars. If you're in the DIY camp, then you're probably looking for Halloween makeup tutorials using drugstore products to match your handmade look. Beauty vloggers take over YouTube around this time of year with their creative Halloween looks and spooky FX creations, but the thing with those tutorials is that they're not always attainable. Either you don't have a deft hand with FX gels, or can't afford the $80 palettes and contour kits the makeup artists use, making the videos a little less accessible. While they're fun to watch, they might not be doable in your own bathroom mirror.
But there is hope — some beauty bloggers have created tutorials using only drugstore makeup, letting people on all sorts of budgets follow along with their ghoulish and pop culture creations. Whether you want to become a classic skeleton, a gothic witch, or a certain horror movie character with burned skin, you can achieve it all with a few drugstore purchases that won't cost more than $15 a pop. Ahead are 11 Halloween makeup tutorials using only drugstore makeup that you probably already own. Make this the spookiest Halloween yet!
Drugstore Skeleton
Jamie Genevieve partnered with Rimmel to show you how to transition from a day look to a spooky skull night look. That way you don't have to take your makeup off and start all over, but change your workday look into a ghoulish Halloween transformation.
Bride Of Frankenstein
Wanting to make Halloween makeup accessible to all, Ash Clements used no body paints, no SFX, and no high-end products to create her creepy Bride of Frankenstein look. Most of the products were from NYX and Rimmel, making it super affordable.
Creepy Pumpkin
Bonnie Corban used only NYX makeup to create this creepy half-faced pumpkin look. You don't have to buy any special effects stuff, and will only need to stop by the drugstore to pull off this costume.
Neon Skull
Stephanie Toms decided to go with the classic skeleton look, but gave it a neon twist. Just like the other bloggers, she used all NYX makeup. Specifically, she used the Ultimate Brights Palette and Slide On Pencil in White to create this surprisingly easy look.
Pop Art Costume
Channel Roy Lichtenstein in your Halloween look this year and transform yourself into a 1950s comic book character. Mallory Cornelison walks you through how to create the iconic lines and dots using only drugstore products, relying mainly on Maybelline and Covergirl.
Pennywise
Pennywise might have been so 2017, but this tutorial can still help you achieve a creepy clown aesthetic if that's what you want to terrify your friends with this year. Everyday Heidi uses everything from Wet n' Wild, to NYX, to e.l.f to pull this haunting look off.
Black Panther Inspired Costume
Even though Black Panther came out last year, the Marvel franchise is still going strong, and dressing up as the women from Wakanda has no expiration date. To pull off the look, Kyra Knox used Maybelline and L'Oreal products to mimic the comic book characters.
Reptile Halloween Costume
While everyone else is going as cute animals and standard devils, you can roll up to the party as a terrifying lizard. TeaIsForTeagan uses NYX and Maybelline to go reptilian.
Freddy Krueger
Rather than using tricky liquid latex to create her burn marks, Madeyewlook painted and contoured her face to make it look like melting skin — and using all affordable, drugstore makeup items!
Gothic Witch Costume
If you want to do a classic Halloween costume this year, follow in Kayleigh Noelle's footsteps and go as a gothic witch. Mostly using e.l.f. products, the beauty vlogger pulled off a dark and moody look perfect for the October festivities.
Bambi
Whether you're channeling the iconic Disney movie or want to be a cute deer for the evening, Lebanna Beauty has your back covered with her drugstore reiteration.
You don't have to spend a lot of money to make a statement this Halloween season!