21 Super Easy Halloween Costume Ideas That Can Be Done With Only Makeup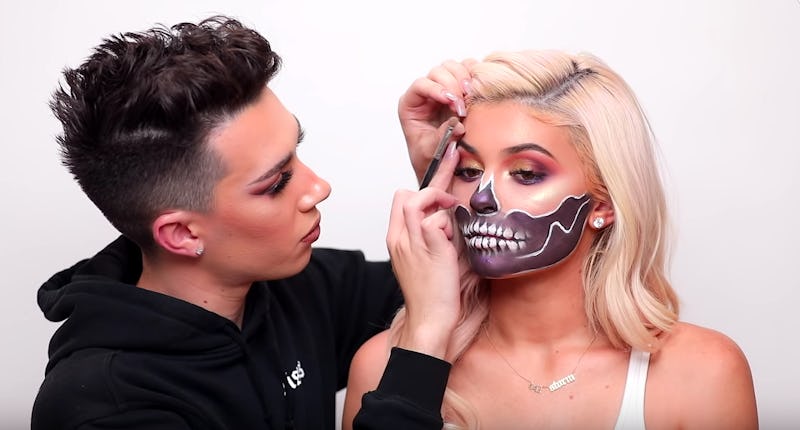 Courtesy of YouTube
If you absolutely love dressing up for Halloween, but don't want to spend a ton of cash on your look, there's an easy, fun, and creative solution to that costume conundrum. These easy 2018 Halloween costumes can be created solely with makeup products. You can dig through your makeup bag or drawer and make use of products that you haven't touched in a while or that you simply forgot about. You can also purchase some additional products to enhance your Halloween costume and seasonal look. But the best part is that you can very likely repurpose those products and use them through the year, to craft other looks, and until you hit pan.
Easy Halloween costumes created only with makeup mean that the focus of your look will be your face. The rest of your costume can be cheaply sourced via a party store, a costume shop, a thrift store, or your own closet. You can get doubly creative when putting together the additional elements of your outfit.
But you will have the most fun using cosmetic products to transform into a spooky skeleton, a classic horror film villain, or a famous celeb. It's makeup magic and product sorcery at its finest.
Below are 22 easy Halloween costumes where the makeup is the costume. Some are more extensive, extreme, and require effort and product. Others are supremely simple.
1. Glam Spooky Skeleton
The spooky skeleton is an ever-popular look. There are tons of skeleton makeup tutorials on YouTube. While you may not do your makeup on the level of James Charles or Kylie Jenner, you can follow this tutorial to create the exposed teeth and glamorously dramatic mouth.
2. Smoky-Eyed & Simple Spooky Skeleton 1
This super smoky-eyed skeleton is simple to create. It makes ample use of just a handful of products. The eyes are heavily blackened and the spooky smile is crafted with an assist from gel eyeliner and a brush.
3. Smoky-Eyed & Simple Spooky Skeleton 2
Bronzy, smoky eyes and the split, spooky smile are such go-tos when you've procrastinated on your costume. This tutorial shows how easy and universal this look is when you are short on time and long on Halloween parties.
4. Dramatic Eye Spooky Skeleton
Here's another easy skeleton look that focuses on blacked out eyes and contrasted, pasty skin. It's super duper easy to implement. The end result is a bit menacing — in a good way.
5. Vampire 1
You don't need the contact lenses or the faux fangs to execute this look. It's wearable and involves smoky eyes, a bloodied mouth, and a neck wound — all created with product. Mwuhahaha!
6. Vampire 2
Who doesn't want to be a vampire? You need not rely on glitter a la the always sparkly Edward Cullen. You can quickly and easily morph into a blood sucker with some fake vampire teeth, white face powder, and red lipstick. There will be no questions about your costume and no confusion about what you are dressing up as. But don't be shocked if your fellow partygoers want to protect their necks.
7. Frankenstein
If you totally want to do a Frankenstein look, it's not hard to create that faux stitched look with some eyeliner, shadow, and contouring kits, like so.
8. Unicorn
Unicorns remain a popular makeup aesthetic trend. Take it next level by transmogrifying into the mythical horned beast for Halloween. If you don't have pink hair and don't want to buy a cheap pink wig, you can spritz strands with those temporary color sprays that line the shelves at CVS and Ulta. Then, focus on sparkly, glittery, and pastel makeup to complete your look.
9. Emoji
What a modern, millennial costume. Your face can become any emoji you wish with some yellow makeup and added flourishes.
10. The Walking Dead x Zombie
All you have to do is dive deep into your makeup bag for a zombie x The Walking Dead aesthetic. This MUA used brown, gray, and red eyeshadows to get that zombie IRL vibe. You don't need to be a special effects artist to create a realistic zombie.
11. Deer 1
Becoming Bambi is a lot simpler than you thought. This MUA did extreme, intense contouring and really rocked that eyeliner to emulate a doe.
12. Deer 2
Ladies with darker skin tones can also rock that deer look. It's all about the contouring with shadows and light. Make your standard contouring kit and products work overtime for you this Halloween.
13. Michael Myers
Horror film lovers can morph into quintessential onscreen villain Michael Myers with white face paint and black eyeshadow and eyeliner. The best thing about these sorts of tutorials is that there are no mistakes. The looks are intentionally imperfect.
14. Black Cat
Perhaps no other easy Halloween costume created solely with makeup is as easy as the black cat. It's all about lids, lashes, whiskers, and the tip of your nose. It's cute and simple.
15. Pennywise
Pennywise reminds us why clowns can be creepy and scary. But this tutorial shows how creepy clown makeup can be glam and downright awesome.
16. Spiderman
Get your Spider-Man on with this half-mask tutorial. It requires some dexterity and experience but you so got this.
17. Morticia Addams
The Godmother of Goth aka Morticia Addams is a beyond easy Halloween costume comprised solely of makeup. Defined, lined, and dramatically lashed eyes, along with precise red lips and white face powder, are the cornerstones.
18. Bloody Eyeliner
You can use any palette to create the smoky halo and the base. It's placement and detail of the liquid black and red liners that take this into Halloween territory.
19. Walking Wounded
You can fake the cat scratch wounds on the face with eyeshadow, lipstick, lip gloss, and that's it. It requires a solid shading technique, though. If you want to go into the gorier side of Halloween costumes, start small and easy with this tutorial.
20. Bloody Mary
This "vintage" and sanguine Nikkie Tutorials look is still so easy to replicate today. You don't need to use the exact products she used. You can view them as inspiration and a jumping off point.
21. Cat Woman
Lastly, this dramatic and futuristic Catwoman look can be created easily with ABLE Cosmetics' Cat Eye 101 liner. MUA and brand founder Dana Rae tells Bustle exactly how to craft this look. She says, "Line your lash line. Make sure that the line spans from the inner corner near your nose to the end of your lash line."
She continues, "Next, while looking in the mirror, draw a tiny dot where you'd like your cat eyes to end. Lift your chin slightly and draw a straight line from dot to lash line, creating the perfect straight line and connecting dot to lash line and then continue halfway under your eye. Fill in any black areas and finish off with a strip lash."
Rae suggests a dramatic strip lash that has large gaps between the lashes. "Cut the strip in half and flip it upside down," she says. "Apply the half lash along your under eye liner." Boom. Done. Halloween high drama is all yours.
Go forth and create Halloween costumes with makeup magic.