11 Photos Of Joe Biden & Michelle Obama That Show They Grew Close In The White House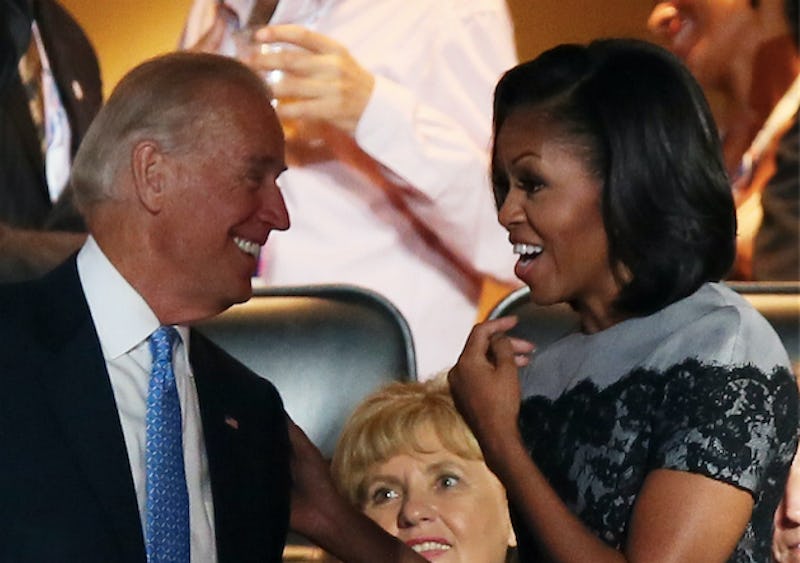 Alex Wong/Getty Images News/Getty Images
In any given presidency, there's no guarantee that the first lady and vice president will get along, let alone strike up a friendship. But in the last administration, they did, and these photos of Joe Biden and Michelle Obama show just how close the two became over the course of the Obama presidency.
Joe and Michelle have heaped praise upon each other in public many times. During his speech at the 2016 Democratic National Convention, Joe called Michelle "incredible" several times and said that "Barack and I married up! Way up!"
In an interview with Andrea Mitchell the next year, he declared her "the finest first lady in history."
Michelle, likewise, has praised Joe as a champion of the working class, remarking in a 2008 speech that he's "never forgotten where he came from and never stopped fighting for folks who work long hours and face long odds and need someone on their side again."
In general, it was clear by the end of the Obama presidency that the Obamas and Bidens had all become close with one another. During his farewell speech, Barack said that he and Michelle love Joe and his wife, Dr. Jill Biden, "like family," and that becoming close with them has been "one of the great joys of our lives." Joe, meanwhile, has made his feelings for Barack abundantly clear, telling him at a 2016 even that "as long as there's a breath in me, I'll be there for you."
In 2016, Joe and Michelle's friendship became a meme, one of the highest honors the internet has to offer. Meanwhile, pictures of them from 2008 and beyond that illustrate the warmth of their friendship.