11 Movies About Chefs That'll Inspire Your Tastiest Thanksgiving Dinner Yet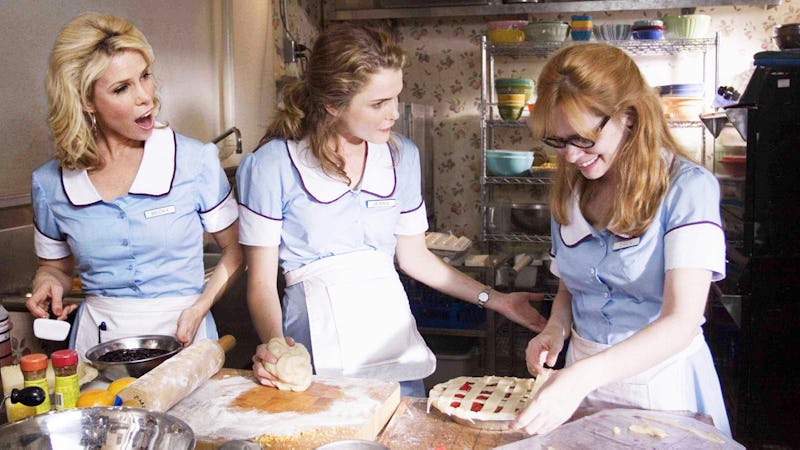 Fox Searchlight Pictures
The biggest eating holiday of the year is upon us, friends. Thanksgiving evokes images of a giant turkey, creamy mashed potatoes, chunky stuffing, mouth-watering pies, and bottle after bottle of wine. For those who love cooking, Thanksgiving can be a time to try our new ideas, or stick with the old family classics. For those who hate cooking, well, perhaps some inspiration can be found in movies about making food.
Food movies are a beloved genre among movie fans (and eating fans). If a film can stir your emotions with its story as well as make your mouth water for the dishes on screen, then its job is done. Movies that take place in restaurants will always have that added layer of drama; working in one has to be one of the most stressful jobs around. But quality cooking doesn't have to take place in professional kitchens, and great food movies aren't always about professional chefs.
The following list is a mixture of movies from different genres, featuring pros and home chefs, with dishes that will surely lead to salivation. You'll certainly be entertained, and and who knows, you just might find some Thanksgiving inspiration for your upcoming holiday meal.
1. Julie & Julia
It's literally impossible to resist the amount of charm Meryl Streep exudes playing legendary TV chef Julia Child. It almost makes you feel bad for Amy Adams, the Julie of the story. But either way, the dishes are delectable.
Streaming on Amazon, iTunes, and Vudu.
2. Chef
Jon Favreau writes, directs, and stars in this comedy about a celebrated chef who abandons his restaurant to drive a food truck around the country with his son. Not only do his fancy restaurant dishes look like they're to die for, but his food truck sandwiches have their own scrumptious power.
Streaming on Amazon, iTunes, and Vudu.
3. Ratatouille
The ultimate Disney/Pixar food porn, Ratatouille makes even animated food look good. When a budding chef can't live up to his family name, he gets help from a kitchen's mortal enemy: a rat.
Streaming on Amazon, iTunes, and Vudu.
4. Like Water For Chocolate
What does food have to do with sex? You need only watch Like Water for Chocolate to find out. Based on the Mexican erotic novel of the same name, the movie might not provide any family-appropriate Thanksgiving recipes, but it might inspire you to seek out a long-lost crush while you're back in your home town.
Streaming on Netflix, Amazon, Vudu.
5. The Hundred Foot Journey
This one is a story about reaching across cultural boundaries as much it is about discovering new cuisines. Helen Mirren stars as a high-end chef whose French restaurant earns a new neighbor in the Indian family across the street who open up a spot of their own. The combo of Indian dishes and French classics make an apt metaphor for how food brings people together.
Streaming on Showtime, iTunes, Vudu, Amazon.
6. Eat, Drink, Man, Woman
Movies about food are often also movies about family. Ang Lee's 1994 film tells the story of three sisters living in the shadow of their father, an acclaimed chef, who hosts family dinners every Sunday in an attempt to stay relevant to their modern lives.
Streaming on Amazon, iTunes, and Vudu.
7. Soul Food
Some home-cooked meals can rival the dishes at any Michelin-starred restaurant. Soul Food's Big Mama doesn't have her own restaurant, but she's the best chef her family knows, and her cooking brings them together in times of tragedy.
Streaming on Amazon and Vudu.
8, 9, and 10. The Trip, The Trip to Italy, & The Trip to Spain
Brits Steve Coogan and Rob Brydon star in this trio of films about a couple of buddies who go on food tours of various European countries. The dry British humor and sarcasm is undercut by some seriously delicious-looking food. As with any good meal, start with the first course.
The Trip is streaming on Amazon, The Trip to Italy on Netflix, Amazon, and iTunes; The Trip to Spain on Netflix and Amazon.
11. Waitress
And now, for dessert. Keri Russell stars in dearly-departed director Adrienne Shelley's story about a young pregnant woman named Jenna who dreams of using her pie-making skills to escape her humdrum life. The movie inspired the hit Broadway musical written by Sarah Bareilles, which pipes the smell of baking pies into the theater.
Streaming on HBO, Amazon, iTunes, Vudu.
Whichever movie you end up watching, make sure you don't do so on an empty stomach. Or at least have some snacks nearby! Happy eating, er, watching!