7 Thanksgiving Movies Streaming Now To Get You In The Mood For This Dysfunctional Holiday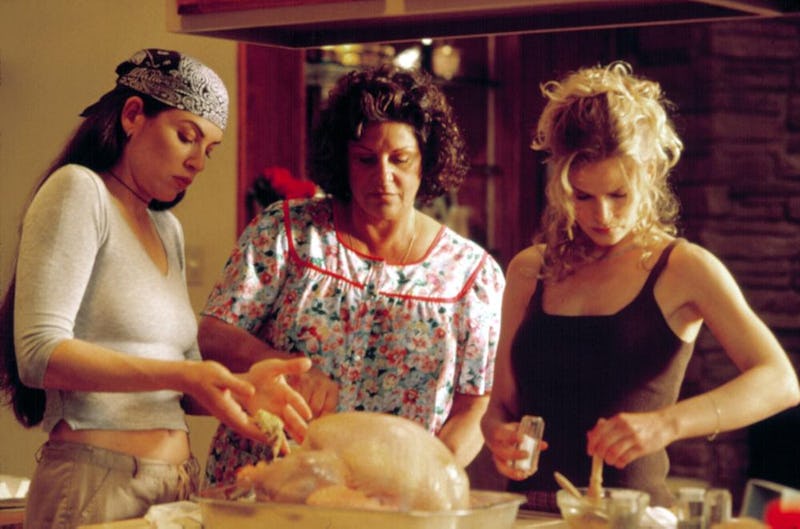 Trimark Pictures
Now that Halloween is over (why?!?!) it's time to head full steam into "the holidays" and that means holiday movies. But before Christmas and Hanukkah and Kwanzaa hit and the gifts start to flow, there's a little thing called Thanksgiving. The turkey holiday. The probably not historically accurate holiday. The totally American, stuff-our-faces-then-go-shopping holiday. There's a lot to like and dislike about Thanksgiving. And the Thanksgiving movie genre has been a little bit underrepresented over the years. It seems like Halloween and Christmas get all the great holiday films, while Thanksgiving often gets forgotten about.
But fear not, turkey lovers! There are a few Thanksgiving gems out there to tide us over and help us move beyond Halloween (cries) and onto the holiday bombardment at the end of the year. Unsurprisingly, Thanksgiving movies tend to feature dysfunctional families, fights, and all around struggle. It might be the whole point of them, after all, to remember who's there (or not there) for us at the times when we need it most. Sometimes those people are our blood relatives and sometimes they're a family we've made up on our own. These Thanksgiving movies have a little bit of both. So pop one on and get ready for some pie.
1. Addams Family Values
If you're not yet over Halloween (and let's face it, who is?) then everyone's favorite creepy family is the best segue between the two holidays. The Addams family themselves scream Halloween, but the "First Thanksgiving" pageant that Wednesday and Pugsly partake in, and ruin, while at camp is truly something to celebrate.
Streaming on Hulu, Amazon, Starz, iTunes, and Vudu.
2. Pieces Of April
I will argue until a Dawson's Creek reunion is officially announced that Pieces of April is Katie Holmes' best acting performance to date. She stars as a young, alternative woman hosting Thanksgiving for her very "normal" suburban family in her tiny city apartment. Everything that can go wrong, does, but that's what makes the movie so right.
Streaming on Hulu, Amazon, Vudu, iTunes.
3. The Ice Storm
If the first two movies on this list didn't fulfill your Christina Ricci and Katie Holmes fix, you may have to give The Ice Storm a go as well. '90s heartthrobs Elijah Wood and Toby Maguire join them in this Ang Lee-directed drama that takes place over Thanksgiving in 1973 during the suburban sexual revolution. The storyline involving the grown ups, played by Kevin Kline, Sigourney Weaver, and Joan Allen is also pretty intense.
Streaming on Amazon, Vudu, iTunes.
4. What's Cooking?
Looking for a Thanksgiving movie directed by a woman, featuring some powerhouse actresses in great roles, an LGBTQ+ story line, and a diverse cast of families of all different colors? Look no further than Gurinder Chadha's What's Cooking? This overlooked gem from 2000 stars Kyra Sedgewick, Julianna Margulies, Alfre Woodard, and Mercedes Ruehl.
Streaming on Amazon, Vudu, and iTunes.
5. Planes, Trains, And Automobiles
The OG of Thanksgiving movies, this one is a classic. Steve Martin and John Candy (RIP) are trying to get home in time for Thanksgiving and the arduous trip becomes more and more ridiculous as the movie goes along.
Streaming on Amazon, Vudu, and iTunes.
6. Kristy
If, like plenty of folks out there, the idea of going home for Thanksgiving terrifies you, you might be more in the mood for horror this holiday. Kristy tells the tale of a group of college students who stay at school over Thanksgiving, but their choice turns out to be a poor one when they are targeted by a murderous online cult. Actually, this one might scare you into going home.
Streaming on Netflix.
7. Home For The Holidays
Why is it that so many Thanksgiving movies involve dysfunctional families? The holiday seems to bring out the worst in us, and Jodie Foster's second directorial outing, this 1995 comedy starring Holly Hunter and Robert Downey Jr., captures the best of the worst of times.
Streaming on Starz, Hulu, Amazon, and Vudu.
Hopefully, your family isn't as dysfunctional as these are, or you've found your own way of enjoying Thanksgiving and its few but fun movies. That said, on to Christmas!