11 Net Neutrality Questions You Were Too Afraid To Ask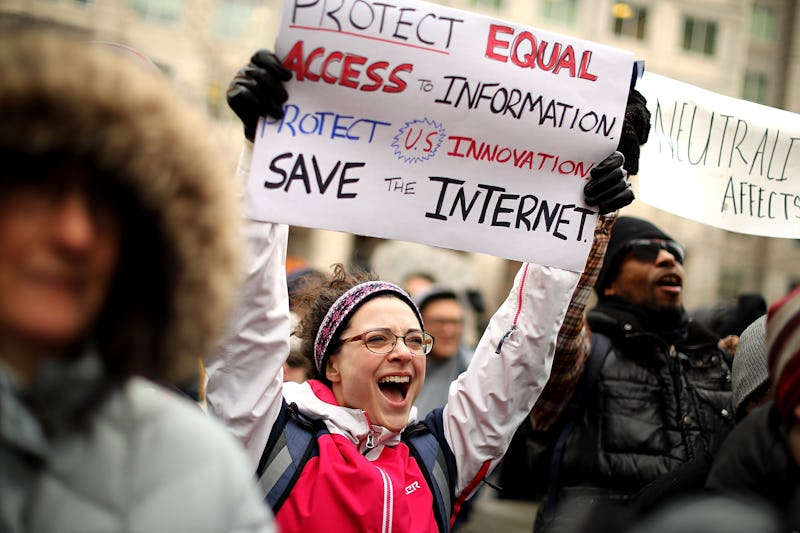 Chip Somodevilla/Getty Images News/Getty Images
Americans are once again talking about net neutrality thanks to Senate Democrats. The Senate was expected to vote Wednesday afternoon on reversing the Federal Communications Commission's (FCC) decision to repeal net neutrality protections, which date back to the Obama presidency. If you're a little confused, don't worry: Bustle has you covered with answers to all the questions about net neutrality you're too afraid to ask.
The decision to repeal net neutrality protections was highly controversial, with a number of tech companies and consumer advocacy groups — not to mention consumers themselves — opposing the ruling. Critics argue that repealing net neutrality protections would hand internet service providers unchecked power, enabling them to manipulate their networks by throttling internet speeds and access unless consumers and businesses shell out more.
"The internet should be kept free and open like our highways, accessible and affordable to every American, regardless of ability to pay," Senate Minority Leader Chuck Schumer said when announcing Democrats' plans to force a vote. "The repeal of net neutrality is not only a blow to the average consumer, but it is a blow to public schools, rural Americans, communities of color and small businesses."
Although the FCC repealed its Title II net neutrality order in December, the agency has been slow to actually role the regulations back. In fact, it wasn't until February that the FCC even entered its repeal proposal into the federal register. Here's what else you need to know to get caught up on the current state of play with net neutrality.