11 Throwback IG Photos Of Meghan Markle That Will Make You Love Her Even More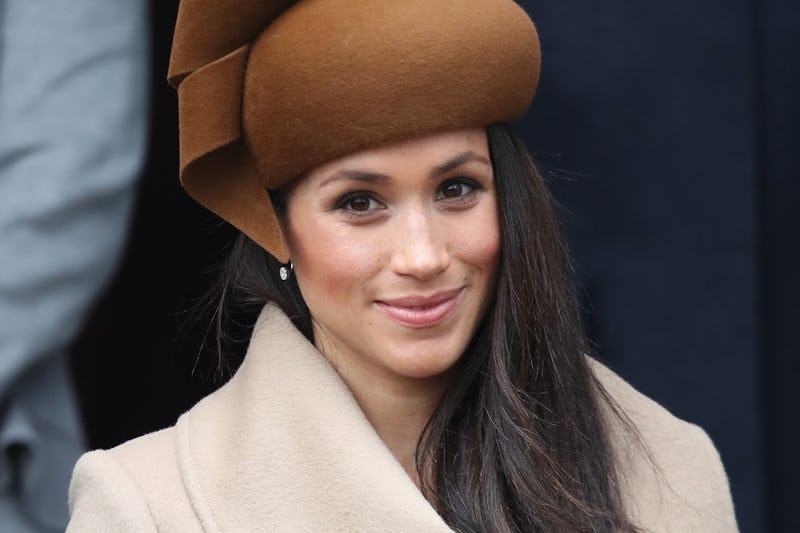 Chris Jackson/Getty Images Entertainment/Getty Images
It's been a month since her engagement to Prince Harry was announced to the public, yet people still can't seem to get enough of Meghan Markle and her private life prior to the prince's fairytale proposal. As curiosity surrounding her background continues to make headlines, these throwback photos of Markle will certainly may make you love her even more than you did before.
From youngster throwbacks to precious family snapshots, Markle's social media presence offers a glimpse into the core of who she really is as a person and provides added proof of her commitment to pressing social issues — long before making Prince Harry's acquaintance during the summer of 2016. Years before their romantic involvement, Markle set her sights on changing the world as an actor and philanthropist — factors which are both very well documented on all of her social media accounts. However, the essence of who she truly is as a person seems to dig much deeper than what people see on TV.
That said, photos from her Instagram account help provide proof of the many layers that are Meghan Markle and reveal that "Her Royal Highness Princess Henry of Wales" is not the only title that should be added to the newly engaged entertainer's résumé.
1. Proud Daughter
This sweet video of Markle planting a kiss on her mother proves that, among other things, Markle is a doting daughter.
2. Cool Kid
An adorable throwback photo from Markle's Instagram account shows that she was prepped for stardom at a very young age.
3. Laid-Back Lady
Markle showed that she's totally down to earth in this super-chill selfie from Easter 2016.
4. Hands-On Chef
Another snapshot proves that Markle is not afraid to get her hands dirty as she prepares fish for dinner.
5. Puppy Lover
Markle can't seem to get enough of her pal Serena Williams' adorable pup.
6. Daddy's Girl
Markle once posted a photo of her dad holding her as a small baby for Father's Day. She sweetly pointed out that she and her father share the same nose.
7. Spreader of Joy
She simply can't contain her happiness after getting some good news in this photo.
8. World Traveler
This throwback from Markle's spring break trip to Italy at 19 years old showcase her love for world travel.
9. Military Supporter
One of her many philanthropic endeavors, Markle visited troops in Afghanistan to personally thank them for their service.
10. Kiddie Companion
Spending quality time with her goddaughter seems to be one of her favorite pastimes.
11. Lover Of Life
Posing on one leg, Markle shouts out her mom while sharing her gratitude for Canada.
The 36-year-old actor and Prince Harry's royal engagement, which was announced on Nov. 27, was a moment fans had been waiting for since they had learned of the two becoming close following their first meeting in July 2016, according to Town & Country.
Their romance took off rather quickly according to the Prince himself who explained during a BBC interview that he and Markle had been set up on a blind date "by a mutual friend." He went on to reveal that they then had two dates back-to-back and gave more detail on exactly how their romantic relationship got underway. Prince Harry told BBC,
"The beginning of July. And then it was I think about three, maybe four weeks later that I managed to persuade her to come and join me in Botswana. And we – we camped out with each other under the stars, we spent — she came and joined me for five days out there, which was absolutely fantastic. So then we were really by ourselves. Which I think, which was crucial to me to make sure we had a chance to get to know each other."
News of their romance quickly bolstered Markle into the international spotlight as fans became more and more curious about Prince Harry's new love, and it's easy to see why. With her poise, charm, and humanity for all, Markle is, no doubt, going to fit in perfectly with the royal family.