11 Organisations Supporting QTIPOC In The UK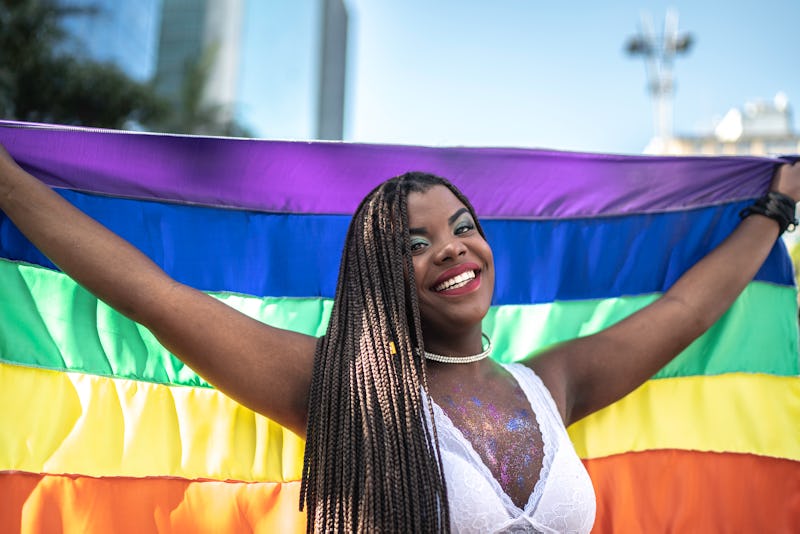 FG Trade/E+/Getty Images
Pride month is a time when the community and its allies aim to celebrate LGBTQ people around the world. However, it's important to remember that the mistreatment and underrepresentation of people of colour is still prevalent in all areas of society — including in the LGBTQ community. According to statistics from Stonewall, more than half of Black, Asian and minority ethnic (BAME) LGBT people have experienced discrimination or poor treatment from the wider LGBT community. Thankfully, various support networks offer guidance and safe spaces for vulnerable and often silenced LGBTQ people of colour. So, if you'd like to learn more about what's out there, here are just some of the organisations supporting QTIPOC in the UK you can follow, support, and donate to.
In an often whitewashed society, queer, trans, and/or intersex people of colour (QTIPOC) might struggle to find open and honest conversations about sexual health, gender, and identity in the way that other LGTBQ people can. However, with various charities, events, organisations, and community networks spread across the UK in major cities such as London, Birmingham, Leeds, Manchester, and beyond, it has become increasingly possible for QTIPOC to connect with their peers in a range of safe and inspiring spaces.
To discover more about the ongoing work of these organisations, please find below a list of some of the most active networks of QTIPOC in the UK today.
This article was originally published on