11 Over-The-Knee Boots You Can Actually Walk In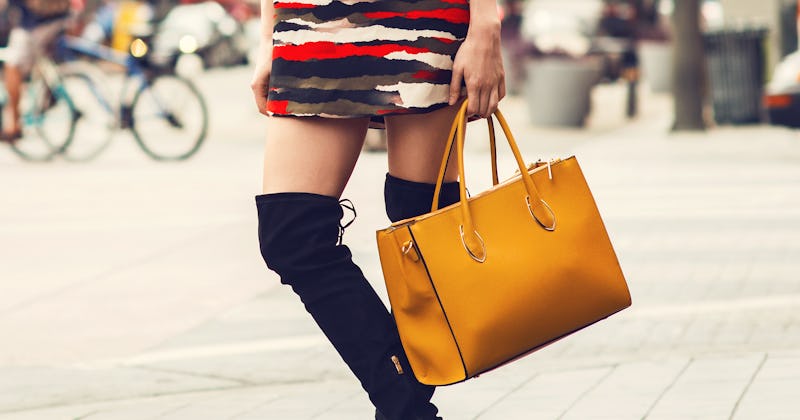 Winter's waning, but it has a few last gasps left. That means there's still time to show off your excellent taste in winter boots. I'm totally in love with the leggings-plus-over-the-knee boots look, so I'm always on the hunt for over-the-knee boots that are easy to walk in.
There are plenty of cute weather-worthy winter boots to buy, but sometimes "cute" eclipses "functional." And if you're like me, that means you spend half your time looking hot AF and half your time wobbling along and trying not to fall, especially on ice-slick roads and sidewalks.
Honestly, I wear over-the-knee boots because they give my bad knee more support, but that support can mean zilch if the base of the boot constantly makes my ankles work to keep me upright. Buying tall boots can feel like a lose-lose-lose: They can be adorable, durable, or sturdy, but it seems like they're never all three, and sometimes it can be difficult to find boots that tick even two of those boxes.
I've put together a list of boots that are stylish but don't compromise functionality — boots that won't sap your confidence by making you struggle to keep your balance.
Check out these fashionable options below.
Chinese Laundry Women's Rainey Suedette Slouch Boot, $46, Amazon
These boots have a small, one-inch synthetic heel, making them super easy for cruising around. Their thick, supportive material around the ankle tapers to softer, thinner material around the knee, so if you're constantly buying boots that are too tight around the knees, these are for you.
Kate Spade New York Women's Lora Over The Knee Boot, $155, Amazon
It's true: I'm a sucker for anything Kate Spade. But these boots come honestly recommended — they have a chunky, three-inch leather heel, and in fact are entirely leather throughout, making them perfect for braving winter's worst.
Aldo Women's Evia Riding Boot, $87, Amazon
If the Kate Spade heels aren't thick enough for you, these leather boots have an even chunkier one. And they have a sweet fit, combining zip-up with an adjustable buckle on the back of your calf.
Over The Knee Thigh High Winter Lady Boots, $26, Amazon
These suede boots have a rubber sole, and while they may not be as cute as some of the other boots on this list, they're pros at preventing slippage. Plus, they transition from winter to spring — all you have to do is push the material down under your knee, and your over-the-knee boots become knee-high slouchies.
Over-The-Knee OILNU Western Boot, $114, Amazon
These boots are leather all around, with a 1.75-inch heel and some beautiful detailing on the tough exterior. They are lace-ups, so if that's not your jam, these aren't for you. But consider that that beautiful burnished color just might be worth the extra effort.
Zip-up Over The Knee Riding Button Collar Long Boots, $45, Amazon
These have enough of a heel to keep you from slopping up side-of-the-road puddles, but not so much that you actually feel like you're wearing a heeled boot. Synthetic material outside, a rubber sole, and a backside zip-up make these super durable and great for on-the-go.
Public Desire Anita Mid Heeled Over The Knee Boots, $40, Asos
These are arguably the least practical shoe on this list, despite their thick-soled heel and arch support. However! I couldn't help adding this splash of skintight slinkiness for those of us who are a little down thanks to the constant dreary winter weather.
Nine West Women's Anilla Over-The-Knee Boot, $161, Amazon
Another suede and synthetic combo, these white boots are functional and glamorous, with a tasselled zip closure on the back and a separate small zip-up over the ankles. If you're not into white boots, these also come in chocolate brown and black.
Charles by Charles David Women's Gunter Slouch Boot, $55, Amazon
These boots come with a padded footbed and a small 1.5-inch synthetic heel. They're pull-ons, with a bow at the top which doubles as a cinch, since these boots are slouchies. That color is the perfect thing to add a splash to the endless grey days.
Guess Women's Zafira Riding Boot, $149, Amazon
Handmade and with a low, synthetic sole, these riding boots are perfect for leggings and skirts. They come with a very small 1.25-inch heel and are available in grey and black — but no matter which color you choose, you'll still be getting that lively bow closure.
Fashion Over-The-Knee Ruched Boots, $40, Amazon
There's nothing more badass-looking than a ruched boot, and these deliver. They're pleather, with a rubber sole, a 1.25-inch heel, and a 0.5-inch platform inside "for a subtle sure-footed height boost."
Winter is hitting the point where it feels endless, but have faith — and great new looks to carry you through till spring.