11 Erica Garner Quotes That Define Her Fearless Activism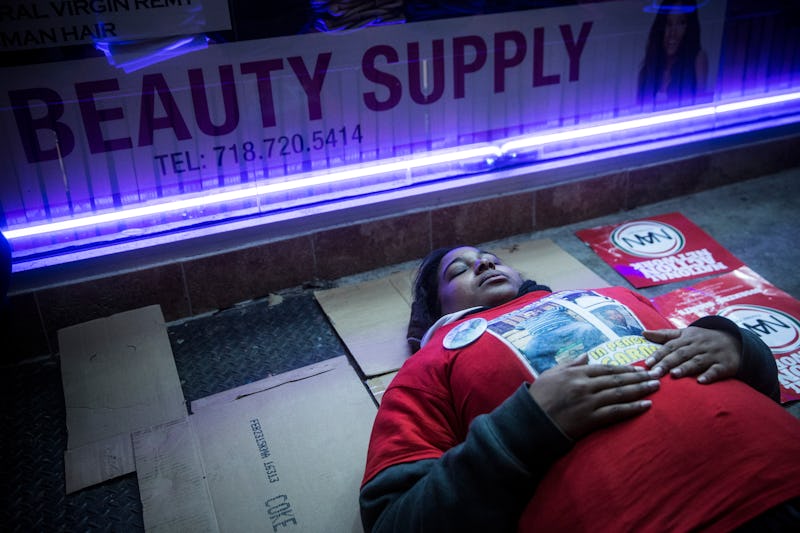 Andrew Burton/Getty Images News/Getty Images
A young woman spurred into activism after her father was killed when a New York City police officer placed him in a chokehold in 2014, died Saturday at the age of 27. She became an outspoken activist against police brutality and racial injustice, staging protests and weekly "die-ins" while lending her voice to the Black Lives Matter movement. As these quotes from Erica Garner show, she was a powerful speaker for the ongoing civil rights movement and her voice won't be forgotten.
Garner jumped into activism following the death of her father, Eric Garner, in July 2014. Garner's father was killed when a New York City police officer placed him in a chokehold after stopping the 43-year-old for illegally selling cigarettes. Video footage of the incident showed him repeatedly telling officers "I can't breathe" before he died. Since his death Garner had repeatedly challenged city officials and government leaders to stand up against police brutality while also advocating for racial justice and bringing an end to institutionalized racism.
Garner's death comes a week after the activist and mother of two was placed in a medically-induced coma following a severe asthma attack that sent her into cardiac arrest. According to the New York Daily News, this was the second heart attack Garner had suffered in her life. The first reportedly occurred shortly after Garner delivered her son earlier this year and led doctors to diagnose her with an enlarged heart.
Here are 11 quotes from Garner that show exactly how powerful her voice was as an activist for civil rights and racial justice:
1. I Believe In Justice
"I believe in justice," Garner told the Guardian during an interview published in January of 2017. "I believe it's going to take a long time but it's gonna come. Change is gonna come."
2. Now I Understand Why My Dad Said Lead By Example
"Everything that my dad taught me — 'you have to be a leader, you have to lead by example,'" Garner said in a video filmed as part of the New Yorker's The Marshall Project. "Now I understand why he was telling me all these things growing up."
3. When I Demand Justice, It's Never Just For Eric Garner
"Even with my own heartbreak, when I demand justice, it's never just for Eric Garner," Garner wrote in an op-ed endorsing Sen. Bernie Sanders for president in 2016. "It's for my daughter; it's for the next generation of African Americans."
4. This Is Not A Black & White Issue
"This is not a black and white issue," Garner told Don Lemon during an interview on CNN. "This is a national crisis. I believe this is a crisis... It's about police officers abusing their power."
5. All I Can See Is My Dad Just Trying To Live For His Kids
"All I can see on that video is my Dad just trying to live for his kids, just fighting for us," Garner told the Guardian in reference to watching footage of her father's fatal interaction with police. "You can hear his voice get muffled and high-pitched. It sounds like he was scared. Really scared. He wasn't fighting the police. He was fighting to breathe."
6. Getting People Involved Is My Main Goal
"Just getting people involved in the political process is my main goal, no matter who you vote for," Garner said in a March 2016 interview with Elle's Chaédria Labouvier.
7. If Black Lives Mattered In America ...
"If our lives really mattered, we'd have equal access to decent jobs, good schools and affordable housing," Garner wrote in an op-ed for the Washington Post published in January of 2016. "If our lives mattered in this country, we'd have equal access to clean air, clean water and real investment in black neighborhoods. If black lives mattered in America, those who routinely brutalize us wouldn't be the ones paid, with our tax dollars, to keep us safe."
8. I'm Interested In Being For The People
"I'm interested in just being for the people," Garner said during an interview on the Breakfast Club Power 105.1 when asked if she was interested in running for public office. "I want to be able, if you're not going to speak out, I'm going to be the one to speak out."
9. You Can't Fight Violence With Violence
"I am angry but that's not going to solve anything," Garner told the Guardian in January. "I'd rather be angry on a march and channel it with all those people and project it in my voice. Because now people are looking to me so I have to keep pressing on for my father and end the cycle of violence. You can't fight violence with violence. You'll either get killed or go to jail."
10. I Will Always March
"People ask, 'When will you stop marching? What do you want from marching?'" Garner told NBC New York during a March 2015 interview about her continued activism. "He was my father, I will always march."
11. I Know A Better World Is Possible
"We aren't the first generation of black Americans to rise up and demand our human right to life, and we won't be the last," Garner wrote for the Washington Post in 2016. "But I know a better world is possible. I know that once we come together, we are powerful beyond imagination."
Garner's life may have been cut tragically short, but her legacy — and powerful words — will continue to inspire people to become activists, and as she hoped, get them involved in the political process.