These Oscar-Nominated Docs Have Powerful Moments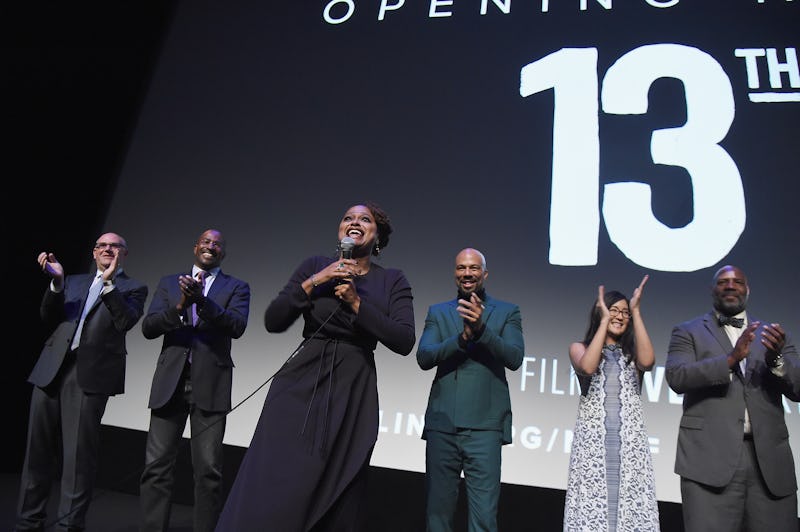 Theo Wargo/Getty Images Entertainment/Getty Images
The competition amongst the Oscar-nominated documentaries, both feature-length and short, is pretty stiff in 2017. Each of the Best Documentary Oscar categories features powerful material and each of them offers great depth and insight into lives that are potentially vastly different from our own. And, intriguingly, a majority of the documentaries in both categories are focused on the lives and experiences of minorities and communities of color.
In the Best Documentary (Feature) category, a majority of the docs discuss the black experience in America: the good, the bad, and often, the downright ugly. In Best Documentary (Short), the focus falls onto the Syrian refugee crisis. Covering different areas of the crisis, from those who stayed in Syria to save the innocent to those families fleeing to other countries for safety, a hefty punch has been packed into the documentary short format (each film runs about 25 minutes).
There is no doubt that each of the documentaries across both categories are stiff competition for one another; choosing a winner will be no easy feat. That choice is made even more difficult when you recall the words of the subjects. There are plenty of emotional moments in each of these documentaries, but the quotes below stand out as some of the most powerful.
1. "Don't They Have The Option To Cross When It's Not So Windy?"
In the sobering documentary 4.1 Miles, we follow Kyriakos and his coast guard crew on a Greek island charged with saving refugees in who are sailing to Greece to safety. There are plenty of harrowing moments in the documentary short, which you can watch on Youtube, but one sobering moment is when Kyriakos and his friends discuss the need to save refugees rather than leave them to fate.
2. "Better To Rescue A Soul Than Take One."
From the amazing documentary short The White Helmets, the full quote from one of the men saving Syrians from the shelled out rubble of Aleppo is chilling: "It is better to do humanitarian work than be armed. Better to rescue a soul than take one." Mohamed Farah told the documentary crew following him and his team about how he first fought for the resistance before becoming a white helmet worker.
3. "I Like Germany. Here They Don't Shell. In Syria, They Shell."
Watani, My Homeland follows a Syrian family through three long years of living in war-torn Syria and escaping to find refuge in Germany. The journey is intense and emotional, made even more sobering when you listen to daughter Farah say the above quote when describing her favorite thing about living in Germany.
4. "How Long Can You Live With Memories?"
Joe's Violin is a surprising and heartfelt Oscar-nominated documentary short. Tracking the passage of a special violin from the hands of a Holocaust survivor to a young prodigy living in the Bronx, the movie shows how the power of memories placed into an object becomes the source of hope for someone else.
5. "I Believe In Prayer, But I Believe In Nature Taking It's Course Too."
Extremis is not an easy documentary short to watch but you should not shy away from it. Following one doctor and her team as they council the families of people on life support, there are no easy choices here. When the brother of a woman on life support is weighing his beliefs versus what is the right thing to do, you may find yourself overcome.
6. "If We Are Black, We Are [...] Products Of The History Our Ancestors Did Not Choose."
13th is from maverick director Ava DuVernay, and will lead to her second showing at the Oscars. Bringing in the foremost scholars on the American prison system, policing in America, the black experience in American history, and various civil rights figures, 13th takes a tough but timely look at the intersection of blackness and crime in America.
7. "As A Kid Growing Up In The Ghetto, One Of The Things I Wanted Most Wasn't Money, It Was Fame."
O.J.: Made In America fed into America's renewed obsession with the O.J. Simpson murder trial and the culture that created him. At the beginning of the incredible and lengthy documentary, Simpson describes the vision he had for his life which included fame. Almost acting as an omen of the things to come, Simpson's words hang heavy in the air.
8. "We Read Every Possible Meaning Into [...]'Just Your Voice.' The Silent Child, The First Thing He Says."
Life, Animated is more upbeat than the Oscar-nominated company it finds itself a part of but that doesn't mean it's without it's strong, emotional notes. Following Owen Suskind and his family as they discuss his journey with autism and how the magic of Disney provided a key to unlocking his potential, Life, Animated is thrilling. At one point, his father, Ron, tells a story of how one moment in The Little Mermaid (just three simple words) unlocked a conversational drive with Owen that wasn't there before.
9. "The Story Of The Negro In America Is The Story Of America. It Is Not A Pretty Story."
I Am Not Your Negro has become critically acclaimed and has grabbed the attention of the Academy for its indictment of the treatment black Americans have faced throughout our nation's history. Through the words of author and poet James Baldwin, that experience gets woven into a story that is not entirely pretty but definitely necessary to tell.
10. "[Tinkerbell] Was Chosen For Something Special And I Was Chosen For Something Special, Too."
After learning that she would inherit the special violin in Joe's Violin, seventh grader Brianna Perez discusses her life inspirations and who she looks up to most: Tinkerbell. The happiness that fills her voice as she realizes that she is just as special as the fictional character she looks up to will endear her to you.
11. "I'm Not Black. I'm O.J."
The most haunting quote from O.J.: Made In America was the one said by Simpson himself and perhaps acts as a thesis statement for the football star's own life.
These quotes are powerful excerpts from some truly must-see documentaries.