11 Quotes From North West's First Interview That Are Weirdly Relatable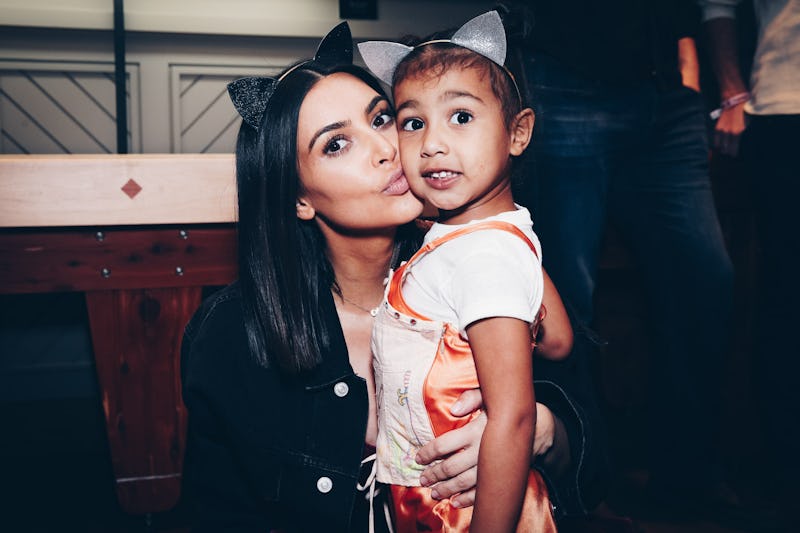 Handout/Getty Images Entertainment/Getty Images
It's finally happened. On Monday, Interview magazine released North West's first tell-all interview. Believe it or not, but most everything the 4-year-old said is actually relatable. For some time now, North has been expressing herself via her mom's, Kim Kardashian, social media accounts, but now the world is learning exactly how North likes her pizza, what her favorite song is, and what she carries in her purse.
The brief conversation accompanies Kardashian's chat with Interview, which was conducted by Janet Mock and released Monday. North also appeared in the publication alongside her mom, where the 36-year-old reality star channeled Jackie Onassis Kennedy. What makes North's interview even more special is that several famous kids asked her the questions, including Stranger Things' Millie Bobby Brown, Kaia Gerber (Cindy Crawford's daughter), Sean and Jayden Federline (Britney Spears and Kevin Federline's sons), and Penelope Disick (Kourtney Kardashian and Scott Disick's daughter/her cousin, obviously). She was even asked questions taken from some of Andy Warhol's writings. It's probably safe to say this interview is a memorable one.
Not only do her answers show that North is all about getting straight and to the point, but that she is absolutely relatable in more ways than one.
1. Her Favorite Pizza Topping
"Just Cheese! Cheese, cheese—everywhere cheese," she replied to Gerber about what she prefers on her pizza. Yeah, same, North. Same.
2. Her Favorite Song
In a perfect response to Sean and Jayden about her favorite song, North stated, "My daddy's song 'Amazing.' So amazing!" There are probably many who agree.
3. The Best Princess
"Jasmine, because I love her," she answered Brown about her favorite princess. Who doesn't adore Jasmine — or want to dress up like her?
4. Birthday Party Preparation
Brown also asked what she wanted to do for her next birthday party, to which she responded, "I want all the princesses to come over!" Princesses make everything better, especially birthdays.
5. Her Best Friend
After being asked who her best friend is by Brown, she declared, "Mama." First of all, that is super sweet. Secondly, there are many daughters whose moms are their best friends.
6. Being Neighbors With Penelope
Penelope asked North, "Should we build tree houses and be neighbors?" North replied, "Yeah." Building tree houses and being neighbors with these two sounds amazing.
7. A Four-Day Sleepover With Puppies
"Can I sleep over at your house for four days and bring my puppy?" Penelope also asked North. To that, she answered, "Oh yeah!" When it's a sleepover with these two and their puppies, Honey and Sushi, one must always say, "Oh yeah!"
8. All About A "Baking Party"
Penelope inquired if North wanted to have a "baking party," and North responded, "We can make rainbow princess cake!" Now that just sounds delightful. Also, you can't go wrong with "rainbow princess cake" — or any type of cake.
9. How She Does Her Nails
In reply to "Do you do your own nails?", a question from Warhol's writings, she said definitively, "Yes, very well." Raise your hand if you to do your nails "very well." *raises hand*
10. What's In Her Bag
"Toys, and sometimes I put some makeup in there when I go to church," she said after being a question from Warhol's work, "What do you carry in your bag?" For many, makeup is a purse essential.
11. Her Favorite Color
Finally, in reply to another question taken from Warhol asking about her favorite color, she answered, "Rainbow." That is a great color, not only because it includes a variety of colors, but because it has important meaning.
North, you are one relatable little girl, who a lot of people now want to eat cheese pizza and rainbow princess cake with.