11 Bizarre (Or Flat-Out False) Quotes From Sean Spicer's New Book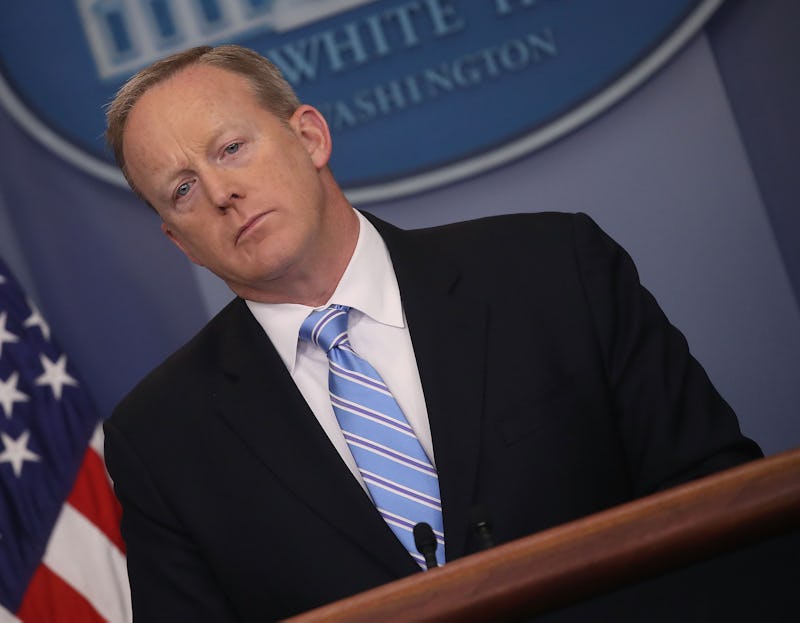 Mark Wilson/Getty Images News/Getty Images
Reviews are in for former Press Secretary Sean Spicer's book — and they're not kind. The Briefing seems to offer plenty of entertainment, even if not intentional. The book has enough errors that it's worth commenting, and the odd moments are downright weird. These are the 11 most bizarre or untrue moments from Sean Spicer's new book.
Perhaps the best, most succinct review of the book is a sentence from Jonathan Karl's article in The Wall Street Journal. He sums up the main issue with the The Briefing:
Mr. Spicer's book is much like his tenure as press secretary: short, littered with inaccuracies and offering up one consistent theme: Mr. Trump can do no wrong.
And he points out many of the books errors. "Mr. Spicer has not been well served by the book's fact checkers and copy editors," Karl writes, also noting that it's "light on insider detail of what was going on in the White House during his tumultuous time as press secretary."
Karl's review is far from an endorsement. Some others haven't even read it, but their reviews mock his time as press secretary, like in Alexandra Petri's Washington Post review titled "Sean Spicer facts about Sean Spicer book." In it, she quips: "I have read it. I have read it more times than any book in history. Three million to 5 million fraudulent voters also read it."
If you decide to read it yourself, here are some of the oddities — and untruths — you'll find inside.