11 Safety Tips You Should Know Before Hiking With Your Pet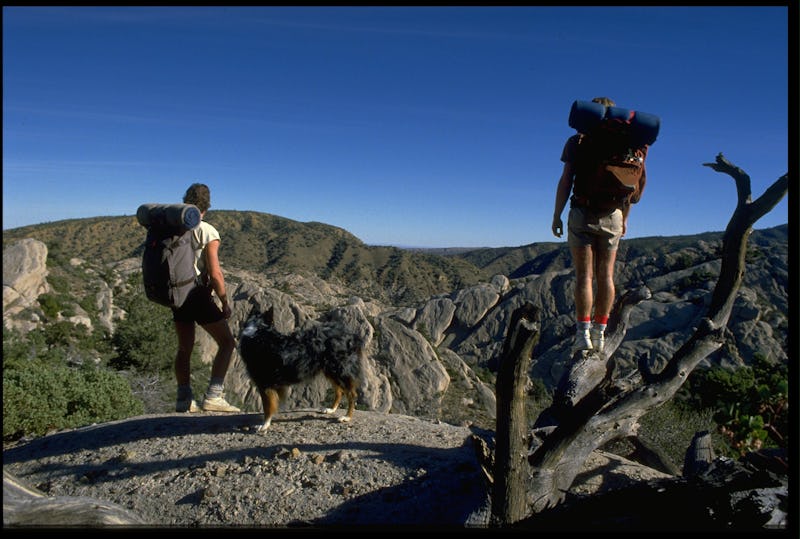 Mike Powell/Getty Images Sport/Getty Images
If you love hiking, you know the only thing better than hitting the trails alone is hitting the trails with your furry companion. Hiking with a dog is a mutually beneficial activity that enriches the experience for both parties, exponentially. Trust me, most dogs are more excited about a trail hike than a human. But if you or your pet are new to the trails, you'll want to make sure you're familiar with some standard safety tips for hiking with your dog.
Hiking is a relatively safe sport, but only if you follow rules of the trail and take careful and thoughtful precautions. When you bring a dog on the trails, you become completely and constantly responsible for their wellbeing, as they're not able to walk to the water bowl for water scratch at the cabinet for food. So while hiking with your dog is totally rewarding, it's a lot of extra work.
On the trails, you have to check in with your dog and make sure they're comfortable, satiated, dry, and energized. Here, I've put together a list of safety tips you should always follow when hiking with your pup. Before you even bring your dog to the trails, there are a few things you need to assess and address, so be safe and start by ensuring that your dog is healthy enough for a trail hike. Once you've received an OK from the vet, follow the checklist of puppy precautions on the trail, off the trail, and after the trail.