Twitter Prefers All Of These Sexy Men To Blake Shelton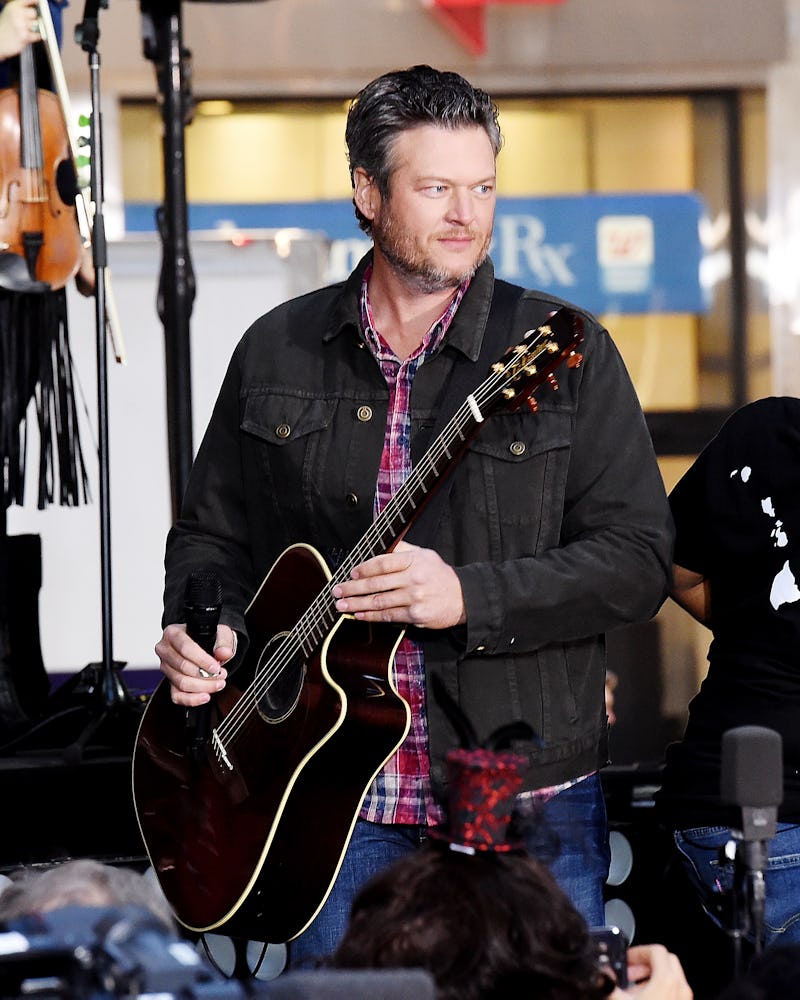 Nicholas Hunt/Getty Images Entertainment/Getty Images
On Tuesday, after making everyone wait more than halfway through the day, People finally announced that the 2017 Sexiest Man Alive is Blake Shelton. Whenever one of these announcements comes out, people talk about who should have been named instead, but this year in particular, people are really not on board with the magazine's choice. There is something positive that comes out of this, though: Twitter users listing out options for Sexiest Man Alive that aren't Blake Shelton, along with photos of the guys so they can really make their points clear, of course.
People's Sexiest list has long been a highly-anticipated moment for both celebs and fans alike, but like most things, the accolade often becomes a point of contention for the internet. Year after year, readers patiently wait to learn the identity of the genetically-blessed star who lands the coveted top spot and front page feature. So it goes without saying that when the official news breaks in this day of social media sharing, fans are quick to react with their thoughts — and personal suggestions — about who they feel would have been a better selection. This year, of course, being no different than past announcements, has caused the internet to erupt with an innumerable list of well-deserving celebs, other than Blake Shelton, that should've taken the number one slot. The reactions to the news seem to overwhelmingly prove that a great majority of fans are simply not here for Shelton's acquisition of People Magazine's 2017 Sexiest Man Alive title — and some of them literally had no chill whatsoever.
1. Sterling K. Brown
One Twitter fan used a meme to illustrate This Is Us star Sterling K. Brown's reaction amid learning Shelton had landed this year's People cover.
2. Justin Hartley
Brown's on-screen bro, Justine Hartley also captured the attention of an adoring fans who thought he'd be the perfect candidate.
3. Adam Levine
Not directly naming names in the matter, this Twitter commenter insinuated that Shelton's Voice co-host and 2013 Sexiest Man winner, Adam Levine, would have been a far better choice than the 41-year-old country singer.
4. Idris Elba
This person figured that some kind of tragedy must have occurred to impede Idris Elba from taking the top spot.
5. Zac Efron
Another social media user was certain that there had been been a mix up, noting that Shelton should have never beaten out Zac Efron is a sexiest man alive contest.
6. Luke Bryan
Sticking within the realm of country music, this fan was astonished to learn that Luke Bryan had never made the cut.
7. Jason Segel
A fan of Shelton's, this user was careful not to shade the "Boys 'Round Here" crooner while explaining that Jason Segel deserves to be the sexiest man alive in 2017 and beyond.
8. Mahershala Ali
Citing an Elle post on the subject, one commenter name drops Moonlight star Mahershala Ali and insinuates that People Mag is in need of repair.
9. Dev Patel
Someone used a faux magazine mock up to announce Lion actor Dev Patel as their top selection.
10. The Trinity Of Chris
Refusing to narrow it down to just one, this user names three of the Chrises: Chris Pine, Chris Pratt, Chris Evans – and Jason Momoa – all as contenders for the mag's cover story while holding out hope that Shelton's win is nothing but a terrible rumor.
11. Every. Single. Person. On. Earth.
Someone questioned exactly how Shelton won the title and wondered if he was the last man on earth.
There are obviously tons of celebs worthy of the honor of becoming 2017's Sexiest Man Alive, but some of the commentary on Blake Shelton is biting, to say the least. As a major player in both music and television, Shelton's star has seen a major increase in recent years making him a great interest to many. That said, maybe fans should cut the entertainer some slack, because, beauty, after all, lies in the eye of the beholder.