Crockpot Recipes For When You're Feeling Lazy AF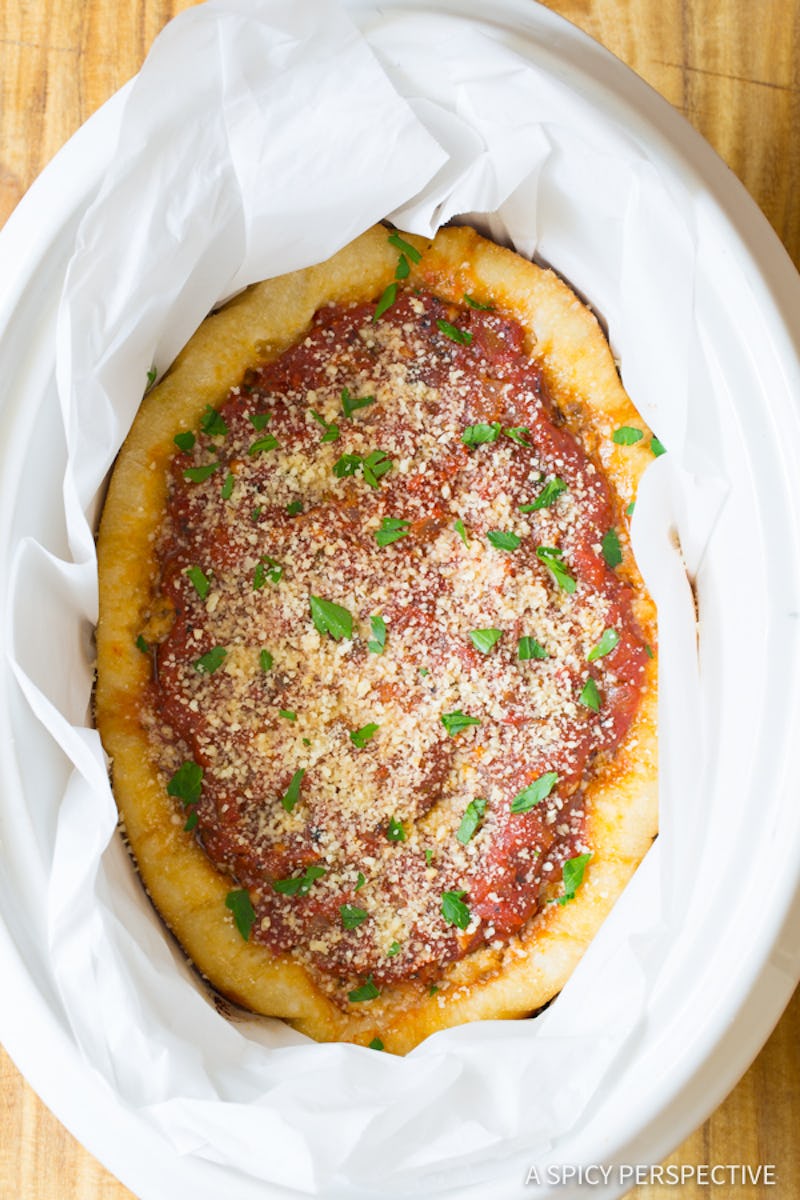 When you're hungry for a hearty and home-y meal, but too lazy to lift a finger, you probably often resort to delivery. But instead of wasting $25 on a one-time meal, you could have made an easy Crock-Pot meal that would have yielded tons of leftovers to enjoy over the week, and for a fraction of the price. Plus, it's actually healthy because you know first-hand what ingredients are going into it and you can control the freshness and nutritional balance of the meal — so it's a double whammy.
If you haven't yet discovered the magic of a Crock-Pot, you're going to want to ASAP. These mystical set-it-and-forget-it hot pots will make your life so much easier and make your belly so much happier. All you have to do is grab a few things from the fridge, put them in the pot, turn it on, and wait a few hours. It's actually as easy as it sounds and it's going to change the way you regard dinner time. And it will give you an opportunity to get creative in the kitchen when you're feeling up to it. Crockpot recipes are super easy to follow, so if you need a little bit of inspiration to get you started, here are a few of my favorites:
French Onion Soup
This super fast restaurant-grade recipe from Averie Cooks is the perfect winter soup. The slow-cook process makes the onions so tender, and the broth so flavorful.
Sloppy Joes
If you don't feel like tending to this dish over the stove, shove it in a crockpot and forget about it for a little while. Check out the foolproof recipe from A Pretty Life in the Suburbs.
Slow-Cook Oatmeal
Sure, oatmeal isn't hard to make. But it can taste pretty bland if you cook it hasty over the stove. Let it sit and marinate with some pumpkin and brown sugar for a while and it will taste like dessert in no time. Check out the recipe on A Pretty Life in the Suburbs.
Cheesy Chicken Soup
This feel-good chicken, cheddar and ale chowder is the perfect way to spice up your dinner plans. Make a big batch and enjoy it all week. Check out the recipe on A Pretty Life in the Suburbs.
Peach Cobbler
Crockpots aren't just for savory meals. You can make whatever you want in them. If you're craving something sweet, but don't feel like baking, throw the ingredients into the slow cooker! Check out this easy recipe by A Spicy Perspective.
Chicken Ramen
No need to go out to get your ramen fix, you can now make it at home with your slow cooker and it will be every bit just as delicious. Check out this recipe by A Spicy Perspective.
Deep Dish Pizza
Yes, seriously, with the help of this recipe by A Spicy Perspective, you can make a deep dish pizza in your crockpot. #Goals.
Tomato Soup
Cooking soup in a crockpot is a great way to maximize flavors and minimize the amount of time you have to tend to it in the kitchen. Follow this easy recipe from A Spicy Perspective to make some drool-worthy tomato basil soup.
Breakfast Casserole
Making eggs doesn't mean you have to make a mess on a skillet. Check out this recipe from Brown Eyed Baker and make a massively yummy breakfast casserole in your crockpot. Easy clean up, big flavors.
Roasted Chicken
Many people are overwhelmed by cooking chicken. It sounds complicated but it doesn't have to be. Toss the chicken in your slow cooker and don't even worry about it. Check out this recipe from Brown Eyed Baker and get over your fear of chicken dinners.
Mac And Cheese
Everyone's favorite side makes the perfect main event with this recipe by Brown Eyed Baker. It's cheesy, it's gooey, it's crispy, and oh-so-tender.