If You Sit For Over 3 Hours A Day, These 11 Stretches Can Loosen You Up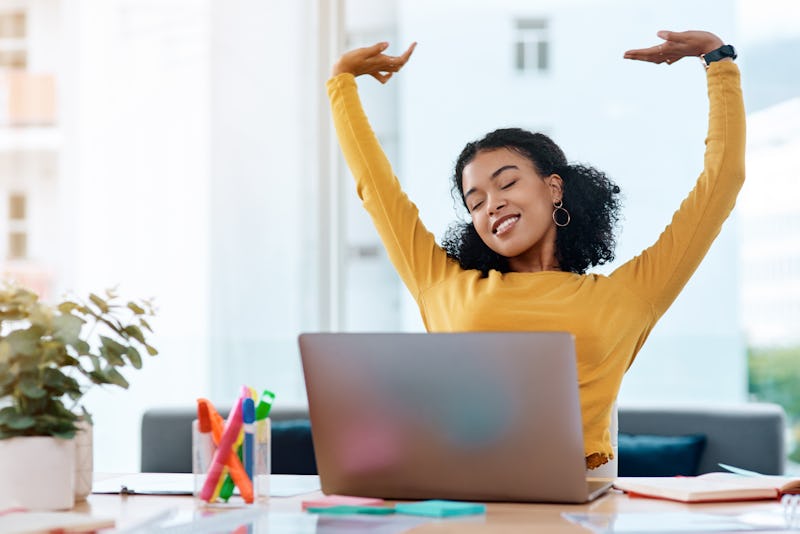 Dean Mitchell/E+/Getty Images
If work is feeling endless and your body is restless from sitting at your computer all day, you're definitely not alone. Over a quarter of American adults sit for more than eight hours a day, and even though sitting can feel delightful, it's not always so great when you feel stuck at your desk. If your body feels the need to shift but you're feeling shy about moving around in the office, desk stretches you can do at work might be your new best friend.
Being the personal trainer nerd that I am, if I'm working from home, I'll typically have my yoga mat laid out next to my desk so I can get some movement in every 15 minutes or so. But if I'm around other people (the horror!), I'm more likely to be shy about the kinds of movements I'll do. Don't get me wrong — if you're comfortable doing some full-out stretches at work, and your office culture is cool with that kind of flex, have at it. But if you'd rather not call attention to the fact that you're stretching, there's a bunch you can do for your body without getting up from your desk at all. (Although you should be getting up periodically too.)
Stretching at work won't just make your body more flexible — it'll also give your mind an opportunity to get less rigid. Stretching can reduce anxiety and improve focus, while sitting for long periods of time can increase stress and wreck your concentration. The next time you're feeling the stretching itch on the job, these 11 stretches can swoop in to restore blood flow and happiness to your day.
This article was originally published on