'Bachelorette' Rachel Should Avoid These Guys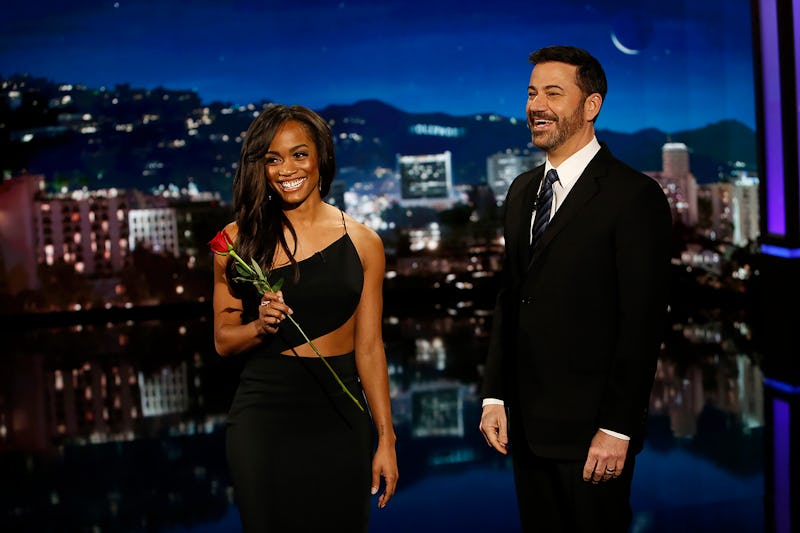 Randy Holmes/ABC
There's perhaps no story quite so exciting or attention-grabbing in Bachelor Nation right now as the story around the next Bachelorette. As time draws nearer to the next Bachelorette season beginning, it's important Rachel Lindsay looks out for certain things, both good and bad, in the character of the man she hopes to settle down with once the cameras stop rolling.
Lindsay has already made history as the first black Bachelorette in Bachelorette history, as well as The Bachelor's history. Further adding to the rarefied space she occupied in Bachelor Nation, Lindsay is also in the unique position of being one of the oldest Bachelorette's in the show's history. Lindsay is basically in pole position for big Bachelorette success. True love is a very real possibility if she doesn't fall prey to the intensity of the filming process or the mixed bag of suitors that will be thrust upon her soon enough.
So what should Lindsay be on the lookout for when it comes to finding a forever guy? There are some good things and some not-so-good things that she needs to add to her criteria. Here are my suggestions. Take notes, queen:
1. Fame-Seeking Dudes Are A No-Go
Is there anything more gross than a guy who is clearly there to get his fifteen minutes of fame? Lindsay needs to weed out those boneheads ASAP.
2. Returning Contestants Who Could Shake Things Up
I'm not saying we should expect Hurricane Chad to roll through Camp Lindsay, but there's a chance that a returning contest or two could be cast. Think Robby Hayes, the total catch that JoJo Fletcher ended up leaving on a beach. Just as Lindsay was with Viall, a seasoned Bachelorette vet who knows how to play the game, a returning contestant would shake up Lindsay's search.
3. Lindsay Deserves Someone Who Is Her Intellectual Match
Lindsay is too smart to risk engaging with a man who would seek to dumb her down for his own comfort or portray himself to be a man who could not meet her level, intellectually. She can banter and converse in a way that we rarely see women banter and converse on The Bachelor; on The Bachelorette, that high standard should be met by the men who compete for her affection.
4. She Should Not Be Fetishized By The Men Wooing Her
Lindsay is arguably too pure, good, and kind for this world. That said, she is also too pure, good, and kind to be taken advantage of by the men vying for her heart. Just because she is a black woman doesn't mean she should allow herself to become fetishized, as white men have been prone to doing with black women for some time now. Fortunately, she seems incredibly smart and I'm sure she'd shut anything like that down.
5. The More Woke He Is, The Better
Having a modern #WokeBae is pretty sweet. She should look for an intellectual equal but also a man that is sensitive as well as socially and politically aware.
6. Someone Who Doesn't Treat Her Like Viall Did
We have yet to finish Viall's Bachelor season, so we're not sure how things ended betwixt he and Lindsay. That said, knowing that Lindsay won't make it to the end implies that things didn't work out great — and that is something that should not happen again on Lindsay's Bachelorette season.
7. Lindsay Should Look For a Driven, Career-Oriented Guy
Lindsay is a lawyer, y'all. She doesn't have time for underachievers or couch potatoes. She totally needs to be on the lookout for a man who is just as career-oriented and in a high-caliber career setting. Lindsay is too wonderful to not be part of a power couple.
8. She Should Steer Clear Of Guys Who Love The Drama
Because it's never a good look when a grown man gets involved in the shady, the petty, and the downright dramatic. Keep it together, future Bachelorette men.
9. She Should Make Sure Her Guy Wants Kids Too
When she was introduced on Jimmy Kimmel Live! as the next Bachelorette, Lindsay made it clear that she was ready for marriage and a family. Kids are not a subject to be spoke of lightly, so she should make sure that she put that card on the table when discussing the future with her potential Bachelorette sweetheart.
10. A Must-Have: A Man Who Likes To Vacuum
Lindsay pretty much stole our hearts when we watched her dance around while vacuuming. But, uh, why can't her dream guy be eager to take on half of the household chores? This is a no-brainer.
11. She Should Definitely Look Out For True Love
Because the only thing that truly matters when it comes to Lindsay's time on The Bachelorette is that she look out for true love. Boom.
Just thinking about how great she is only makes me more hyped to see Lindsay absolutely kill it on The Bachelorette.