'The Bachelorette' Star Chris R.'s Instagram Reveals A Love For Drake, Dogs & His "Boys"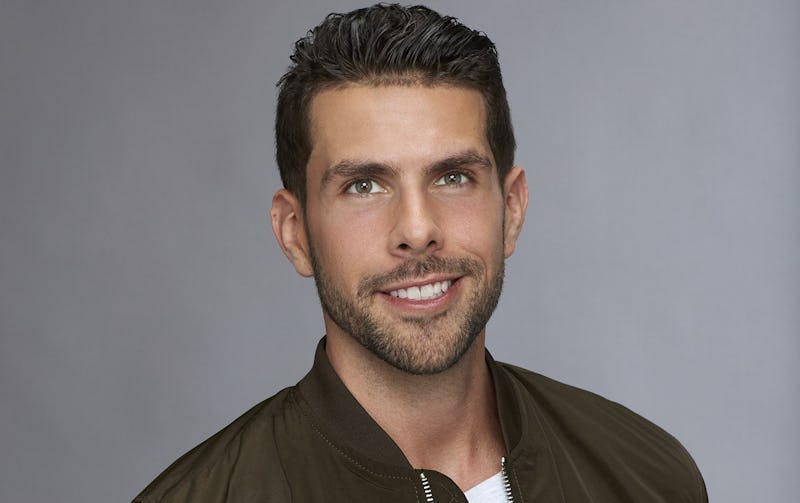 Craig Sjodin/ABC
Chris R. hasn't made much of an impression yet on Becca's season of The Bachelorette, but curious fans don't need to wait until the show gives him a proper showcase to learn more about the Orlando-based sales trainer. Chris R. from The Bachelorette's Instagram reveals enough that fans can get a basic understanding of how Chris spends his days, and speculate on what his life may look like with Becca in it. From the looks of it, a shared life together would include lots of athletic activities, some leisurely drinking, and at least one playlist for her that exclusively features love songs performed by Drake.
It's not yet known how much time The Bachelorette will dedicate to Chris R. For every Peter Kraus or Jordan Rodgers, who have hours of footage dedicated to them on The Bachelorette, dozens of men are sent out of the mansions barely noticed, leaving the audience without the knowledge who they are or what makes them tick. Chris R. may never get a chance to share his interests with Becca — but his competitive nature and the fact that he absolutely looks like Chandler's roommate from Friends makes him as intriguing a subject as any Bachelorette contestant to learn more about. Here's what Bachelorette fans can learn about Chris R. from his Instagram feed.
1. He's A Fan Of The Orlando City Soccer Club
Chris R. has shown glimpses of his competitive spirit during his time on The Bachelorette, and that seems to stem from his love of sports. His Instagram feed shows him enjoying an evening at the Orlando City Stadium, supporting his hometown soccer team.
2. He's A Golfer
When Chris isn't watching a sport, it seems as though he's playing one himself. Chris' Instagram features a shot of him hitting the links with others in matching outfits – showing that sports are not just a casual interest for Chris.
3. He Plays Basketball
It may be easier to list what sports Chris R. doesn't play, actually. Athletic as he is, his sports experience apparently isn't enough to earn him a win in The Bachelorette's physical challenges — yet.
4. Like Everyone Else Who Goes On The Bachelor Or The Bachelorette, He Loves Dogs
Has there ever been anyone on The Bachelor franchise that doesn't actively love dogs? It seems like an affinity for canines is an unofficial requirement for the show's case. Luckily, this makes him a good match for Becca, who is also an avid supporter of canines.
5. He's Got Sweet Dance Moves — Possibly
Maneuvering a dance floor with a bottle of Patron indicates that whatever was happening when this picture was captured was part of a joyous celebration, and it's not hard to imagine that Chris laid down at least one sweet move during the event.
6. He Plays Guitar
In the comments of this Instagram, Chris claims that he only knows how to play "a little Sam Hunt," on guitar, "nothing crazy." He may be playing a guitar in this picture, or he may just be holding one — but he certainly seems to have a love for music.
7. He Loves Drake
In multiple Instagram posts, Chris R. has captioned his photos with lyrics of Drake's, either from his 2016 diss track "Back To Back" or his early hit "Over." Should he and Becca end up getting married, expect "Hold On, We're Goin' Home" to get played at least once at the reception.
8. He's A Fan Of Cars
While he may not be taking pictures with cars that he owns, Chris's Instagram shows him taking every available opportunity to snap a pic with a vehicle he fancies.
9. He Loves Moscow Mules
Ten pounds of Moscow Mule is a hefty amount of alcohol, but the crew that Chris runs with seems to love the drink enough to purchase a massive glass of the beloved cocktail.
10. He Believes That Saturdays Are For The Boys
Multiple posts on Chris's Instagram make mention of the fact that Saturdays are for the boys in the captions. Chris seems to have a wide circle of male compatriots to spend his weekend with, suggesting that he has a healthy social life.
11. …But Sundays Are For Friends
As much as Chris loves spending his Saturdays with the boys, he also has multiple posts celebrating "Sunday Funday" with #friends. Here's hoping that Becca is a fan of brunch, because the Sunday morning sharing of a meal seems to have a great deal of value in Chris's life.
Of course, one question his Instagram can't answer is whether or not Chris' lifestyle is interesting to Becca. As she learns more about him during The Bachelorette, fans will surely get to know whether or not she really considers him a frontrunner.