'Bachelorette' Contestant David Loves Taking Risks, According To His Instagram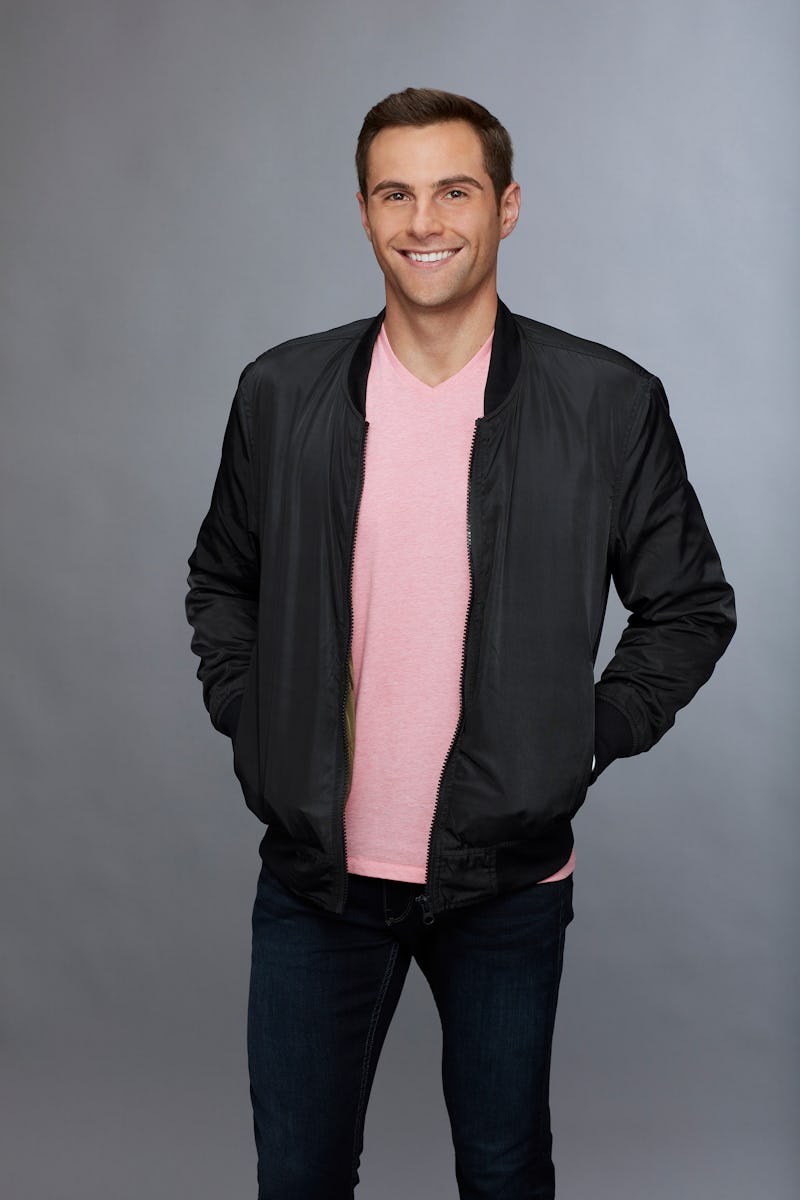 Craig Sjodin/ABC
It can be difficult for contestants to stand out in the first few weeks of any Bachelorette season, but guys who are looking to make a name for themselves could always take a page from David's playbook and arrive in a chicken suit. Whether you love him or hate him, David clearly wants to leave an impression on this season. But beyond that quirky costume, fans looking to find out more about the venture capitalist from Denver can always check out his social media. What does David from The Bachelorette's Instagram reveal about him?
In his time on the show, David has had no qualms butting heads with a few of the other contestants in the mansion — particularly Jordan. (Did you hear Jordan is a model?) The tension between the two really ramped up after David told Becca that Jordan had been bragging about getting over 4,000 matches on Tinder. In fact, it may have had some viewers believing that Jordan was the one responsible for David's dramatic trip to the hospital. That implication ended up being promotional trickery on the part of the producers, since David's injury was revealed on the show to be a result of a fall David took from his bunk bed. Regardless, there's no love lost between these two suitors.
With the chicken suit, the Jordan drama, and that nasty injury, The Bachelorette has already given viewers a lot of David content. But if fans who want to learn more David turn to his social media, they'll find there's a lot more to him than costumes and feuds. Here's what David's Instagram account says about him:
1. He Loves His Family
It's impossible not to appreciate a good throwback photo, and David posted a great one when he celebrated his sister. "Happy birthday to the best sister (more like 2nd mom) a brother could ask for," he wrote in the caption. "Can't wait to celebrate the big 3️⃣0️⃣ with you!!" All together now: "Awwwww!!!!" He also posted a photo with his family in Florida in April.
2. He's A Sports Fan
His taste in sports teams seems to range from the Georgia Bulldogs to the Philadelphia Eagles to the Philadelphia 76ers, but whatever the team or the sport, it's clear from the many photos he posts at big games that David enjoys watching a good competition. He even traded the rose ceremony for the Rose Bowl in January.
3. He Enjoys The Great Outdoors
Give him all the views. He's here for all of them. (And hiking, skiing, and rafting trips, apparently.)
4. He's A Risk-Taker
Turns out his heart isn't the only thing David is willing to put on the line. This guy knows how to take his adventures to new heights — literally — and he proved it when he posted a picture skydiving in February 2016.
5. He's Giving Back
In a photo from June 2014, David wrote, "Giving these children their first lollipop was as memorable for me as it was them!"
6. He Isn't Afraid Of A Good Pun
At Bear Dance in Colorado, David leaned into the obvious reference and captioned his photo, "A beary good day on the links." Get it?
7. He's A Team Player
He may not like competing for Becca's affection with other men, but it's clear David does enjoy being part of a team or group when love isn't on the line.
8. His Instagram Game Is On Point
That's one impressive shot. And the view's not bad either.
9. He's Always Up For A Fun Vegas Adventure
Did someone order The Hangover IV?
10. He Knows How To Wear A Tux
Becca might want to note how snappy David looked when he attended a wedding in April 2015.
11. He's A Friend To Felines
In 2014, David posted a smiling selfie with some lions in Kenya and wrote, "Made a couple new friends today." What a crew!
From his Instagram account alone, it's clear David's interests extend far beyond what he's conveyed so far on The Bachelorette. Now, fans will just have to wait to see if he has the chance to open up to Becca about some of those experiences.