How The Victim Of That 'Bachelorette' Accident Is Doing After His Dramatic Ambulance Ride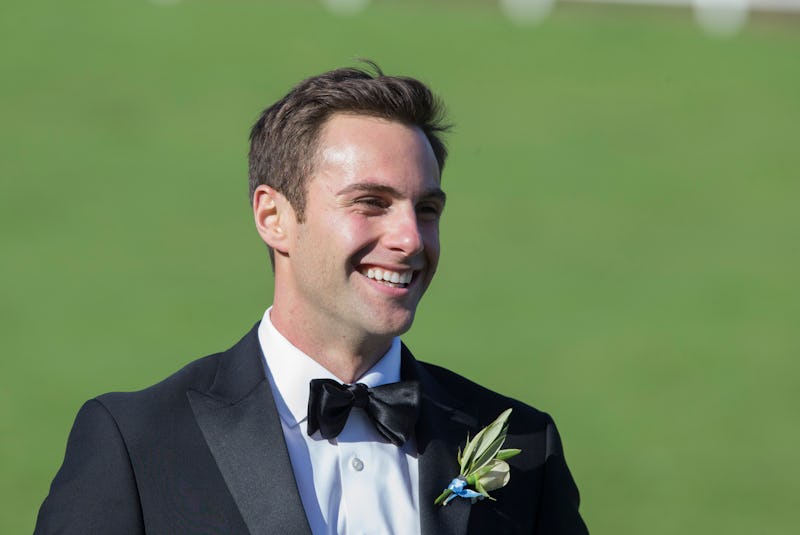 Paul Hebert/ABC
The Bachelorette is full of drama, with situations that feel like they have larger-than-life stakes, despite the show really just being the marriage of a dating show and an obstacle course. However, an injury during the filming of the latest season caused everyone in the mansion, and audiences at home, to ask if David from Becca's season of The Bachelorette is OK.
Entertainment Tonight released a clip from the June 11 episode of The Bachelorette, which features several of the contestants talking about an incident that ended in David getting sent to the hospital, leaving blood on the floor of the Bachelorette mansion. Lincoln described coming upon the scene that injured his fellow contestant, saying "I see David, just slumped on the ground. There's blood everywhere. None of us knew if he was going to make it."
Spoilers ahead. A report from the website Reality Steve reveals that David's injury had nothing to do with in-house drama or a physical challenge gone wrong. Instead, the site claims, David was injured after falling off of a bunk bed in his sleep. Reality Steve reported that David suffered a concussion and a broken nose following the fall. While the injury put a hinderance on David's experience on the show, it seems that he's fortunately doing fine today.
David's Instagram account includes a 2-month gap between posts, spanning from Feb. 23 to April 24, which is consistent with the time frame in which The Bachelorette was filmed. When David returned to Instagram, it seems that he had healed from his wounds and was enjoying the revelry of a Philadelphia 76ers game. His other-post Bachelorette posts include a pool visit with family and celebrating Mother's day, all seemingly in good health. While David's injury may have disrupted his time on The Bachelorette, it seems that any lasting effects from his injuries have had a relatively minor effect on his life.
David is fine following his injuries, but that doesn't answer whether or not his injuries affected his stay on The Bachelorette. Men have quit The Bachelorette mid-season before, including Ian Thomson from Kaitlyn Bristowe's season and Ron Worrell from Andi Dorfman's season. A major head injury and losing a lot of blood is as good a reason as any to leave a reality series early, but it seems that David was willing and able to return to The Bachelorette after a visit to the hospital.
Reality Steve pointed out that David is featured in the trailer for Becca's season on the 2-on-1 date, which usually happens later than Week 3 in a season of The Bachelorette, suggesting that the show will cover David's injury in the Week 3 episode, and will then cover his return in time for the 2-on-1 date later in the season. This is similar to how Maquel Cooper left part of the way through Arie's season of The Bachelor so she could be with her family following the death of her grandfather, per Utah Valley 360. Maquel was not present for a rose ceremony, but was allowed to return the following week despite not having been explicitly given a rose during the rose ceremony. This is likely how David's injury will be handled.
Despite only being a few episodes into Becca's time on The Bachelorette, David has already proven to be one of the most memorable suitors of the season. Between his chicken-inspired entrance and his injury, David has become one of the most visible members of this season of The Bachelorette, but that doesn't translate to being a frontrunner for Becca's heart. In fact, leaving for a week to deal with the injury may mean that his 2-on-1 date with Becca may be David's last.