What You Can Learn About 'Bachelorette' Contestant Leo From The Stuntman's Instagram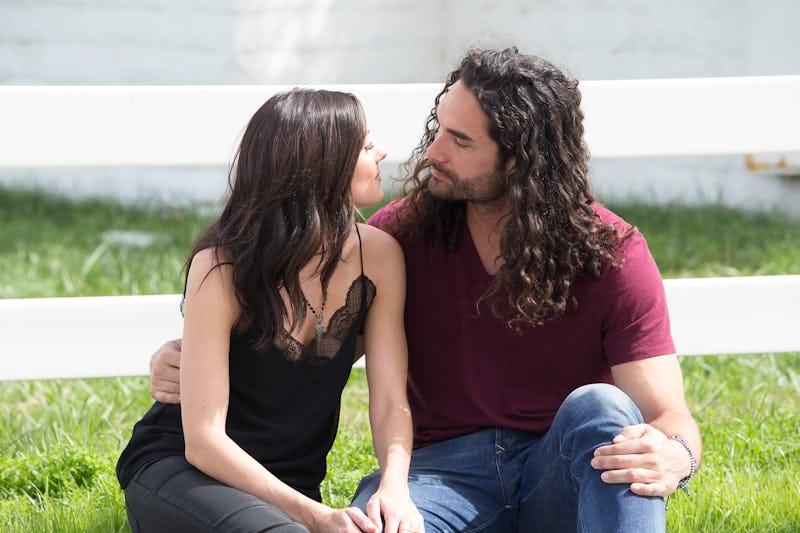 Paul Hebert/ABC
After two shocking eliminations on the last episode of The Bachelorette, (and one that was less surprising — sorry, John), Becca is getting closer and closer to finding The One. Most of the guys remaining seem to be real contenders for her heart, and that includes Leo, the impeccably coiffed, hilarious stuntman who manages to stay out of the drama. Though Leo has flown a little under the radar this season, fans are sure to be wondering what Leo is like in his every day life. So what can we learn from Leo's Instagram feed?
For one thing, it's clear that Leo is not only a stuntman but a very talented one. His feed is filled with pictures and videos of his stunts on various shows, and he's definitely getting plenty of work. Although I have no doubt that Leo is here "for the right reasons," it's also a safe bet that his exposure on The Bachelorette will help raise his profile and land him even more stuntman jobs. His Instagram also makes it clear that the sense of humor he seems to exhibit on the show is just a glimpse into how silly he can really be. And that's totally something Becca will find attractive, considering she can be a real self-professed goof.
Fans who are shipping #Lecca should look to his Instagram profile to discover even more about their favorite man-bun-rocking contestant. Here's what we can learn about Leo from his Instagram:
He Has A Great Sense Of Humor
Leo's quirky sense of humor has already shined through on The Bachelorette, but his Insta feed shows that, unlike Jordan, Leo doesn't take himself too seriously — even if he is rocking a "Pensive Gentleman" gaze here.
He Once Had Short Hair
This picture is shocking. It's hard to imagine a time when Leo had short hair and was (mostly) clean shaven, but here he is looking less like Khal Drogo and more like...every other Bachelorette contestant?
He's A Huge Yankees Fan
Even though Leo is now a California resident, he's no Dodgers fan. He's an avid fan of baseball, especially the New York Yankees. Maybe there will be a baseball group date in the future that allows Leo to truly shine.
He Works At Waterworld
Leo is a stuntman at the Waterworld shows at Universal Studios, a live stunt show based on the 1995 film Waterworld. It's full of crazy cool stunts, and Leo is one of the stars. He even once appeared on the Netflix show Love as a Waterworld stuntman trying to train one of the main characters.
He's Been On TV Before The Bachelorette
Along with Love, Leo has been on shows like 9-1-1, SMILF, American Horror Story, and Fight of the Living Dead, according to his IMDb page. He's got a seriously impressive resumé, one that might even put Jordan's portfolio to shame.
He Has An Alter-Ego Named 'Cookie Sugarbuttons'
Cookie Sugarbuttons seems to be a disgruntled New York elf and head of security for Santa. Maybe he can put in a good word for Becca to make sure she's on the nice list... and that Arie is on the naughty list.
He's Friends With YouTube Star Hannah Stocking
Leo appeared in this hilarious video made by YouTube star Hannah Stocking about a bride who runs away after her fiancé surprises her with a pre-nup. Hopefully it's not an omen for Leo's future with Becca.
He's Close With His Parents
Is it just me, or does Leo look just like his dad? Leo and his parents are clearly very close, which would make a hometown visit a lot more pleasant for Becca.
He Can...Cook?
Honestly, it's unclear exactly what is happening in this photo, but he's got a spatula in his hand so that counts, right?
He Knows He Looks Like Khal Drogo
It's hard to imagine a more fitting Halloween costume for Leo, considering Jason Momoa is his doppleganger. Maybe next year Becca will be his Khaleesi, moon of his life.
He's Been To A Lot Of Weddings, But Now He's Ready For His Own
Leo has been to quite a few of his friends' weddings, if Instagram is any indication, but now it's time for Leo to have his own fairytale ending. Will Becca be the lucky lady? Only time (and more episodes) will tell.