11 Times Kimmel Was The Biggest 'Bachelor' Fan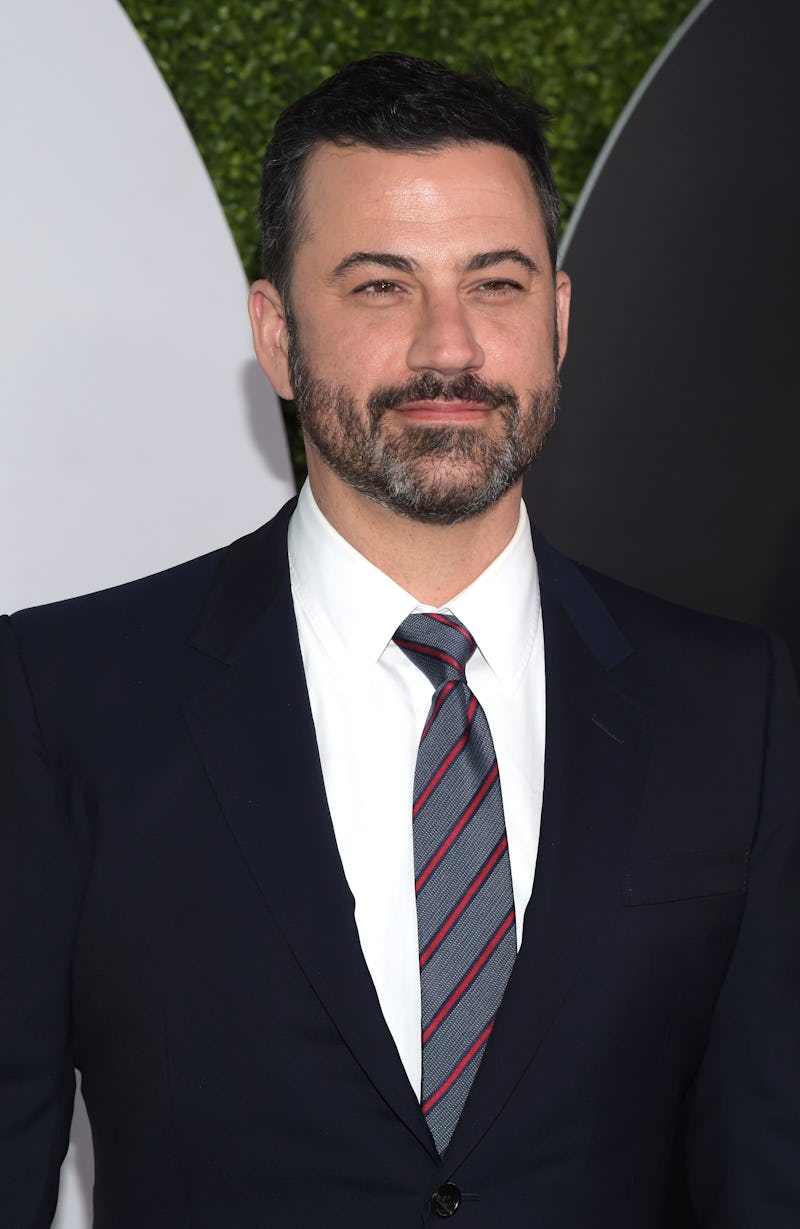 Jason Kempin/Getty Images Entertainment/Getty Images
Over the last several years, Jimmy Kimmel Live! host Jimmy Kimmel has proven himself to be a big Bachelor fan. A really, really big Bachelor fan. Dare I say, he could very well be the biggest Bachelor fan on the planet. The ruler of the Bachelor Nation fandom.
I mean no disrespect to my own Bachelor fanaticism or your Bachelor fanaticism; each and every Bachelor stan's journey is a beautiful and unique rose. I am simply saying that Kimmel's affinity for The Bachelor, The Bachelorette, and Bachelor in Paradise has reached a height that the rest of us could only dream of. And that height is, of course, being the host of his very own late-night show where he talks about The Bachelor whenever he can.
Oh, and he gets to shoot sketches with Bachelor contestants. And interview Bachelor contestants about The Bachelor. And ask non-Bachelor celebrities about The Bachelor. And create The Bachelor content. And be on The Bachelor. Oh and let us not forget about that one time he sent Chris Soules and Kaitlyn Bristowe to Costco with a shopping list. Truly terrific stuff.
Here are just a few of the times Kimmel's Bachelor obsession has been something to behold:
1. When He Turned His Own Talk Show Into A Bachelor Post-Premiere Special
If I had my own late-night talk show, you bet I'd do the same.
2. When He Used An Interview With Jennifer Aniston As An Excuse To Talk About The Bachelor Contestant Bios
If I had my own late-night talk show, you bet I'd do the same (part two).
3. When He Recorded Voice Over With Chris Harrison
Lucky duck.
4. When He Used Emoji To Summarize An Episode Of The Bachelor
Such a moving recap.
5. When He Asked Shawn Booth & Kaitlyn Bristowe About The Snapchat Snafu
On behalf of the rest of Bachelor Nation, I'd like to thank Kimmel for addressing this important topic.
6. When He Turned The Shark/Dolphin Costume Situation Into This Masterpiece
No words.
7. When He Appreciated The Bachelor's Mastery Of Staring At Nothing
This would make a great screensaver.
8. When He Asked Lena Headey To Read Bachelor Zingers As Cersei Lannister
If this video was three hours long, I'd watch all three hours. Happily.
9. When He Shared A Video Of JoJo Fletcher Watching Her Own Season Of The Bachelorette
Bachelor stars: they're just like us.
10. "The Baby Bachelor"
Who knew a Bachelor parody could be so adorable?
11. And Finally, When He Was On The Bachelor
Thank you for sharing these moments with us, Kimmel. May the rest of Bachelor Nation live vicariously through you.