"She Persisted" Applies Perfectly To These Women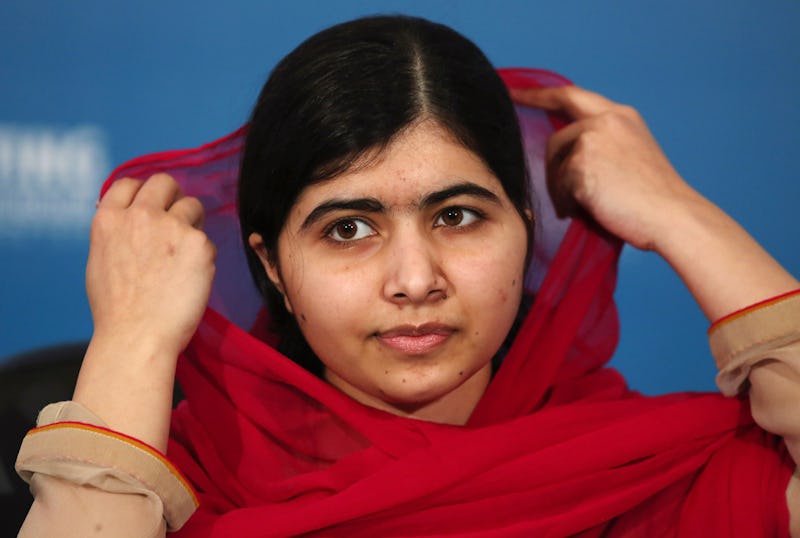 Dan Kitwood/Getty Images News/Getty Images
On Tuesday, Senate Majority Leader Mitch McConnell made persistence sound like a bad thing. During the Senate debate over attorney general nominee and Alabama Sen. Jeff Sessions' confirmation, McConnell interrupted Massachusetts Sen. Elizabeth Warren as she spoke out against Sessions. "Nevertheless, she persisted," McConnell objected, arguing that Warren had broken a Senate rule with her speech. Rule-breaker or not, Warren is not alone, as she is in the company of some seriously inspirational women who have persisted in the last decade.
Ironically enough, Warren was interrupted by McConnell as she payed tribute to a woman who is known for persisting. Warren read a letter written by Coretta Scott King in 1986 to oppose Sessions, who was then being considered for a federal judgeship in Alabama. Like her famous husband, King faced violence and hatred throughout her life as a leader of the civil rights movement. As McConnell would put it, however, "Nevertheless, she persisted."
The work of King, Warren, and dozens of other powerful women has inspired generations. Their work — and the work of the women they've inspired — should be a reminder that persistence isn't a bad thing. In reality, it actually leads to some pretty amazing stories of success.
Malala Yousafzai's Recovery
In 2012, Malala Yousafzai was shot in the head by the Taliban in Pakistan because she advocated for female education. In order to silence her, they tried to kill her — but they didn't kill her, nor did they silence her. Since recovering from her attack, Yousafzai has spoken to the United Nations, opened a school for refugee girls in Lebanon, and won a Nobel Peace Prize. Talk about persisting.
Rihanna's Triumph After Abuse
It was 2009, Rihanna found herself in a very public, abusive relationship with fellow musician Chris Brown. By speaking out about her experience, Rihanna reportedly inspired a spike in calls to domestic abuse hotlines. She even became one of Glamour's 2009 Women of the Year. Not to mention, she has absolutely thrived since then.
Army Ranger School's First Female Graduates
Capt. Kristen Griest and 1st Lt. Shaye Haver simultaneously became the first women to graduate from the U.S. Army's rigorous Ranger School in 2015. It was the first year that women were allowed to participate in the course, which puts soldiers through several weeks of conditions that are grueling both physically and mentally. "Nevertheless, they persisted."
Sonia Sotomayor's Confirmation
Supreme Court Justice Sonia Sotomayor was confirmed in 2009. Upon her confirmation, Sotomayor became the first Hispanic American to serve on the Supreme Court bench. Four years later, she became the first Hispanic American to administer the oath of office, as she swore in Vice President Joe Biden on Inauguration Day. Persistence in the legal field gave Sotomayor a lifetime appointment and a role model status to boot.
Simone Biles' Golden Summer
Last August, Simone Biles didn't just take the gymnastics world by storm — she took the athletics world by storm. She left her first Olympic Games with four gold medals, one bronze, and millions of women around the world rooting for her. When it came to comparisons with men, though, Biles insisted — and persisted — to be her own person: "I'm not the next Usain Bolt or Michael Phelps," she said in Rio. "I'm the first Simone Biles."
Hillary Clinton's Historic Campaign
Hillary Clinton's loss in November doesn't discount the significance of her presidential campaign. Back in 2008, Clinton lost the Democratic nomination race to Barack Obama. However, thanks to her persistence, Clinton won her party's nomination in 2016, becoming the first woman to sit atop a major political party's presidential ticket. Although she isn't leading from the White House, there's no telling what Clinton's persistence will drive her to do next.
Kesha's Battle For Freedom
Kesha's legal battle with producer Dr. Luke is going on three years. According to BuzzFeed, the official proceedings began in October of 2014, when Kesha sued Dr. Luke for alleged sexual assault. Kesha later chose to drop her suit in order to defend herself against a lawsuit filed by Dr. Luke. He has firmly denied all accusations she has made against him. Her fight with Dr. Luke has waged on ever since, but Kesha's persistence has raised significant awareness for the issue of sexual assault.
The U.S. Women's National Soccer Team's Equal Pay Campaign
The U.S. women's national soccer team didn't quite live up to expectations in Rio last summer, but there's one fight that teammates are refusing to lose. Last year, five members of the World Cup-winning team filed a complaint with the Equal Employment Opportunity Commission to seek equal pay with the men's national team. It's still unclear if they'll actually get it, but the women's national team can continue to advocate on behalf of all successful American women.
Venus Williams' Wimbledon Victory
A decade ago, tennis powerhouse Venus Williams did what the U.S. women's national soccer team is still trying to do. After years of advocacy, Williams helped to convince the Wimbledon tennis championships to pay female winners the same prize money as male winners. In 2007, tennis was finally played on a level playing field.
J.K. Rowling's Compelling Stories
You know J.K Rowling's books, but you probably also know her story: She was once a single mom writing story ideas on a napkin. As you also probably know, those story ideas led Rowling to become the best-selling author in the U.K., female or otherwise. In 2010, Rowling was named the most influential woman in the U.K., but her influence undoubtedly spans far beyond the U.K.
Women's March On Washington
In January, hundreds of thousands of people across the country and around the world refused to be silent. The Women's March on Washington stormed the National Mall in Washington, D.C., where President Trump had been inaugurated one day earlier. If that's not a sign of persistence, then I don't know what is.
Between the Women's March on Washington and Yousafzai's miraculous recovery, McConnell should know by now that women will always persist. What's more, he should know that persistence is something to celebrate, not chide. For a woman, "Nevertheless, she persisted," is nothing short of a true compliment.