Read Coretta Scott King's Letter Opposing Sessions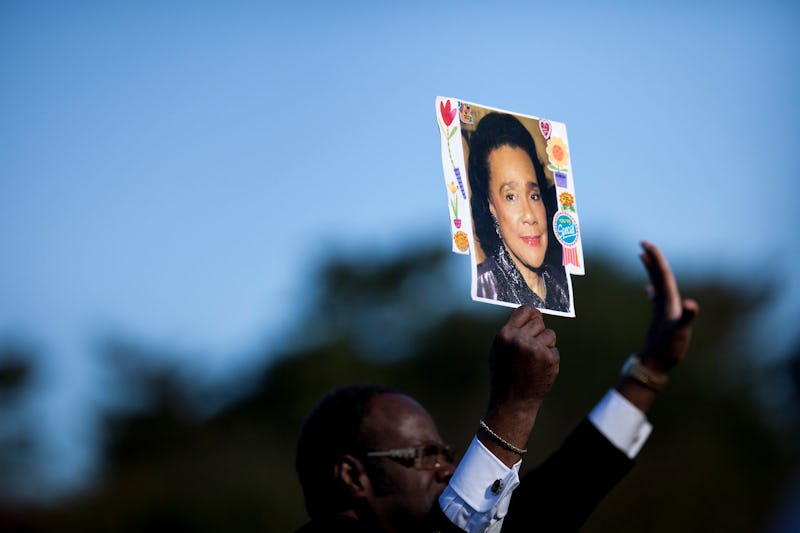 Brendan Smialowski/Getty Images News/Getty Images
Long before Alabama Sen. Jeff Sessions was nominated to be the attorney general, he was nominated to a federal judgeship. As it turns out, he may not have been any less controversial back then. In 1986, Coretta Scott King wrote a letter to oppose Sessions as he faced confirmation proceedings. The renowned activist's letter became public last month, but its relevancy reached a peak on Tuesday, when Massachusetts Sen. Elizabeth Warren was silenced for referencing the letter on the Senate floor.
King's letter was published by The Washington Post in January, prior to President Trump's inauguration but after he had announced Sessions as his attorney general pick. In the letter, King wrote, "Mr. Sessions has used the awesome power of his office to chill the free exercise of the vote by black citizens in the district he now seeks to serve as a federal judge." That line was quoted in the Senate again on Tuesday, as Sen. Warren spoke out against Sessions in his ongoing confirmation proceedings.
When King wrote her powerful letter back in 1986, Sessions was the United States attorney for the southern district of Alabama, which covers much of southwestern Alabama, including the cities of Mobile and Selma. That region is well known for its role in the civil rights movement that King and her husband, Martin Luther King, Jr., energized and led.
As she read King's letter, Sen. Warren was blocked from completing her remarks on the Senate floor on Tuesday. "Mr. President, I am surprised that the words of Coretta Scott King are not suitable for debate in the United States Senate," Warren said as she appealed to Montana Sen. Steve Daines, who was presiding over the debate. Warren had just been interrupted by Senate Majority Leader Mitch McConnell, who cited Warren for violating the Senate's Rule XIX. Put simply, the rule prohibits senators from attributing unbecoming behavior to each other when addressing the Senate floor.
Many of the criticisms that King lodged against Sessions in 1986 will sound familiar to those who have followed the Trump administration's ascent to power this year. For instance, King wrote of Sessions, "He lacks the temperament, fairness, and judgment to be a federal judge." Sessions' fitness for the office of the attorney general has been questioned, particularly by Democrats, time and time again since his nomination, and even President Trump's temperament has been called into question repeatedly. King went on to relate Sessions' work to that of violent police enforcing segregation.
The irony of Mr. Sessions' nomination is that, if confirmed, he will be given life tenure for doing with a federal prosecution what the local sheriffs accomplished 20 years ago with clubs and cattle prods.
Attorney general isn't a lifetime appointment, but the stakes remain high this time around. Senate Democrats, including Warren, have taken steps to delay his confirmation and oppose his appointment. However, seeing as Trump's Cabinet appointments have each made their way through the nomination process so far, Democrats could only be delaying the inevitable.