12 Drugstore Beauty Products That Experts Swear By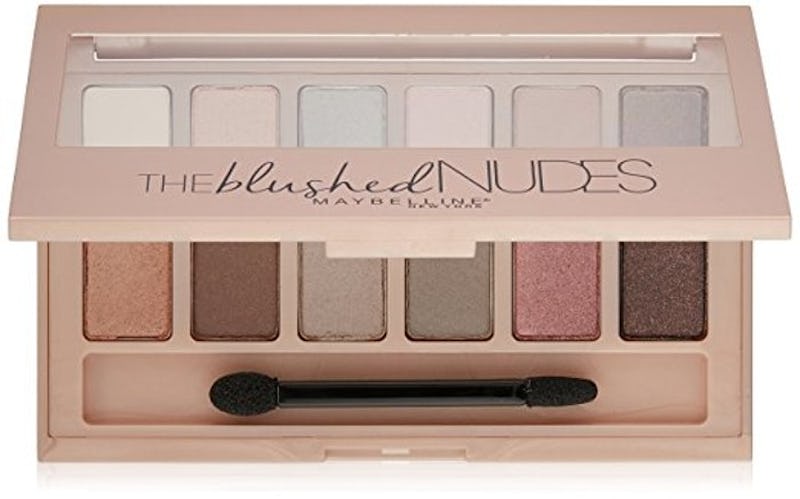 Maybelline
Everyone loves a good makeup splurge now and then, but you know what? There are so many bestselling beauty products you can find at the drugstore — and come on, there's always an extra thrill that comes with finding HG products for less. I mean, why buy one lipstick for $25, when you can buy three for $8? The only downside is the fact can be difficult to find the right options — but luckily, celebrity makeup artists Vanessa Scali and Melanie Inglessis are here to shed a light on some of the must-haves of the drugstore set for Bustle.
You'll see differing opinions on what types of products should and shouldn't be purchased in the drugstore aisle, but when it comes right down to it? You can find great options for pretty much everything you need — from nude eyeshadow palettes, to luxurious matte lipsticks, to amazing under eye concealers, chances are you can find it for less than $10 (or, barring that, significantly less than however much it would cost from a fancy luxury brand at the department store).
So, want to find out your new favorite drugstore products? Read on for some beauty experts' drugstore favorites, and get ready to get shopping!
Flawless Finish Contour and Illuminate Duo, $9, CVS
Salma Hayek's namesake beauty brand tends to fly under the radar, but it's definitely a line you should check out — perhaps especially the Flawless Finish Contour and Illuminate Duo. "This duo offers lightweight, buildable color to shape and highlight the face," Scali tells Bustle via email, "It enhances the bone structure while adding a touch or shimmer for a gentle glow."
Blushed Nudes Eyeshadow Palette, $7, Amazon
A high-end neutral palette too tough on your wallet? Your salvation may just be in the drugstore aisle. As makeup artist Allen Avendaño recalled to Teen Vogue, "Once when I was traveling my nude eyeshadow palette broke and I ran to the closest drugstore and found the Maybelline The Blushed Nudes Palette ... To my surprise, every single one of the colors in the palette were so much more versatile on their own than I thought they would be. I used it to create a beautifully fresh look for day and transitioned it easily with a smokier eye for night."
ColorBurst Matte Balm, $8, Amazon
It's all about matte lips right now, so it's comforting to know you can get the covetable look with affordable products from the drugstore aisle. "I love the texture, and the colors," says Inglessis to Bustle. "It's matte, but not drying. The colors spectrum is pretty impressive, the nudes are perfect and the pop of color is vibrant and on trend! Plus, it's so easy to carry in your purse."
Color Sensational Creamy Matte Lip Color, $5, Amazon
Need more matte lip options? Maybelline also happens to have a particularly great formula. Makeup artist Tamah Krinsky likes the shade "Siren in Scarlet" in particular — she told Refinery29, "A great red lipstick is a perfect accessory for the holidays ... One of my favorites is Maybelline Siren In Scarlet. This is a bright and vibrant, creamy, matte red, and flattering to almost all skin tones."
Gentle Clean 4-in-1 Water Activated Cleansing cloths, $6, Amazon
If you're looking for some new makeup wipes, Scali names Olay's Daily Gentle Cleansing Cloths as her top pick, since they "remove all traces of makeup, including mascara, with one cloth." She also notes that they're gentle for her ultra-sensitive skin.
CoverGirl Smoothers Concealer, $6, Walmart
Concealer can be a tricky thing to get right, but CoverGirl has the perfect formula on lock: "This concealer is great for under the eyes," says Inglessis of the brand's popular Smoothers Concealer. "The peachy undertones are perfect for under eye concealing. It has ginseng, vitamin E and chamomile, and it gives a good coverage while still being moisturizing."
Revlon ColorStay Creme Eyeshadow, $8, Ulta
"I love a cream shadows and this formula is easy to apply and gorgeous on the eye," says Scali of Revlon's ColorStay Crème Eyeshadow.
Real Techniques Makeup Brushes, $6, Amazon
Good makeup brushes can be one of the toughest things to save on, but luckily, Real Techniques has got you covered. "Some of the best brushes I have in my kit are from Real Techniques," said makeup artist Katie Jane Hughes to Teen Vogue, "The quality is amazing and the long-lasting bristles don't shed."
Soft Matte Lip Cream, $6, Ulta
NYX's Soft Matte Lip Cremes are basically cult classics at this point, and makeup artist Carola Gonzales can't get enough of them. As she said to Refinery29, "I'm obsessed with this shade [Copenhagen]; if you find it, buy a few, 'cause it's usually sold out! ... It complements every skin tone, and it's extra long-lasting. You can wear it with just a few coats of mascara, and it will instantly create a runway makeup look."
Radiance Body Lotion, $22, Amazon
Burt's Bees is known for their beeswax-based lip balms, and it turns out their lotions are great too — as Scali puts it to Bustle, they provide "moisture with a wonderful glow-y sheen."
Color Sensational Lip Liner, $7, Walmart
According to Scali, Maybelline Color Sensational Lip Liner in Dusty Rose #130 is the perfect MLBB shade: "It's a fantastic 'lip color' nude that can be worn with many shades or with just a touch of lip balm," she tells Bustle. Plus, it's "creamy and smooth," and it glides onto lips like perfection.
Milani Cosmetics Baked Blush, $7, Amazon
Well-loved by makeup artists and beauty gurus alike, Milani Cosmetics Baked Blush imparts a gorgeously high-pigmented sheen to your cheeks. Said makeup artist Monika Blunder to Refinery29, "My clients and I love these blushes because they have just the right amount of shimmer to give a soft glow to the cheek." She also named the flattering Berry Amore as one of her favorite shades.
What do you think? Which one of these bargain makeup steals will you be trying next?