These New Drugstore Beauty Products Are Everything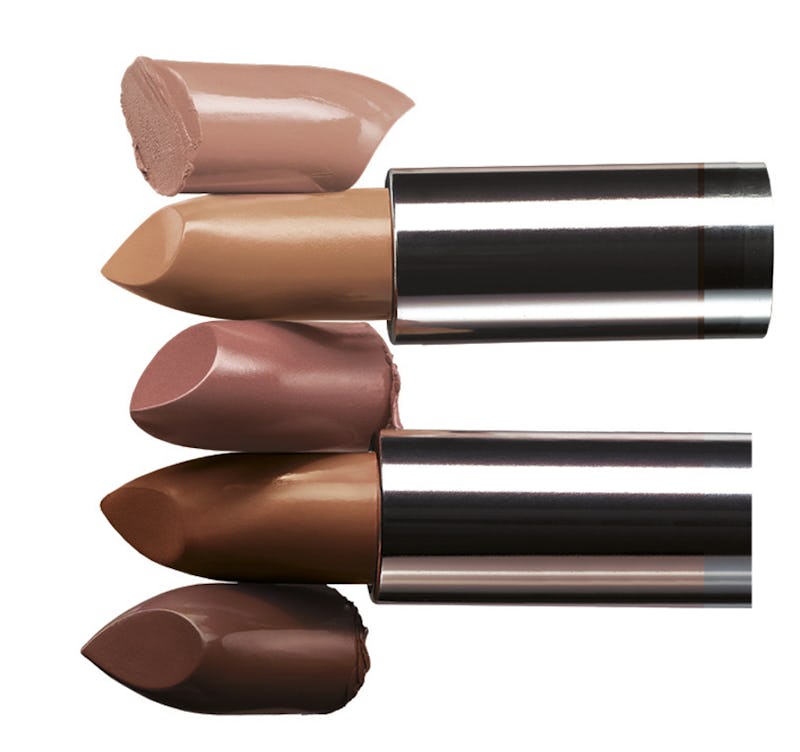 A new year means it's time for new makeup. And in case you've been wondering what's new at the drugstore for 2017, let me tell you: There's a lot, and it's amazing. Seriously. Beauty brands are really stepping up their game this year on a variety of fronts. Whether expanding shade ranges to be more inclusive, making certain types of products like cushion foundations and liquid lipsticks more accessible, or even coming up with innovative products like scalp scrubs and face kits to tackle concerns that haven't yet been addressed from the drugstore, there are so many new products you'll want to get your hands on ASAP.
But since there's enough new makeup, skincare, and haircare at the drugstore that you could drown in it (hey, not a bad way to go, IMO), I've narrowed down some of the best and most exciting new products that will hit the shelves this month. And if these launches are any indication of what else is to come this year, I think we'll all be pretty happy cosmetic campers. So you can shop the drugstore with purpose (or if you just want to know which aisle to sit in so you can admire all the beauty), here are 40 of the best, new products for 2017:
Makeup
Foundation
NYX Total Control Drop Foundation, $14, Target
Adjust your coverage with this foundation that is available in 24 shades so you can always have your perfect match.
Maybelline New York Dream Cushion Fresh Face Liquid Foundation, $12, Amazon
In love with cushion foundations? Here's the newest one to hit the drugstore that you'll definitely want to try.
Neutrogena Hydro Boost Hydrating Tint, $15, Amazon
This moisturizing tint is perfect for all skin types to stay hydrated without looking greasy.
Concealer
Maybelline New York Facestudio Master Camo Color Correcting Kit, $10, Amazon
These correcting, concealing, and highlighting cream palettes give you everything you need and come in three different variations for light, medium, and deep skin tones.
Neutrogena Hydro Boost Hydrating Concealer, $13, Amazon
The creamiest, most natural-looking concealer to ever come in a stick.
Milani Retouch + Erase Light-Lifting Concealer, $9, Walgreens
Need a full-coverage, liquid concealer that will hide imperfections and add a brightening effect? This one has you covered.
Cheeks
Maybelline New York Facestudio Master Blush Color & Highlight Kit, $10, Amazon
Who doesn't love a good blush palette? These highly pigmented and blendable shades will add the perfect pop of color to your cheeks.
Milani Spotlight Face & Eye Strobe Palette, $12, Walgreens
Use this multi-color highlighting palette on cheeks and eyes for a bright and glowy look.
Jordana Glow N' Go Creamy Strobing Stick And Sculpt N' Go Creamy Contour Stick, $9, Amazon
Sculpt and highlight with these cream sticks that blend easily and have a powder finish.
Brows
Sonia Kashuk Dramatically Defining Liner & Brow Palette, $11, Target
This compact palette has every powder shade you could possibly need to sculpt your brows and even line and shade your eyes.
Revlon Color Stay Brow Crayon, $13, Amazon
For the fastest brows you'll ever do, try this crayon that fills in and tames brows with just one swipe.
Revlon Color Stay Brow Pencil, $7, Amazon
For something a little more precise though, this brow pencil that is neither too waxy nor too creamy can easily draw on individual hairs.
Cover Girl Easy Breezy Brow Fill And Shape And Define Powder Eyebrow Makeup, $12, Amazon
Line and define your brows with this no-mess powder that applies like a pencil.
Maybelline New York Brow Precise Perfecting Highlighter, $9, Amazon
Easily and precisely highlight your brow bone with this pen that comes in multiple shades to help perfectly shape your brows.
Eyes
e.l.f. Mad For Matte 2 Eyeshadow Palette, $10, Target
Create a warm neutral or smoky eye with this pigmented palette that has every shade you might need.
Revlon Color Stay Creme Eyeshadow, $7, Amazon
This long-wearing, cream eyeshadow even has a brush applicator tucked in the lid for easy application.
Milani Stay Put Matte 17Hr Wear Liquid Eyeliner, $7, Target
For a totally matte, long-lasting liner, try this liquid version that comes in a variety of wearable hues.
Revlon Color Stay 2-In-1 Angled Kajal, $8, Target
Nail the smudgy liner look or a one-step smoky eye with this angled kajal that has a built-in brush.
Cover Girl Intensify Me! Liquid Liner, $9, Walgreens
If you can't decide between thin or thick liner, this pen gives you both with its unique, paddle-shaped tip.
Wet N Wild MegaSlim Skinny Mascara, $9, Amazon
This tiny brush will help you coat every single lash including your bottom ones without getting mascara all over your lids.
e.l.f. Flirtatious Luxe Lash Kit, $4, e.l.f. Cosmetics
More drugstore falsies options are coming your way this year with e.l.f.'s new line of lashes which will make all of your wispy, fluttery dreams come true.
Lips
Maybelline New York Baby Lips Color Balm Crayon, $6, Amazon
If you're a fan of chubby lippies, you're going to love these new Baby Lips that have all of the moisture you're used to but are packed with pigment.
Wet N Wild MegaLast Liquid Catsuit Matte Lipstick, $5, Amazon
Can't get enough liquid lipsticks? Then you'll want to add this new formula to your collection.
Maybelline New York Color Sensational Inti-Matte Nudes, $5, Amazon
Taking the confusion and frustration out of finding your perfect nude, this line offers 10 shade options from light sand to rich chocolate in a creamy, matte finish.
Accessories
Sonia Kashuk Beauty Organizer, $26, Target
This organizer is perfect for storing all of your favorite products. Plus, how cute is that print?
Skincare
Cleansers & Scrubs
Garnier Skin Active The Gentle Sulfate-Free Cleanser, $7, Target
Sensitive skin types will love this cleanser that's free from all harsh and stripping ingredients.
L'Oreal Paris Micellar Cleansing Water, $9, Amazon
Say hello to a new line of micellar waters because, no, we can't get enough of them.
Milani Keep It Sweet Sugar Lip Scrub, $14, Amazon
This sweet scrub smells amazing and is step-two of a new line that removes stubborn lippies and keeps pouts smooth and hydrated.
St. Ives Exfoliate & Nourish Coconut Oil Scrub, $10, Target
Packed with nourishing oils, this exfoliator will smooth your skin while keeping it soft and moisturized.
Masks & Treatments
Neutrogena Hydro Boost Hydrating Serum, $16, Amazon
Because a hyaluronic-acid serum is a step everyone needs in her skincare.
Yes To Tomatoes Charcoal Peel Mask, $19, Amazon
I mean, who doesn't love a peel-off mask? Plus, this one has a built-in applicator so it's truly mess-free.
SheaMoisture Dragon's Blood & Coffee Cherry Instant Rebound Mask, $13, Ulta
This delicious-smelling mask is perfect for clearing out impurities from congested skin without drying it out.
Yes To Grapefruit Correct & Repair 2-Step Face Kit All About Face!, $4, Target
The next big thing in single-use masks are these two-step face kits that help target various concerns like dull skin, puffy eyes, and clogged pores.
Haircare
Shampoo & Conditioner
Shea Moisture Dragon's Blood And Coffee Cherry Volume Shampoo And Conditioner, $11, Ulta
Ladies and gents with flat or thinning hair will love this duo that adds volume and promotes healthy hair growth. And did I mention this line smells amazing?
Garnier Whole Blends Replenishing Shampoo Legendary Olive, $6, Amazon
Natural ingredients are having a moment, and this line is infused with olive oil to replenish hair with softness and shine.
Garnier Whole Blends Replenishing Leave-In Conditioner Legendary Olive, $6, Amazon
A leave-in conditioner is a must-have, and this olive-oil infused one softens strands without weighing them down.
Treatments & Style-Aids
L'Oreal Paris Hair Expert Ever Fresh Micro-Exfoliating Scrub, $9, Target
You exfoliate your face, so why not your scalp? This scrub helps remove flakes and build-up for a healthy scalp and hair that isn't weighed down.
L'Oreal Paris Hair Expert Extraordinary Clay Dry Shampoo, $6, Amazon
Finally a dry shampoo is using clay to help really absorb that excess oil, and let me tell you, it works.
L'Oreal Paris Advanced Hairstyle Air Dry It Undone Style Cream, $5, Walgreens
Whether you've always been a fan of air-drying your hair, or have made a resolution to try, this line of styling aids will help you achieve your best 'do sans heat.
L'Oreal Paris Colorista Semi-Permanent Color, $10, Amazon
Colored strands will still be big in 2017, but if you're not ready for a commitment, this new line of temporary dye will allow you to try on various shades worry-free.
It's really going to be a beautiful year, you guys.
Images: Courtesy of Brands