12 Black Family Holiday Films To Watch With Your Loved Ones This Season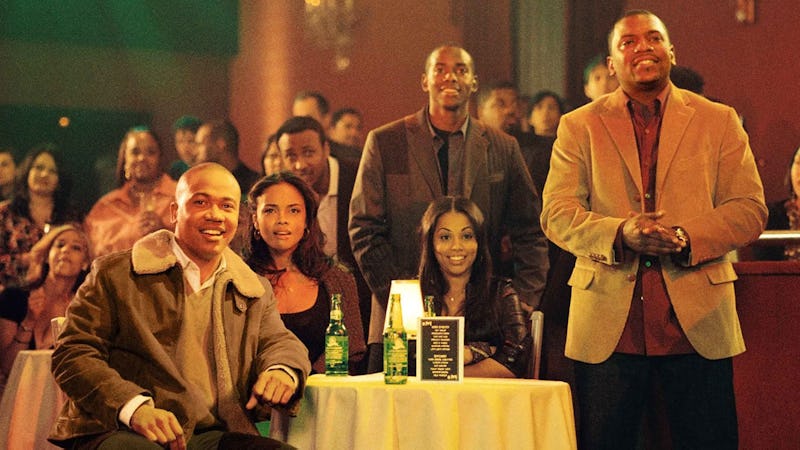 Screen Gems
It's time for a table full of food and laughter with the big game playing in the background, exchanging presents with the people you love the most, and cozy nights inside. It's also the time to watch movies with the fam-bam! I've said this before, but I'll keep on saying it: I really love movies that represent the Black community. From small-budget indies to major motion pictures, anything that tells a diverse story about the Black experience is on my watch list. And that includes seasonal fare. Thankfully, there are a good number of Black family films to watch during the holidays that'll entertain you and yours all December through.
Between Thanksgiving and Christmas is the best time to watch or rewatch movies like This Christmas, Almost Christmas, The Preacher's Wife, and The Best Man Holiday. To be clear, there still aren't enough holiday films featuring families of color, but hopefully new releases like The Holiday Calendar on Netflix mean that there are even more to come in 2019. Meanwhile when we do get a family-centric piece of festive entertainment about our experience, we have to take note. So, go ahead: gather your loved ones and check out these great holiday films, all streaming now:
1. This Christmas
This Christmas centers on the Whitfield family, who are all finally gathering for the holidays for the first time in four years. The film is based on the 1970 Donny Hathaway song of the same name and of course features a modern remake of it.
2. Soul Food
Soul Food takes place over the span of a year, so we see the seasons change. However, the premise of family values being distributed over big, emotional dinners is something Black families take pride in.
3. Almost Christmas
A family gathers together for their first Christmas since their mother passed away. When all the siblings (Kimberly Elise, Gabrielle Union, Romany Malco) arrive to comfort their father (Danny Glover), unspoken feelings and lies resurface that could ultimately tear the family apart... again.
4. The Perfect Holiday
Gabrielle Union plays a successful working woman, with a rapper ex-husband (Terrance Howard) and mall Santa Claus (Morris Chestnut) fighting for her heart.
5. A Madea Christmas
Tyler Perry's A Madea Christmas is a hilarious movie about a finally opening up a dialogue about biracial relationships. Through comedy, it emphasizes that black families come in many shades, experiences and circumstances.
6. A Dream for Christmas
Set in the 1950s, this television film A Dream for Christmas involves a preacher who moves to Watts, California and challenges himself to save souls and his church from being demolished.
7. Crooklyn
An all-time favorite. Although this film does take place in summer, it's an "every season of the year" type of film to watch with you family.
8. The Best Man Holiday
The sequel to the '90s classic The Best Man is set during the holidays, when this group of old college friends come together to yet mend past hurts, secrets and lies.
9. The Kid Who Loved Christmas
A young boy (Trent Cameron) writes to Santa for help after his adopted mother is killed in an accident. While he is waiting for an answer from Santa, he and his adopted father (Tony Parks) try to make the holidays better.
10. The Preacher's Wife
The Preacher's Wife stars Denzel Washington, Whitney Houston, and Courtney B. Vance, in the remake of the 1947 film The Bishop's Wife. Rev. Henry Biggs (Vance) preaches at a local church in a poverty-stricken neighborhood of New York City. While church membership is declining, finds himself under intense pressure to make things better for his community. He prays, and an angel named Dudley (Washington) appears to help him.
11. Holiday Heart
A drag queen (Ving Rhames) takes in a drug addict and her daughter (Alfre Woodard, Jesika Reynolds) and tries to help both of them get their life back on track.
12. Last Holiday
Georgia Byrd (Queen Latifah) is diagnosed with a terminal illness, she decides to take a trip to Europe and live the last moments of her life with spunk.
It's important that we see movies that show our community in a familial setting, so Hollywood will keep making them! So the next time you sit down with your visiting relatives, consider sharing one of these with them.