12 Black Women Respond To "A Day Without A Woman"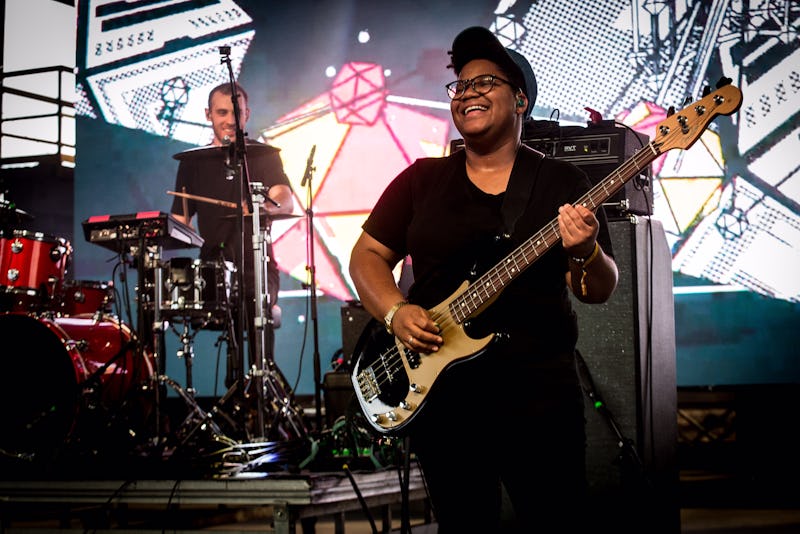 When my co-founder Danny and I created GetWoke last year, our goal was to encourage a dialogue on race through the act of storytelling. We wanted to amplify voices without speaking over one another and we wanted to share Black Experiences without co-opting them. On Wednesday, the Women's March on Washington launched its inaugural A Day Without a Woman, which was created to recognize "the enormous value that women of all backgrounds add to our socio-economic system." On International Women's Day, March 8, they invited anyone, anywhere to participate in one or all of the following ways:
1. Women take the day off, from paid and unpaid labor
2. Avoid shopping for one day (with exceptions for small, women- and minority-owned businesses)
3. Wear red in solidarity with A Day Without a Woman
Despite its calls for inclusion and diversity, A Day Without a Woman was met with mixed reactions. To understand why, GetWoke asked 12 black women the same three questions to get their takes.
— Are you choosing to protest today? How? Why?
— How do you think this day impacts women of color?
— What is your hope for today's girls/tomorrow's women? Is there anything you want to tell them?
Chidera Nwaokafor
Are you choosing to protest today? How? Why? I will not be protesting due to the fact that I am not able to take time off work (having a child that is sickness-prone will expend you of your personal days), but I will be showing my support in solidarity by wearing my favorite red pumps and my Ruby Woo lipstick.
How do you think this day impacts women of color? Well, I am hoping that this day will make a huge impact on ALL women. But as a woman of color who personally feels underrepresented in my field (Secondary Mathematics Education), I think that this day will prove just how valuable we are. I love the fact that those women who chose to protest physically are willing to stand up for those of us who can't. Now, if this isn't a representation of unity, I don't know what is. Womanhood is not about outdoing each other, it's about supporting each other. I believe women of color, especially, have some room for improvement when it comes to being supportive of one another. I am hoping that this day will be a significant influence as we head towards that direction.
What is your hope for today's girls/tomorrow's women? Is there anything you want to tell them? This question hits really close to home because I am the mother of a little girl. My hope for today's girls/tomorrow's women, is that she always goes for what she wants. She never lets anyone tell her what she can or can't do and she doesn't allow anyone to set limits for her because of her age, gender or race. I would tell her that in this life, nobody owes you anything. Nothing worth having comes easy, and don't ever be afraid of hard work. Appreciate those who love you and truly want the best for you, keep them around. My hope is that she is kind to people, and never too proud to serve others. Live a life that has purpose, no matter what that may be.
Josie Woodall
Are you choosing to protest today? How? Why? I'm not protesting today because these protests are not for me. I hesitantly went to the Women's March because that felt like something I could get behind. I wanted to be there because of the example it set for younger girls and women that as a whole, no matter what the world tells you, we are united. Being at the Women's March made me feel like I was putting out a message: Even though I'll never be in a situation where I need to figure out how I'm going to get my health covered, I wanted those women who were scared regarding the future of their health care and the Affordable Health Act to know, I'm here for them in any way I could possibly be. You're not alone. The unity of the Women's March was also exactly what I needed to push me to continue to do volunteer work in my community.
Then the numbers from the election came out and we realized 58 percent of white women in America voted for Trump and were regretting their decision. He literally told you what he was going to do. This protest today? I don't know what this shit is, but I know it is not a protest for me. This protest today for real feels like it's only for privileged white women who completely regret voting for Donald Trump and missed the Women's March in January because they were still high on fumes from the Inauguration.
Also, I don't have anything red.
How do you think this day impacts women of color? It doesn't. It's just any other day for most of them, considering they don't have the option to miss work to protest or to wear what they want to work in protest. A lot of people live in fear of losing their jobs, health care and "stability" over minor infractions, let alone not showing up to work to drive home a point. A lot of those people are disproportionately women of color. It brings up the question again as to who these protests are really for. We can't ignore some women's struggles and fight the fight for others. Just because white women have finally been majorly harmed, doesn't mean we should all drop what we're doing in order to protest with them. I'm definitely a strong believer in better late than never, but I'm not a believer in "forget about the past and let's work together now because we're affected." If there is no intersectionality, I can't help but wonder: Are these "women's" protests really the protests of all women, or just some?
What is your hope for today's girls/tomorrow's women? Is there anything you want to tell them? My hope for today's girls is that they don't see what's going on as a reflection of what their futures have to be. They don't have to be products of their environment, but they can flourish in spite of it. I want them to know, they can't really change anything by ignoring their history, but by learning from it. That's the only way they can make systematic changes and fill the cracks in our foundation or in themselves. I hope the girls of today know that growing up, shit will happen, things won't go the way you expect or plan, but you have the option to learn from that experience and move on, or let it defeat you. Also, I want them to know: High school is stupid, it sucks and doesn't matter after you graduate.
Anonymous
Are you choosing to protest today? How? Why? I'm not protesting today, although I wish I could. I teach, and I worry that if too many teachers call off, it'll be a crazy day for our kids and those who do show up to work. I'll be wearing red in solidarity. Although it would've been nice to see what kind of impact we could make. I wish we had [my co-workers and I] coordinated earlier and spread the word.
How do you think this day impacts women of color? Honestly, I don't know. I'm conflicted when it comes to these marches/events. I feel like women of color, especially black women, have been asked to support so many movements and groups (and we do), but aren't often supported, and at times, ridiculed when we march for our own issues. I don't want to be a mule for someone else's progress, but when we ask for our own issues to be supported or mentioned as well, that doesn't happen. (Maybe I don't know enough to assume the same is true of this protest… but I wouldn't be surprised if it were).
What is your hope for today's girls/tomorrow's women? Is there anything you want to tell them? I'd like to see more empathy and compassion for others and working toward equity for all. Even though we're about women's rights, I constantly feel like there's a constant battle between intersectional feminists and, to put it bluntly, white feminists. I want girls to do the right thing, and speak up when we see others suffering or help one another. It shouldn't get to a point where we march when we feel like our existence/rights are threatened, when it has been happening to others for awhile. It's important to work together for everyone's right to be.
Jemila Dunham
Are you choosing to protest today? How? Why? I'm a musician and I recently began assistant-teaching at a high school during my time off tour. Being with my students for eight hours a day, five days a week, I see on a regular basis how incredibly smart and capable they are. These kids, and the young women in particular, need to be encouraged in their talents and they need us to show up for them. They need to know that they are worthy of every single aspiration they have and making sure they hear that today and every day, especially from someone who looks like them, is my way of honoring the importance women in this world.
How do you think this day impacts women of color? The issue that arises with protests like the Women's March and [A Day Without a Woman] is that participation requires a tremendous level of privilege, most of which is held by white, cisgendered women. While things like wearing red for the day and only spending money at women-owned business thankfully allow anyone to be a part of International Women's Day, the protest aspect of it is something that isn't an option for a lot the women in this country and centering that as the main act of the day says a lot to me about who these events are really about and for.
What is your hope for today's girls/tomorrow's women? Is there anything you want to tell them? It seems like a simple thing, but young girls should never question the fact that they can do and be whatever they want and that their gender has no effect on their capabilities. As someone working in the music industry, it infuriates me to see how unbalanced it is. The fact that instruments are still gendered, that a woman playing bass or drums or guitar is usually a novelty, is unacceptable to me for a variety of reasons, the main one being that representation matters. So, my hope is that we make ourselves visible enough for the future generations of women to see their possibilities because they see us.
Chisaram Nkemere
Are you choosing to protest today? How? Why? I protest every day. As a black woman working in a white and male-dominated industry, my act of protest begins with showing up and ends with showing out. I proudly went to work today because I love what I do and my voice is needed. Personally, International Women's Day is not about proving that the existence of women is a necessity. It's about honoring the women who broke barriers before me, finding inspiration in the women surrounding me today, and looking forward to a future when the women who will come after me are as celebrated as their male counterparts.
How do you think this day impacts women of color? Women of color disproportionately work harder and longer to get half the respect of their peers. While logistically a lot of us could have taken a personal day today, doing so would not have been representative of our place within this country's economic structure. I'm proud to be a woman. But I'm even more cognizant of my position as a black woman and grateful that the privileges I've been afforded have allowed me to live my life in largely the way I choose. When we focus more on why others are or are not working, we ignore the number of women who don't have that choice and we contribute to their lack of visibility on a grand scale. I don't necessarily think A Day Without a Woman has had any particular impact on women of color, but I don't think this day was made for us.
What is your hope for today's girls/tomorrow's women? Is there anything you want to tell them? Try your best, work hard, be honest, and be strong. Every step and misstep will be a lesson for your future self, so be confident in the person you are today and proud of who you'll be tomorrow.
Michelle Bush
Are you choosing to protest today? How? Why? I will not be participating in this day of action as far as taking off from work because I don't feel like it is impactful for all women.
How do you think this day impacts women of color? I feel as though this action is geared towards women that can "afford" to take time off without really targeting women's issues. I think women's health care (hello, struggle to pay for women's contraceptives, cost of feminine hygiene products, birthing costs, etc.) or even women's safety (hello, college campus incidents and rulings, human trafficking, etc.) are a little more focused and there are opportunities to put legislation in place to better them. In addition, it seems counter-productive for us to take a day not earning pay (monetary or just in building our reputations) vs. making a choice to spend or not spend with particular companies or support certain policy makers.
Many women I know cannot just take a day even for illness or personal time without a level of guilt, fear of being viewed in a negative manner or perhaps they genuinely cannot afford loss of pay for a day. I think it is wonderful that woman's voices are finding new microphones and platforms. I do hope that days of action can really become opportunities for all women to both participate and feel like the impact is far reaching.
What is your hope for today's girls/tomorrow's women? Is there anything you want to tell them? My wish is for young women to have the time and resources to be able to nourish their personalities, passions, and discover what success and fulfillment may look like for them. Having the courage and clarity to live life in this manner is empowering and helps to tune out the noise that may steer people in directions that are unhealthy or not conducive to an environment where a woman can thrive in her own way.
Jessica Sims
Are you choosing to protest today? How? Why? I am not protesting for two reasons . First, one of the companies I work for was founded by a strong, badass female and I feel empowered to continue working on this day. Secondly, the other company I work for is hosting a women's only panel after I teach my boxing class, so I love that a group of 35 strong women will be "fighting" together for 45 minutes followed by a discussion.
How do you think this day impacts women of color? I think we feel all the feels. Even when women take one step closer towards equality, women of color still feel a step (or two) behind.
What is your hope for today's girls/tomorrow's women? Is there anything you want to tell them? I think this is HUGE! I left my career in education last year and now I'm a fitness instructor here in the city, and the female empowerment and strength that I have seen is SUPER inspirational. Adidas promotes women who are "here to create," Reebok is sending the message of #PerfectNever, and Nike just released its first fitness hijab in connection with their Equality push  — and that's all just the beginning. I hope that women continue to find camaraderie together instead of competition, and I hope that we stay united despite inevitable setbacks.
Chinenye Nkemere
Are you choosing to protest today? How? Why? Absolutely not. Superficially I understand why this protest is going on at this time  —  there is an air of revolution awakening in (White) America which is absolutely amazing; we all get to understanding at our own time. But not only do I not feel a calling to stand in solidarity, but I think my opinion truly illustrates why women's rights and/or feminism needs to be intersectional. This isn't a fight that black women have to fight. We did our part during the election. The 37 percent of white women who didn't vote against their neighbors' best interest need to talk to the 53 percent of those that did.
How do you think this day impacts women of color? Black women have been talking about how this country will collapse without women (of color) for centuries. Black women don't have the luxury of "taking off." We make about 60 cents on every dollar  — 20 cents less than white women. We have 60 cents to each dollar to find housing, education, food, health care, entertainment, transportation and travel. Taking off means taking a bigger cut out of our education, our jobs  —  and many of us can't afford that. I know I have privilege  —  I'm cis, married, I own a house and I'm educated. What about the women who aren't as privileged? @Karnythia on Twitter coined a term which truly resonated with me a couple of years ago — #solidarityisforwhitewomen. It's "solidarity" when mostly white women agree to protest .  Where are my white sisters during an LGBT march? Or Black Lives Matter?
What is your hope for today's girls/tomorrow's women? Is there anything you want to tell them? My hope for today's young women is to love yourself immensely and wholly. It is absolutely revolutionary to be black and to love your history, to love your culture (whatever it may be), to love your bodies and music. I read and listen to the words of young women like "The AfroLegalise" (Chisaraokwu), Brittany Packnett, Yara Shahidi, Willow Smith and Zendaya and I am absolutely in AWE. These women are leading the way — and we should be listening.
Chinonye Akunne
Are you choosing to protest today? How? Why? I am not protesting today. Having a realistic and open view of the world, I am privileged as a woman and a black woman to even have a job in this predominantly white male-dominated global workforce. While at work, I will be addressing the issues women face in the workplace during the four meetings I have lined up. I will share a positive fact about the contributions of women in the workplace, specifically black women.
How do you think this day impacts women of color? Honestly, I do not believe the organizers of this protest actually comprehend the additional barriers women of color face. Similar to the Women's March, our struggles were not acknowledged and glossed over with the "pussy power" and anti-Trump theme.
This is troubling because women of color are often sexualized as beings and are often shamed if we address the power of our sexuality. Secondly, white women voted for Trump. Instead of them claiming their mistake they are parading around as if they have no clue how he happened.
As a black woman, I am not confident this protest took the struggles of women of color into account, if they did they would not hold this protest on International Women's Day, and in the middle of a workweek. Unlike them, we cannot afford to have any mark against us in the workplace, such as not showing up without bringing sufficient documentation.
What is your hope for today's girls/tomorrow's women? Is there anything you want to tell them? My hope for girls and women is not necessarily equality to men but hierarchy over men. We are the bearers of life. We are the solution to the misguidance of the world. We are very powerful individuals. I yearn for women to know and embrace their strength, grace and resilient nature.
Courtney Broussard
Are you choosing to protest today? How? Why? Today will be business as usual. I am a working single mother, who is also a student —  days off do not exist. I have a midterm today, so my act of rebellion will be to ace it. Higher education is something that was not afforded to my ancestors.
How do you think this day impacts women of color? We have seen the data, and it cannot be ignored that many women of color live in poverty. We have to weigh the pros and cons  —  can we (being that I am a woman of color) afford to give up a day of work? Also, our work ethic is often stereotyped. Will our participation in this protest be praised, or demonized? Lastly, there are the issues of intersectionality. As we protest with our white peers, will they in turn protest for us and our issues? There are too many questions for me to see a positive outcome for this protest, as it relates to women of color.
What is your hope for today's girls/tomorrow's women? Is there anything you want to tell them? I would simply tell the young women of today to just, "Listen." Listen to your fellow sisters  —  her problems are your problems, whether they have direct impact on you or not.
Akeena Legall
Are you choosing to protest today? How? Why? My employment has granted me the very rare privilege of being able to interact with my own personal politics in a thought-provoking and life-changing way. I work within a society that fosters community allyship and establishes safe social housing for drug users and survivors of systematized disenfranchisement and violence. In this workforce, which is also organized, I volunteer as a trade unionist, and work with many other colleagues and administrators in my organization to ensure that we as front-line workers are well supported and equipped with the emotional and physical resources to positively engage and support our community.
I mention this because I believe mass demonstration and protest to be incredibly valuable, and that it must be nestled in the everyday political action we take to counteract policy and attitudes we find disfavourable to our friends, family and communities. It is in this way I want to be politically vocal and active every day, and would encourage my family, colleagues and friends who are within a position of safety and privilege to do the same. I think this everyday investment and connection with community prevents the disengagement which breeds the space for disconnected or ill-informed legislation.
How do you think this day impacts women of color? Protest is concerned with magnifying a spectrum of voices that are addressing inequality in society which prohibit freedom of identity, expression and being. I believe such struggles have always been instrumental in the myriad of roles women of color occupy throughout history, in their families, relationships and communities. The women of color in my life have always been concerned with freedom of expression and self-identity for all because it is so instrumental to the allyship needed to decolonize our own history. Constraints arising from family health, educational opportunity, wealth and heritage succession, generational trauma, community safety and its correlation to our personal and professional enterprise are put on a relational spectrum today and we and others are able to discern how these factors not only affect us as a socio-economic group, but how it impacts others as well. I believe that the solidarity of such an exercise gives us a more refined vision of reality and unifies not only women of color but many disparate groups in society. This engenders the kind of awareness for more effective policy around housing, public health, civic planning and educational reform.
What is your hope for today's girls/tomorrow's women? Is there anything you want to tell them? I want to tell girls, women and citizens of the world alike to be mindful of the space at the intersection of kindness and wisdom. Kindness is the key that not only allows us to forgive and understand others, but to understand and forgive ourselves. We are often hard on ourselves and manage to champion many imaginary or detrimental foibles through the varying gambits of a capitalistic system, and these perceptions that we incorporate in our self-identity are inhibitors to our health, aspirations and confidence, and often obscure the nuances necessary to understanding and being compassionate to those who are both very similar and quite different to ourselves.
Kindness to ourselves and others allows us to engage in the pursuit of knowledge and critical thinking necessary to face honest history, understand its outcomes and propose constructive solutions. It is both kindness and intelligence that asks us to not re-inflict the pains of the past on ourselves and others.
Nancy Breton
Are you choosing to protest today? How? Why? Today, I went to work and wore red. I wore red in solidarity with all women. BUT, to be honest, I have been very conflicted about how I feel about this day. I mean, I have always celebrated International Women's Day (to an extent... aka a social media post), but this year was different.
My feelings were very familiar to the feelings I had during the Women's March back in January. You see pictures of the march and the majority of them show a flood of white women. I mean, great, but 1. the majority of white women voted for the new president; and 2. what was the impact of the march? If it was to bring general awareness to the issues many women face, great. But do people who are just now opening their eyes to the issues that marginalized communities face realize that "marginalized communities" does not mean women — WHITE women, nonetheless?
With that said, my white, female friend (who participated in the protests down here in New Orleans ;  I did not) told me that she felt the march was a first for many of the women (or people) who came out. That they are very new to the movement and the plethora of issues that follow it, let alone the intersectionality of it all. Cool, I'll give them that. But does this mean that things really changed since the march? If you ask me, no. For example, I read a story written by a Native woman where she explained her experience at the march. Before I completely butcher this woman's experience, I would rather just provide her Twitter thread so you can read it for yourself:
In addition, I have a few white, female friends in my social media circle who were very vocal about the Women's March and the #DayWithoutAWoman, but ask me when I have ever heard them speak up on Black Lives Matter, Standing Rock, trans rights, etc.
This day shouldn't just be about a pay wage gap. It shouldn't just be about sexual harassment (and I say that as someone whose passion is all about sexual and reproductive health and rights). This day should be about intersectionality, and white women need to speak to their white friends about it. Use your privilege to shine a light on those who were not able to take the day off. Those who fear that they will be separated from their family very soon because of the anti-immigrant laws that are being passed and proposed. Those who are consistently in fear just because they identify as a gender other than what they were assigned at birth (gender is a social construct, by the way!). There is so much more that I'm leaving out here (mothers who, literally, cannot take the day off nor can they avoid spending money), but I hope that I am getting my point across. And, I know that a lot of women are saying that they are marching/protesting for those who cannot afford to participate, but, don't you think this would have been such a great opportunity for discourse with leaders/ambassadors of all these groups to come up with a better way to protest? A more inclusive way to protest? I know that it is very difficult to work absolutely perfectly and seamlessly when it comes to including everyone, but I just feel that sometimes a little more effort is due.
And, for those who did participate in any way, shape, or form: I support you with all my heart. I just hope that you are being inclusive and an effective ally. Please be sure to stand WITH everyone, not FOR everyone.
How do you think this day impacts women of color? Please read my answer to the first question. :)
What is your hope for today's girls/tomorrow's women? Is there anything you want to tell them? I just hope that we continue to learn, grow, share, and connect with one another. The world has always been a scary place, especially for marginalized communities. But, I feel that as generations have grown up and the youth have become more aware and active, that we shouldn't respond with "but…!"  —  we should try to just LISTEN. We all live in our own realities, so you may learn something if you just listen. Don't get me wrong, there are definitely trolls out there but I do have a teeny, tiny, little gleam of hope that some people are just trying to do the best they can. I'm still a cynic, though. I'm working on it.