12 Fictional Feminist Heroines Who Persisted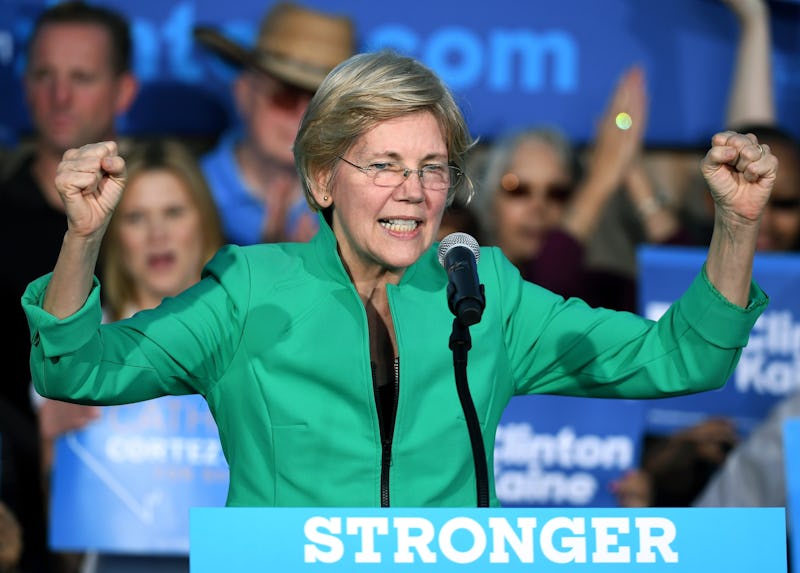 Ethan Miller/Getty Images News/Getty Images
During a Tuesday filibuster, Sen. Elizabeth Warren (D-MA) was silenced by Senate Republicans, whose leader, Sen. Mitch McConnell (R-KY), said: "She was warned. She was given an explanation. Nevertheless, she persisted." #ShePersisted has become a feminist mantra, and so it only seems fitting that we take a look at books with feminist heroines who persisted, just like Elizabeth Warren.
The Tuesday filibuster saw Senate Democrats speaking out against Sen. Jeff Sessions (R-AL), Donald Trump's pick for Attorney General. Warren used her turn to speak to read from Coretta Scott King's 1986 letter opposing Sessions' appointment as a federal judge, which reads, in part: "Mr. Sessions' conduct as U.S. Attorney, from his politically-motivated voting fraud prosecutions to his indifference toward criminal violation of civil rights laws, indicates that he lacks the temperament, fairness and judgement to be a federal judge [sic]." You can read the letter in full here.
After silencing Warren, Senate Republicans went on to allow three male senators — Sherrod Brown (D-OH), Jeff Merkley (D-OR), and Tom Udall (D-NM) — to read from the letter without incident. Warren finished reading Coretta Scott King's statement in a Facebook Live video that has garnered over six million views.
In the hours since McConnell said it of Warren, #ShePersisted has become a feminist mantra. On Twitter, the hashtag has been used to caption images of Bree Newsome, Rosa Parks, Sen. Tammy Duckworth (D-IL), Ruby Bridges, Sonia Sotomayor, Rep. Shirley Chisholm (D-NY), Ibtihaj Muhammad, and Mae Jemison, among others.
If you're looking to ride this high with some books about badass women — And why wouldn't you be? — check out the 12 titles I've picked out for you below. Obviously, this list is nothing close to exhaustive, so be sure to share your favorite books with feminist heroines who persisted with me on Twitter!