Easy Galentine's Day Party Ideas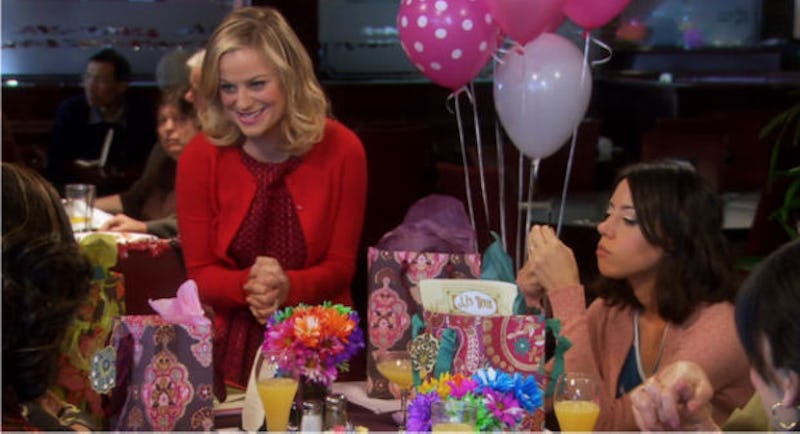 The one of the loveliest holidays of the year, Galentine's Day, is almost upon us. Created by the fictitious character Leslie Knope on the TV show Parks & Recreations, Galentine's Day is now totally a real holiday off the screen. We've totally taken it off the show and brought it into our real lives and made it a thing.
Because it deserves to be! It's the day to celebrate your best girlfriends, and falls on Feb. 13th, every year. Because before you spend your Valentine's Day being overly aware of your relationship status, it's nice to take a day to focus on your friendship status, which can always use some love and attention.
Galentine's Day is all about getting your friends together and doing something fun and festive to show each other how much you care. And the best part about it is there are no rules. Mainly because it's a fake holiday we stole from a TV show, but also because the point of the holiday is just merely to spread lovely lady love. That's it! So if you're thinking about throwing a Galentine's Day party — which you totally should — you might want to consider some of these easy activities to keep your friends entertained and feeling loved:
Wine Tasting Party
Have each of your girlfriends bring over a bottle of wine that they know a bit about. Each person can present their wine, share some fun facts about it and then pass around a glass of it for a tasting. Enjoy picking a favorite and learning about new wines, it's very adult.
Potluck Dessert Party
Potluck dinners are great, but dessert's the best part, so why not just start there? Have all of your friends bring over a different dessert and enjoy a communal sugar high. Plus, get the opportunity to get to know a bit more about your friends through their baking skills.
Family-Style Cooking Party
Pick a recipe, head to the grocery store, stock up and invite your friends over to cook together. You can divide the courses and tasks up so that you're not on top of each other in the kitchen and so that everyone's got busy work to do. There's nothing more satisfying that a meal that you've helped to create.
Homemade Pizza Party
Get some toppings and a few balls of pizza dough and create a pizza-making station. You can each make your own personal pies or make a few large pies that you all share. Decorate them with as many wild toppings as you like, pop open some wine and enjoy the homemade messiness of a pizza party.
Friendship Bracelet Making Party
Flashback to day camp: get some strings and beads and invite some friends over for an ultimate throw back. Brush off your box-stitch and Chinese staircase with your best gals.
Old-School '00s Sleepover Party
Remember in the good old days when you'd have a bunch of friends over and you were so happy to be together that you didn't care if you had to sleep on the floor or share a could with three people? You just loved the opportunity to eat junk food and watch movies all night with your besties? Yeah, do that.
Emotional Toasts Party
Have each of your friends prepare a toast ahead of time and invite them over for some champagne and snacks to have a toast reading. You'll have a good laugh and a good cry if you're lucky.
D.I.Y. Beauty Party
Head to the pharmacy and get all the foods. Fake nails, face masks, wash-out hair color, nail polish, trash magazines, go all out and have a retro-beauty party with your best friends.
Hidden Talents Party
You can know someone your whole life and have no idea that they can burp the alphabet or swing their arms around backwards. Set up a performance space in your living room, and invite your friends over to showcase a hidden talent.
Movie Party
Don't ever let anyone shame you about your favorite movies. Get your girls together to watch the movies that make you feel good and empowered about friendship.
Epic Brunch Party
Make a reservation at your favorite brunch spot and have the most epic, long-lasting brunch of your dreams. Make sure your friends have a good chunk of time to dedicate to that bottomless brunch that you've always wanted to take advantage of.
Puppy Party
Get your friends together and organize to become volunteers for the day. You can help out at a puppy adoption and get the best of both worlds: puppy time and the opportunity to help others. Because, puppies. #Winning.